by Chris Becker
Couldn't have happened to a nicer ticket puncher with a huge slash to profits in the wake of the Royal Commission. From ABC:
In a statement to the ASX, AMP further downgraded its already weak profit guidance, reporting that its net profit for the 2018 calendar year would be "approximately $30 million" — 96 per cent lower than the $841 million profit reaped the previous year.

 Beaten up shareholders will see their final dividend crumble to 4 cents per share from 14.5 cents, while the company's share price has more than halved since the banking royal commission started early last year.
AMP is getting hit hard on the ASX today, with the broader market accelerating early gains to be up 0.7% or so, AMP has lost nearly 7% so far.
It's been a horror year for shareholders: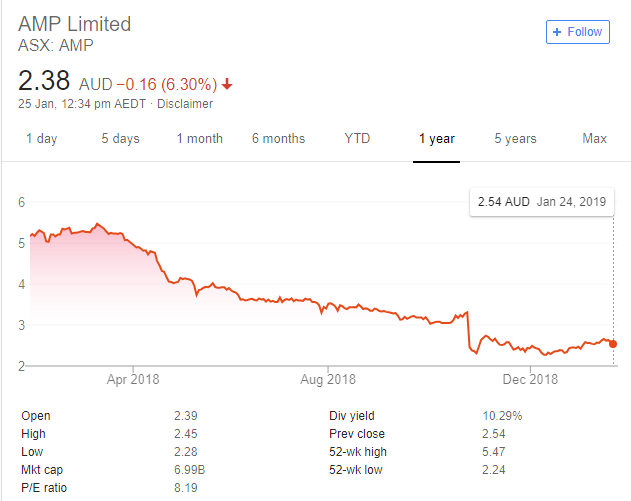 The question is can AMP turn it around, with almost all its head cut off, can a new crew come in and displace the culture of avarice and greed?
Only the bottom pickers will want any of this action, with even more headwinds for the financial services industry coming in 2019.