The vertical fiscal imbalances plaguing the federation has reared its ugly head again, with Victorian Premier, Daniel Andrews, writing to Prime Minister Scott Morrison demanding billions of dollars in funding from the federal government to cope with unrelenting immigration-driven population growth. From The SMH:
In a letter to Prime Minister Scott Morrison, ahead of a Council of Australian Governments meeting on population on Wednesday, Mr Andrews says discussing population growth in Victoria is "meaningless" without a Commonwealth commitment to properly fund required infrastructure.

Over the past five years, Victoria's share of Commonwealth infrastructure funding has fallen to about 10 per cent, despite its 25 per cent – and growing – share of the population, Mr Andrews writes in the letter.
Fair enough. The federal government loves mass immigration because it collects more than 80% of Australia's tax revenue. Therefore, it collects the lion's share of the financial benefits that come with immigration, such as increased personal and company taxes.
The states, by contrast, carry the cost of infrastructure and services to support population growth (think roads, public transport, schools and hospitals).
Analysis by the Grattan Institute in 2014 showed that "unprecedented infrastructure spending by states and territories" since the escalation of population growth from 2004 is "largely responsible for a $106 billion decline in their finances since 2006", and that "after a threefold increase in capital spending over the last 10 years, states are paying 3 per cent more of their revenues in interest and depreciation".
Separately, Grattan executive director, John Daley, recently noted that "state governments were struggling to deal with rapid population growth in their major cities and the quality of life of residents – represented by the rapid growth in house prices in recent decades – was suffering".
To date, Victoria has 'managed' these costs by shoving massive infrastructure spending off balance sheet, including through privatising assets via budget tricks like Public Private Partnerships (PPPs).
For example, the Victorian Government's $6.7 billion West Gate Tunnel Project will see Transurban contribute $4.4 billion towards the cost, but in exchange motorists will have to pay additional tolls on CityLink until 2045 estimated at $15 billion. It's a sweet deal for Transurban and the State Budget, but a dud deal for Melbourne motorists.
The Victorian Labor Government also recently outsourced billions of dollars of badly needed repairs and upgrades to Melbourne's most stressed suburban roads via a PPP that will leave taxpayers repaying the costs over the next 20 years.
These are the hidden costs of a 'Big Australia': in effect giant private taxes, which are being conveniently swept under the rug by budget accounting tricks. And they come at a time when the Victorian Government has enjoyed a monstrous lift in stamp duty revenue, which will crash as the property bust deepens, smashing projections: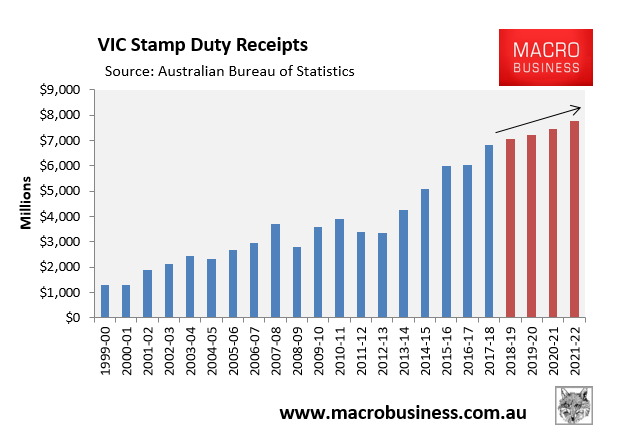 As stamp duty receipts crash, so to will the Victorian Government's ability to fund the economic and social infrastructure required to ameliorate the population pressures.
Irrespective, the infrastructure deficit across Melbourne is guaranteed to deepen, with Melbourne's population projected to more than double over the next 48 years to 10.2 million people by 2066: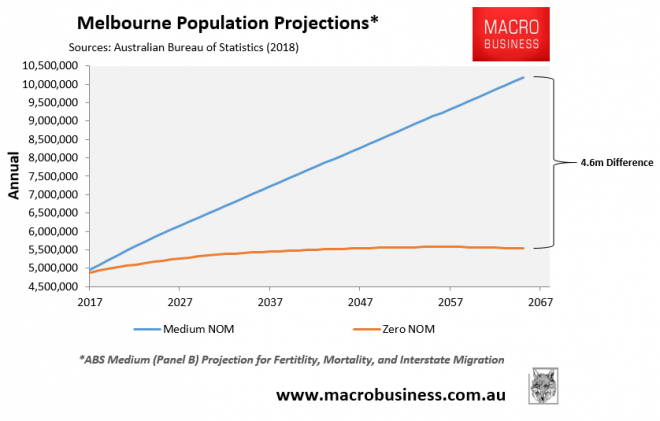 Over the past decade, Melbourne's populations grew by an average of 100,000 people a year respectively, and this caused chronic infrastructure/housing pressures. However, over the next 48 years, Melbourne's population is projected to grow by 109,000 per year. Therefore, population growth is projected to be even more extreme in Melbourne over the next five decades than it was over the past decade, as will the associated strains on infrastructure and housing, which is already unmanageable.
The federal government has basically locked Australians into declining living standards just so it can print some nice budget/growth optics and claim to be a good economic and fiscal manager.
The wellbeing of the ordinary Australian is a distant priority.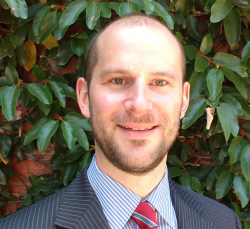 Latest posts by Leith van Onselen
(see all)