It's very, very simple. Australia now has an economy that serves a very few elites and rorts everybody else. This is most obvious in income: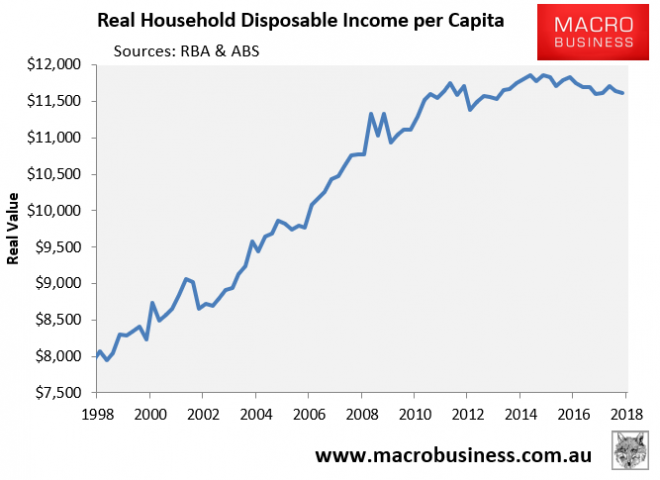 Corrupted by politics or blinded by economic ideology, the doyens in our institutions simply don't get it. They are focused and happy with GDP as the only measure of progress while the per capita economy burns. This is the fatal schism that is now wrecking another government.
This is not new:
it destroyed the Gillard Government as it sought to apply carbon pricing to a nation struggling to pay the bills;
it destroyed the Abbott Government as it sought to apply Budget repair to a nation struggling to pay the bills;
it destroyed the Turnbull Government as it did nothing to a nation struggling to pay the bills.
This is the reality of the mass immigration economy. It can boost headline growth, and create jobs, but it goes nowhere. It is a rat wheel economy on which everybody runs full tilt only to spin pointlessly backwards with lower wages, higher housing costs and crush-loaded lived experience.
Sadly for the political class this comes with a terrible temptation. Because the headline numbers are good they talk it up. But the per capita lived experience is terrible and so that opens a fatal schism between leaders and the people. The more pissed off the polity gets, the more leaders double-down on the rhetoric, fatally widening the divide.
This is made all the worse by the executive in Treasury and RBA that have a vested interest in not seeing the economy crash on their watch. And by media cheerleaders that echo the headline numbers back to pollies, whether in support of their chosen team or because the media models are a part of the rentier class winners from mass immigration or because they are well-meaning but have no idea what they are doing.
In essence, we have created an economy that is completely contrary to Australian values and the political class cannot cope with it. Can the looming Shorten Government survive this economic grinder?
I doubt it. Why? A few reasons:
Labor does have many of the policies to reform it. What is required is to go deeper into the adjustment to repair the real exchange rate and boost external demand. That means lower house prices and wages for another extended period to dump the currency plus growing income through productivity reform.
Explaining that will take rhetorical power beyond the capability of shifty Bill. It must be explained to the polity that they are in a long term adjustment requiring mutual sacrifice from all, yet they've been abused for so long one wonders if they'll even be able to hear it.
Moreover, behind our Bill is the one man who probably can pull it off in Chris Bowen. How long before Shorten's polls crater and Bowen is thrust forward as the next meat for the leadership mincer?
Finally, and perhaps most importantly, Labor is chock full of mass immigration nutters. Chris Bowen, Andrew Leigh even Bill himself are all for a Big Australia. As they face the house price crash the temptation will be to raise immigration numbers even further to support that market. That means the pressure on wages will be even worse and more enduring than otherwise.
Barring a significant economic shock that forcibly curtails mass immigration, I fear what we now face is an endless grind lower in living standards for all Australians as the clapped-out economic model is forced forwards to the ends of the earth. That will ensure that what should have been one lost decade post-China boom turns into an endless class war on 99% of Australians with the political chaos to match.
It's the per capita economy, stupid!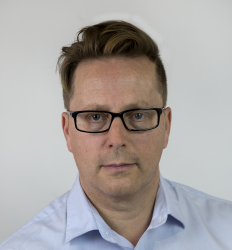 Latest posts by David Llewellyn-Smith
(see all)