Weeoo, weeoo, weeoo.
The Pascometer has sifted through the bearish data until he's finally found  tidbit with which to call the house price bottom:
…here's a little indicator worm that's turned: The Sydney/Brisbane house price ratio has returned to normal.

As previously reported, Sydney house prices tend to be 1.7 times more expensive than Brisbane house prices. The ratio gets out of kilter from time to time, but then an arbitrage of one kind or another tends to bring it back.

At the June quarter peak last year, it was 2.16 when the median Sydney house sold for $1.178 million and the Brisbane median was $546,043. As suggested here in April, the 1.7 ratio was likely to be restored by one means or another, most likely a 10 per cent fall in Sydney and a little rise in Brisbane.

The November CoreLogic figures show that has nearly happened. CoreLogic says the median Sydney house was $935,713 last month. The median Brisbane house was $542,273 – a ratio of 1.726. Getting close.

The November Sydney total dwellings median price was $821,438. Brisbane was $493,041 – a ratio of 1.666.

Markets have a tendency to overshoot a bit in both directions. That consensus is for further falls in Sydney while Brisbane pretty much holds its own. The Sydney/Brisbane house price ratio of 1.7 beckons.

But that looks a bit like a forecast…
Let's look into this a little further. Here's the ratio expressed as Brisbane versus all capitals: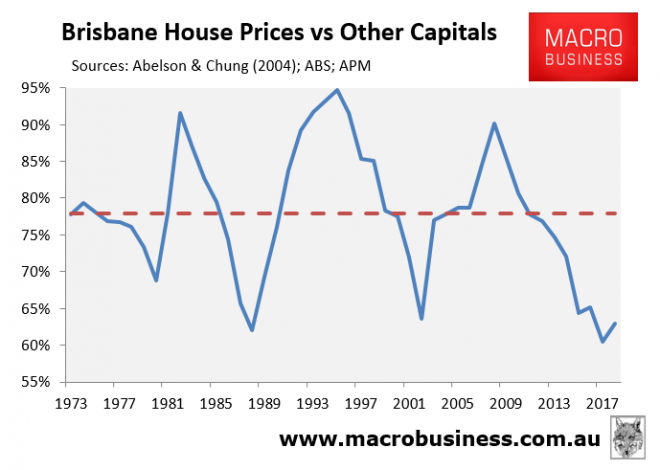 Obviously it's true that Brisbane looks pretty good relative value right now, a point that we've made many times.
But there are several assumptions here that are worth challenging. First, Brisbane increasingly looks like it is going to start falling as well as credit slumps: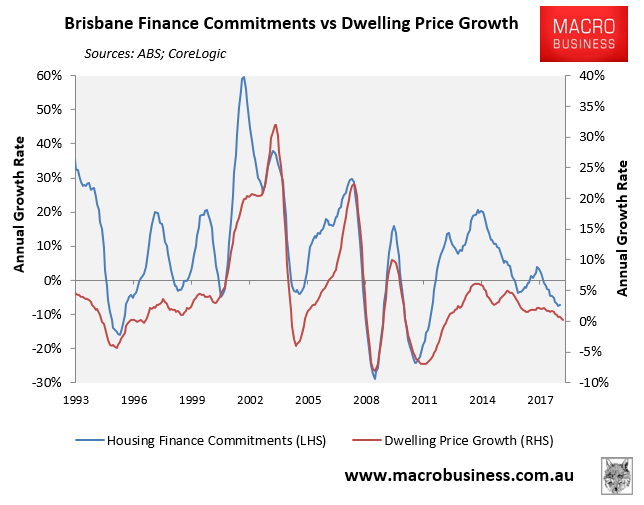 With sales volumes: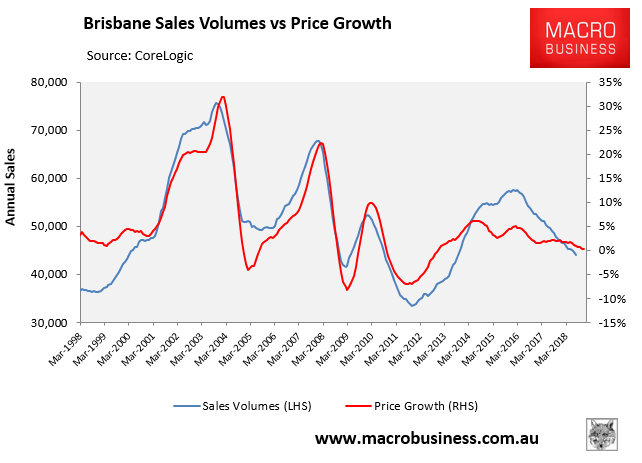 Moreover, such historical relationships are always hostage to long cycle breaks. If this were a normal cycle, with abundant monetary easing imminent, then we would indeed be close to a turn in prices.
But so far this cycle has been anything but normal. House prices are tumbling without any interest rate hikes. Instead, there is a structural shift in lending standards underway that particularly impacts investors which are much more concentrated in Sydney and Melbourne.
This is about to get worse as negative gearing reform arrives. Our estimate for the impact on prices from that is -10% for Sydney and Melbourne so the entire amplitude of the Brisbane prices ratio  ought to break lower by that amount too. Add an overshoot for good measure.
Finally, my estimate for house price falls is 10-15% nationally over for the first leg of the adjustment. But I see a second leg lower as the global cycle comes to an end some time in the next year or two. Or, if we get through that, as China's economy structurally slows into the 2020s and the income recession returns with a vengeance. Both eventualities will hit an Australia with torn apart budgets and exhausted monetary policy. Brisbane would very likely also see falling prices in that scenario too.
All of that aside, the most compelling evidence for further material price falls is The Pascometer calling the bottom!
Weeo, weeoo, weeoo.
Latest posts by David Llewellyn-Smith (see all)