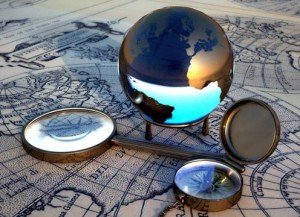 By Chris Becker 
Looking at Chinese stocks first, where last week saw the Shanghai Composite again fail to stabilise above tentative support at the 2600 point level, as economic news disappointed. The continued trade war and lack of confidence in getting any traction with a near powerless Trump as not given any added spark to this depressed market, so I'm watching the low moving average for signs of a proper breakdown soon: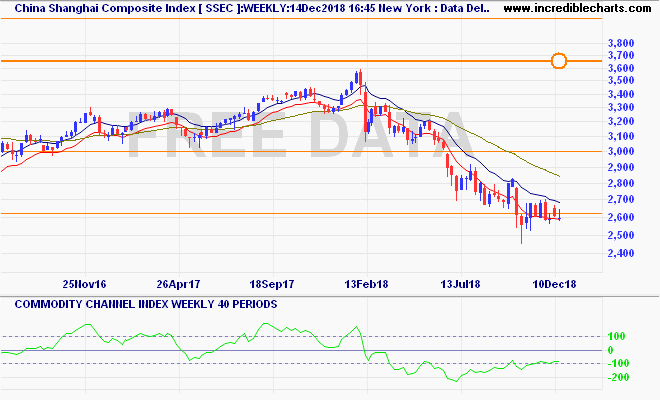 Japanese stocks tried vainly to fight back and despite a supportive USDJPY pair, the weekly chart of the Nikkei 225 shows a clear reversion back to the previous lows at the 21000 point level. This sets up for a break to test the yearly low at 20000 points if confidence doesnt come back soon: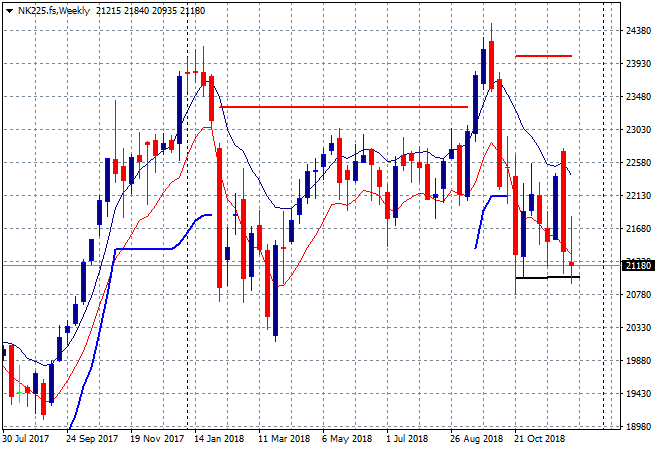 The ASX200 is again poised to break below terminal support at the 5600 points level as it failed to gain any traction through the week as bank and industrial stocks remain depressed, with a lower Aussie dollar not doing any help as usual. There is an obvious anchoring going on here where buyers are reluctant to dump stock below, but we could be in for a rout if price breaks: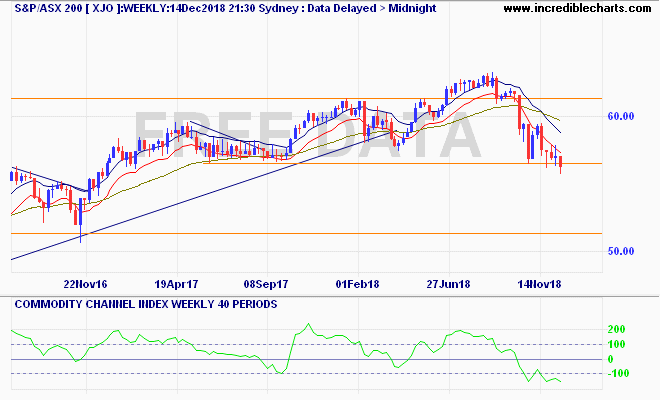 European stocks still remain at weekly lows despite a small reprieve this week as a lower Euro helps offset the volatility around Brexit. The German DAX weekly chart shows a market well into bear territory and unable to make any traction, wiping out all the gains of the previous two years. The poor finish on Friday night for US stocks is setting up for another breakdown to the previous weekly low and possibly a break to 10000 proper: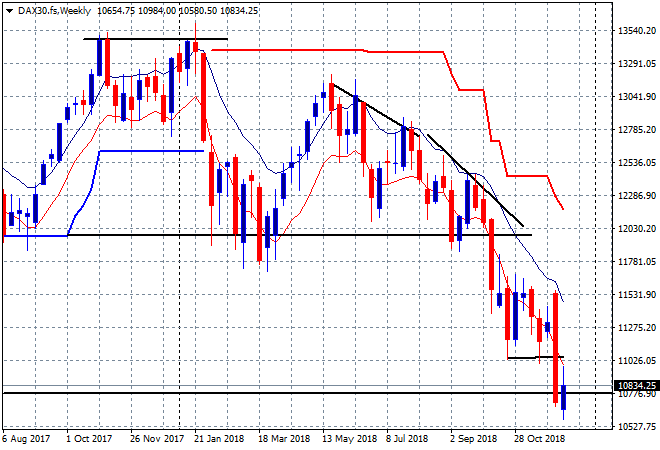 Wall Street had a bad night on Friday with US stocks down around 2% across all the major bourses. The daily chart of the S&P500 is very illustrative with a early week fightback rejected in full and a new daily low pushing the overall trend channel pattern into breakdown territory. The 2600 point level must hold when trading returns tonight and will be interesting to see the reaction to the FOMC meeting, to say the very least: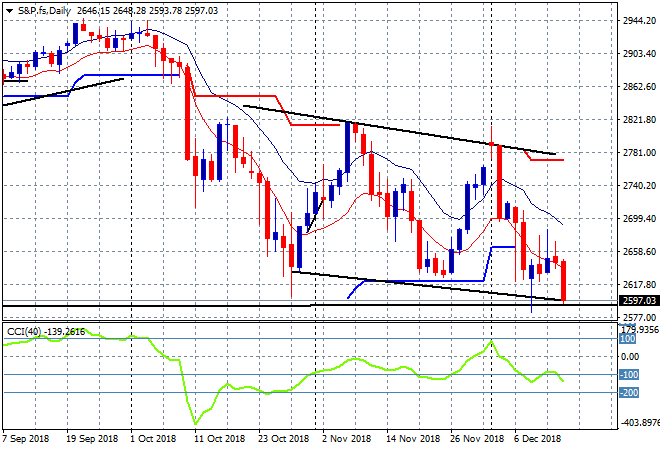 The US bond market has shifted with a series of inversions, namely with the US 10 year Treasury yield pushing lower than the 3% level again last week. With the FOMC meeting coming up this week, with a a near certainty of a rate rise locked in, this does not bode well for risk assets and we could see a bull move on bonds sending yields back to the old support at 2.6%: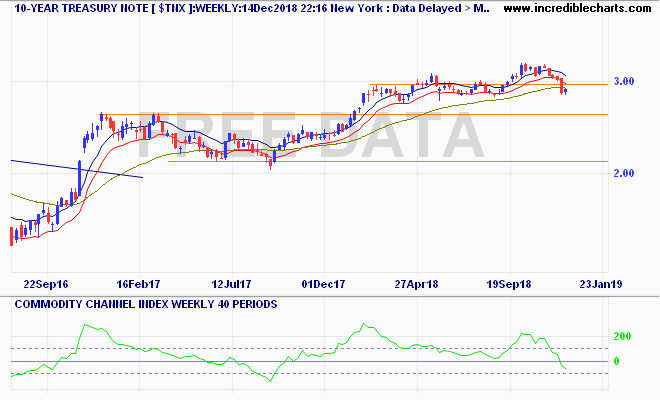 On to currencies, with the US Dollar Index (DXY) still building against the majors despite continued volatility from Pound Sterling and Euro in particular. This is still looking like a run up to the 100 level as momentum remains strong on the weekly chart: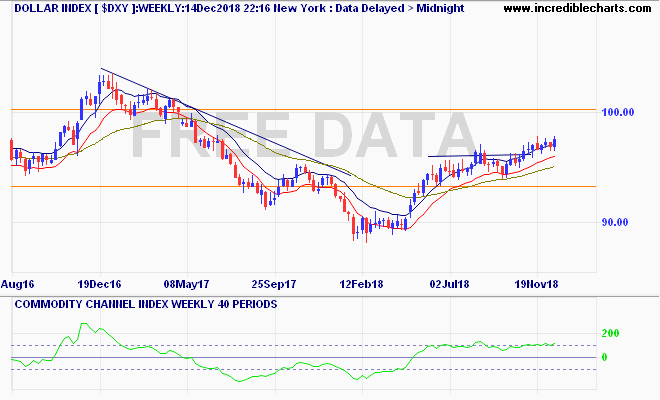 The daily chart of the Euro shows a continued inability to make a new daily high and get back anywhere near the 1.14 handle. Trailing ATR resistance is still proving too strong here with another flop on  Friday night to finish just aboe the 1.13 level. Daily momentum has been unable to cross to the positive level since the September highs with this move suggesting another run lower, possibly to the 1.12 level before Xmas: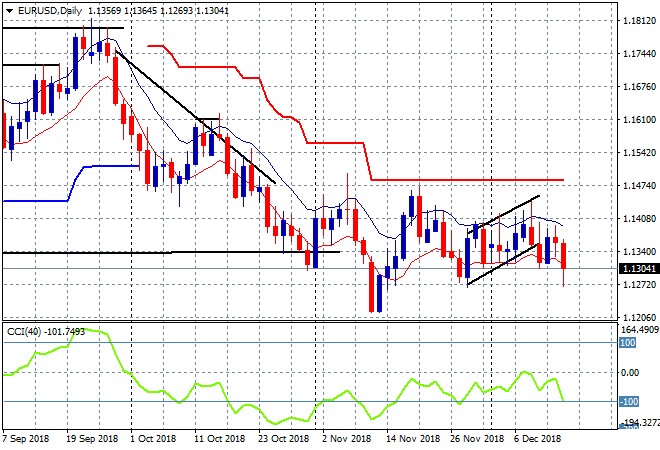 Yen safe haven buyers stepped aside this week as risk confidence initially returned, pushing the USDJPY pair back above the 113 handle once more, but it's still part of a multi-week pattern of lower highs that has not yet translated into lower lows. The obvious resistance level here at the 114 handle needs to be broken soon for this latest small rally to have any ability to go further: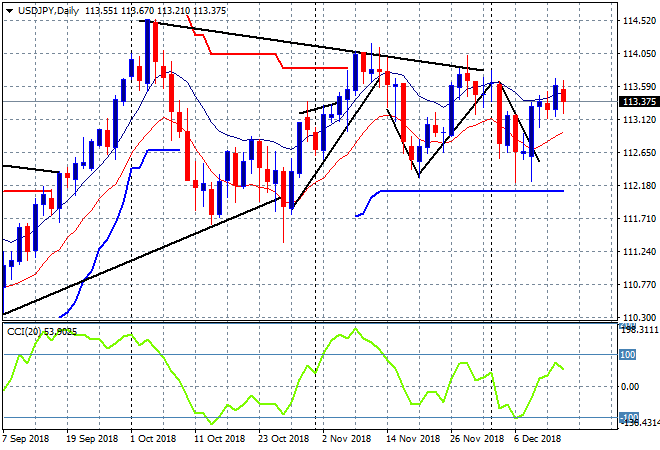 The daily chart of the Aussie dollar shows an early week attempted breakout that could not get traction above the low emoving average band, with a major reversal on Friday night taking it well below the 72 handle. This takes out any chance of a return to favour at the 73.40 level from the previous two weeks and sets up for a potential breakdown: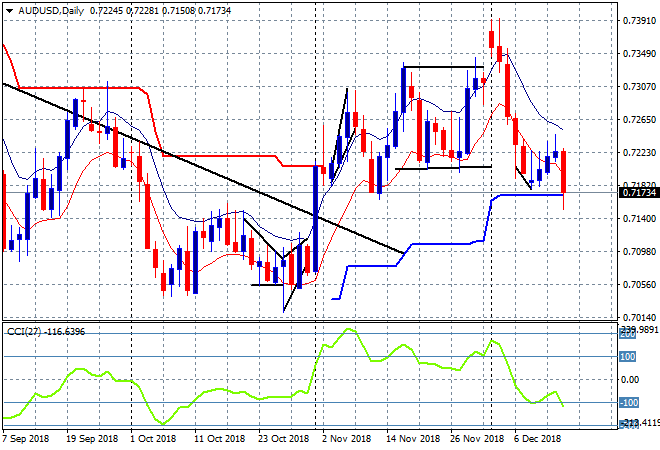 Oil also failed to turn its relief rally into anything substantial with the WTI contract finishing slightly above the $51USD per barrel level this week in a very poor effort. I've been warning about cashing in short side positions here for a while as this remains immensely oversold levels but there has yet to be any real bounceback: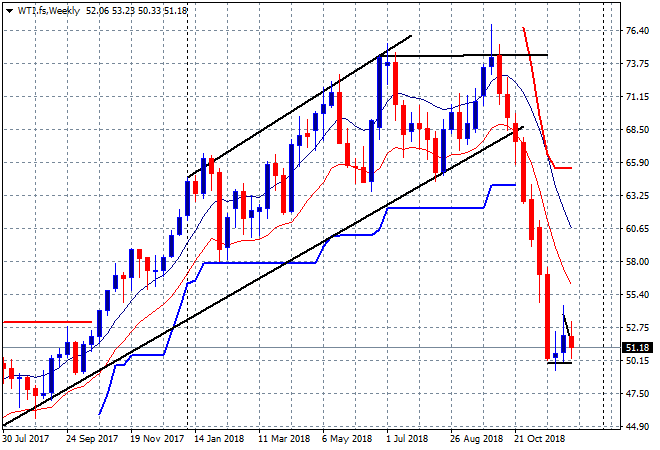 Finally to gold, where hesitation finally turned into a selloff late in the week, although its hanging on without making a new weekly low, finalizing at the $1238USD per ounce level. The weekly chart still shows a lot of upside potential given this years decline,  but as I've warning, this is only a short term swing play and it could have reached a new but solid resistance level at $1240 or so: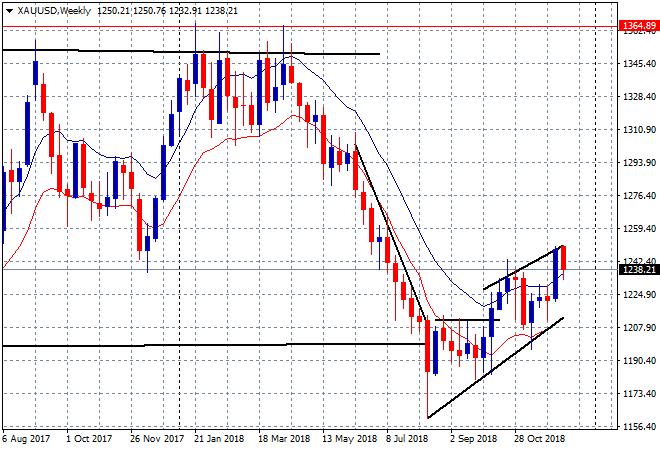 Glossary of Acronyms and Technical Analysis Terms:

ATR: Average True Range – measures the degree of price volatility averaged over a time period

ATR Support/Resistance: a ratcheting mechanism that follows price below/above a trend, that if breached shows above average volatility

CCI:  Commodity Channel Index: a momentum reading that calculates current price away from the statistical mean or "typical" price to indicate overbought (far above the mean) or oversold (far below the mean)

Low/High Moving Average: rolling mean of prices in this case, the low and high for the day/hour which creates a band around the actual price movement

FOMC: Federal Open Market Committee, monthly meeting of Federal Reserve regarding monetary policy (setting interest rates)

BOJ/Abenomics: Bank of Japan, economic policy/direction enacted by PM Shinzo Abe

DOE: US Department of Energy 

Uncle Point: or stop loss point, a level at which you've clearly been wrong on your position, so cry uncle and get out!