History doesn't repeat but it sure does rhyme. At Labor's weekend conference, leader Bill Shorten announced a $6.6 billion package to facilitate 250,000 'affordable' rental dwellings over the next decade. From The ABC:
Under the 10-year, $6.6-billion scheme, investors who build new properties would get a subsidy of $8,500 a year, on the condition they keep the rent at 20 per cent below market rates.

According to Labor, a family in Sydney paying the average weekly rent of $582 would save $92 while a family in Perth would save around $75 a week…

"A hidden struggle in this country is being fought by the hundreds of thousands of our fellow Australians who can't afford to live anywhere near where they work," [Bill Shorten] told the conference.

"They're spending over a third of their pay packet on rent — and plenty more on petrol each day when they travel.

"Housing affordability is a national challenge and it demands national leadership."
The announced package is effectively a return to the Rudd-era National Rental Affordability Scheme (NRAS), which was axed by the Abbott-Government: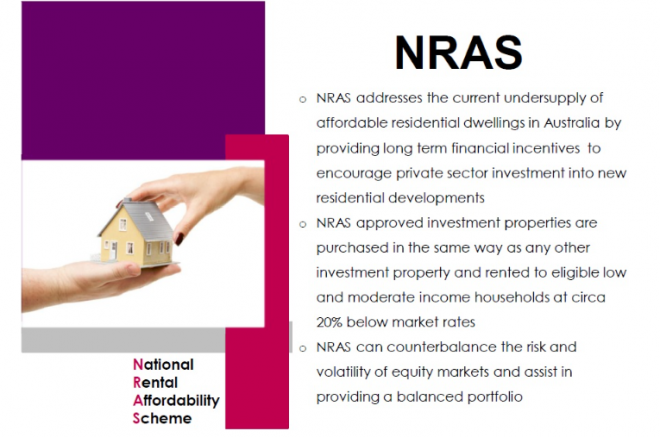 Predictably, Liberal Treasurer Josh Frydenberg has labelled Labor's policy a 'dud':
The Treasurer said a similar scheme introduced by the Rudd government in 2008 — also based on lowering rentals to 20 per cent below market rates — was strongly criticised by the Australian National Audit Office in two reviews that found dwelling targets were not met and the assessment process was ineffective.

Properties were built regardless of size and areas of need, the rights of investors and tenants were not protected and the scheme was exploited by scammers.

According to Mr Frydenberg, the incoming Coalition government was left with the job in 2013 of fixing these flaws in Mr Rudd's National Rental Affordability Scheme.

"It did not work then and it will not work now," Mr Frydenberg said. "Labor has clearly learned nothing from its past failures."
The Grattan Institute's John Daley believes Labor is seeking to deflect attention away from its negative gearing policy:
"It has the appearance of helping people at the bottom, whereas the reality is it helps a small group of people at the bottom in a fashion much akin to a lottery," Mr Daley said in an interview.

"And it's also about the optics that negative gearing might hurt people at the bottom."

The plan, under which Labor said it would give an $8500 rental subsidy to newly constructed properties leased to eligible tenants at 20 per cent below market rent, intended to tackle the assumption – which Mr Daley said was incorrect – that rents would rise if private investor landlords lost their negative gearing tax breaks.
Whereas the community housing sector – National Affordable Housing Providers, the Community Housing Industry Association, and the Australian Council of Social Service – all welcomed Labor's policy.
In principle, I have no objection to the Government providing subsidised rental accommodation. Given Australia's busted rental market – whereby insecure one-year rental terms are commonplace – there is scope to provide longer-term leases that provide renters with greater security of tenure.
But let's be honest: the $3.2 billion NRAS scheme turned into a rort used by universities to supply subsidised accommodation to international students.
Moreover, the incentive structure of NRAS should have encouraged the construction of larger apartments and houses suitable for local families, rather than shoebox-sized apartments for students.
On this point, one of the major flaws of NRAS was that the maximum $10,000 subsidy could be the same regardless of the number of rooms built. This gave developers the incentive to supply shoebox student accommodation rather than larger homes targeted at impoverished local families.
In short, NRAS wasn't bad in principle. Rather, like many policies of the former Labor Government, it was implemented poorly with bad incentives built-in. Fix these incentives, and ban provision to foreigners, and you have the makings of a good Scheme.
Thankfully, Labor seems to have learned from its past NRAS mistakes with Bill Shorten announcing that the new scheme would exclude overseas students, temporary foreign workers and other non-residents from being eligible.
That said, the far bigger issue is that Australia's social housing and broader rental market has been overrun by the perpetual flood of people into the major cities, courtesy of the 'Big Australia' mass immigration policy, which is projected to continue for the next five decades: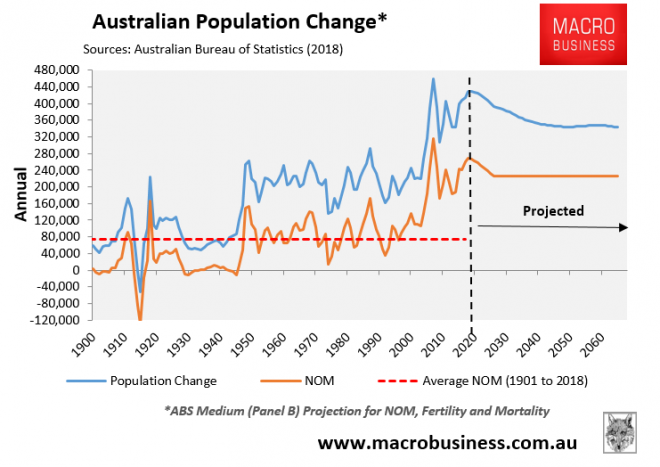 This is the primary reason why social housing is not keeping up with demand.
Under this mass immigration policy, Australia will never build enough social housing, with or without NRAS 2.0.