After last week indicating that it would significantly lift Newstart if elected, Labor refused to commit at its national conference. From SBS News:
Labor is set to resist an internal push to raise dole payments, holding firm on a commitment to review Newstart rather than lock in a boost…

Labor will likely commit to urgently reviewing the dole if it wins government and hand down recommendations within 18 months.

"For every Australian who can't find a job, we will review and reform Newstart because that system should support people back into work, not punish them in poverty," Labor leader Bill Shorten told delegates on Sunday.

Shadow treasurer Chris Bowen said the rate of Newstart needed to be assessed with the resources of government and departmental advice.

"Newstart is low, we need to review it. That is the Labor Party's position and I expect that to be reflected in the national conference resolution," he told reporters.
Virtually all cross-sections of society, except the Coalition, have demanded the federal government lift Newstart, including:
Deloitte Access Economics senior partner Chris Richardson;
the Business Council of Australia;
Former Treasury Secretary, Ken Henry;
Professor Peter Saunders from UNSW;
Former Liberal leader, John Hewson;
Former Prime Minister, John Howard;
Business lobbyist, Heather Ridout;
independent senators Tim Storer and Derryn Hinch;
The Australian Council of Social Service (ACOSS);
The Salvation Army;
South Australian Council of Social Service (SACOSS); and
The Australian Greens.
Moreover, the data unambiguously supports an increase.
The Newstart Allowance has not increased in real terms (i.e. above the Consumer Price Index) since 1994, whereas the Pension has received significant increases. This means that people who are unemployed have not shared in increases in living standards received by the rest of the community for more than 20 years: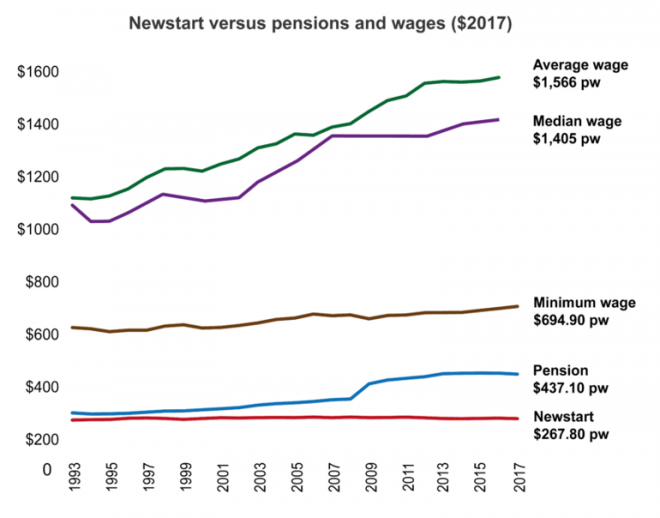 Newstart will also soon fall to 30% below the poverty line – the lowest level on record: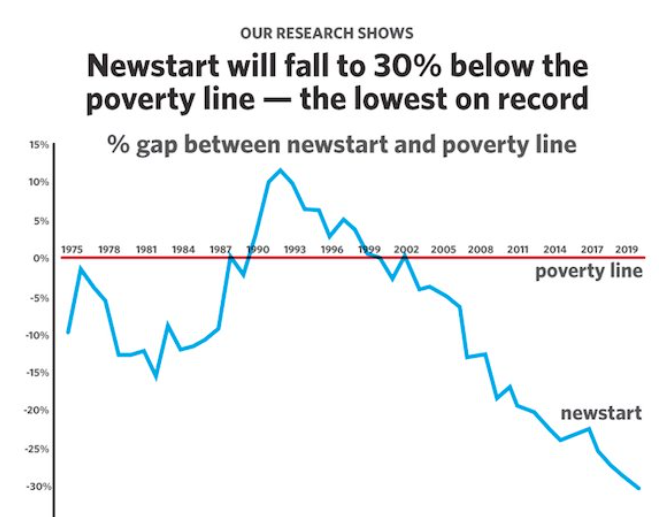 It's a crying shame that Labor didn't announce an interim increase to Newstart while awaiting a detailed review. The unemployed shouldn't have to wait 18 months for an increase.