The Australian's Adam Creighton has penned an enlightening article on the extraordinary cost of Australia's superannuation system, which is running at around quadruple that of the Aged Pension, according to analysis provided by the peak superannuation industry, Association of Superannuation Funds Australia (ASFA):
Age Pension outlays, which totalled $46.8 billion this year, were almost $9bn a year lower as a result of superannuation…

The two biggest superannuation tax concessions — a 15 per cent flat tax on contributions and earnings — will reduce tax revenue to government by about $38.4bn this financial year, ­according to the latest tax office data, or more than four times the estimated pension savings…

The ASFA figures coincided with an OECD report that singled out the high cost of Australia's super tax concessions, suggesting they were between double and ­triple the level of those in Canada and the US…

"Recent increases in contribution rates in these countries explain the upward trend in the fiscal cost," it added, referring to Australia and Iceland.
The below chart from Grattan says it all: "both the short and long term, superannuation tax breaks cost the budget more than they save in pension payments":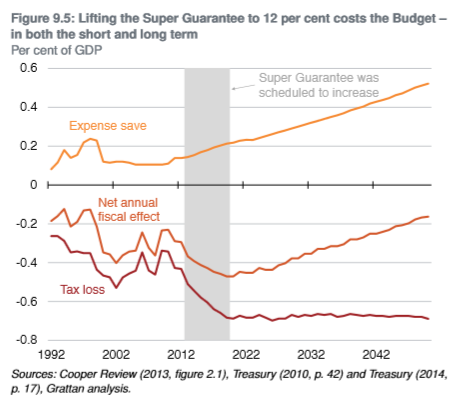 Grattan is far from alone in holding this view.
Actuarial consultants, Rice Warner, also recently warned that Australia's compulsory superannuation system is costing taxpayers more than it saves in Aged Pension costs.
Whereas former Treasury secretary, Ken Henry's, tax review explicitly acknowledged that compulsory superannuation is costing the federal budget dearly, even after accounting for Aged Pension savings:
"An increase in the superannuation guarantee would … have a net cost to government revenue even over the long term (that is, the loss of income tax revenue would not be replaced fully by an increase in superannuation tax collections or a reduction in Age Pension costs)."
The Henry Tax Review also explicitly warned against raising the superannuation guarantee because it would lower workers' after-tax pay and have a punitive impact on lower-income earners:
"Although employers are required to make superannuation guarantee contributions, employees bear the cost of these contributions through lower wage growth. This means the increase in the employee's retirement income is achieved by reducing their standard of living before retirement…

The retirement income report recommended that the superannuation guarantee rate remain at 9 per cent. In coming to this recommendation the Review took into the account the effect that the superannuation guarantee has on the pre-retirement income of low-income earners".
Politicians need to face up to the facts. Tax concessions on superannuation already cost the Budget an inordinate sum, and are growing rapidly. And raising the superannuation guarantee to 12% – as already legislated – would mean they become an even bigger ($2 billion a year) Budget drain over time.
At a minimum, the legislated increase in the superannuation guarantee needs to be junked, combined with root-and-branch reform to the way concessions are distributed to make them more progressive.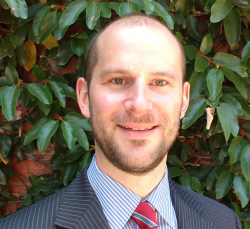 Latest posts by Leith van Onselen
(see all)