Check this out from Michael Fullilove at the Lowy Institute:
We have just come through summit season. The pace of regional diplomacy has picked up. Recently Japanese Prime Minister Shinzo Abe visited Chinese President Xi Jinping in Beijing. The very next day Abe hosted Indian Prime Minister Narendra Modi at his home near Tokyo. The big three of Asia were meeting, sizing each other up, playing the game.

…While others are making the running, however, Australia has lost a step. How could it be otherwise when our new prime minister will spend most of the time between now and next year's election introducing himself to his counterparts?

…By turning inwards, Australia has taken itself out of the deal flow. We need to move urgently to thicken our connections with countries such as Indonesia, Japan, India and South Korea. We need to try to draw other like-minded powers such as France and the UK further into our part of the world.
We have for years pointed out the problem.  Australian household's material living standards are burning: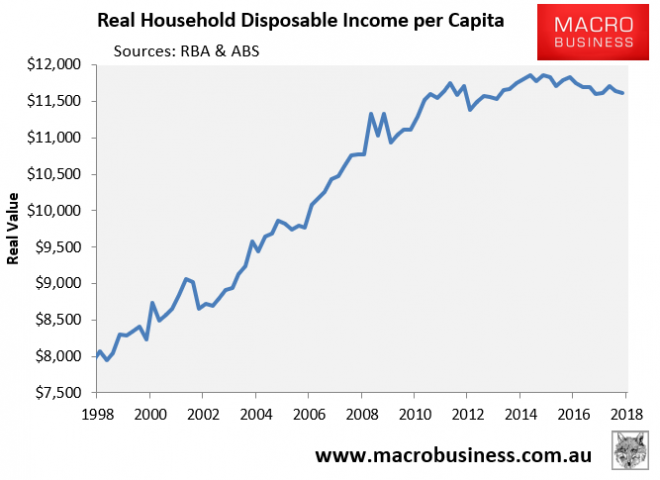 The polity is perpetually enraged by a political class that either point blank refuses to address the problem or actively misdirects it. That creates a perpetually febrile political environment in which incumbents cannot sustain polling support and, before too long, the internal party machines of the major parties panic and replace their leaders. New leaders do nothing, polling support falls again, so and so forth into the abyss.
There are two primary drivers of the underlying income recession. The first is the terms of trade (ToT) correction that began in 2011 with the shift in the Chinese growth model to lower commodity intensity. The resulting falling commodity prices was a big national pay cut that was always going to be shared by all. However, that is long over now as bulk commodities have been rising for three years.
Which brings us to the second factor: the mass immigration growth model. It was very unwisely deployed by pollies to pass an unfair proportion of the ToT adjustment onto wages. That then segued into today's perverse alliance between the mass immigration winners – banks, retail and development (the growth lobby) – and the rise of the Fake Left, which defends immigration ahead of wages and/or everything else.
We have been baffled by senior commentators refusal to engage with the simple fact of the declining per capita economy. They are either not doing so keep their jobs in media shops that are also addicted to mass immigration support for realty revenues or out of fear of being branded racist.
That has now reached the point where Domain is pointing out the problem with one eye closed:
Scott Morrison has a cost-of-living problem and it doesn't look like going away.

Australia's longest running survey of community concerns – the Ipsos Issues Monitor – shows "cost of living" has now been rated the top issue facing the nation for a more than a year.

Kitchen table politics is always hot. But it is unusual for living costs to be entrenched as our No. 1 worry for so long. That hasn't happened since the Issues Monitor began nearly a decade ago.
Cost of living is an issue, especially in basics such utilities, but concern in polity about it is the flipside of the real political problem which is falling wages resulting from the mass immigration labour supply shock.
Alas, not only has the national economy been kidnapped by the mass immigration loons, we've lost our ability to see or discuss it. It is some whacko form of economic Stockholm syndrome in which we have had our living standards hijacked while also being forced to love those responsible for it.
There are some indications that Labor could address the real issue. It is making noises about stopping the abuse of temporary visas. Much of their economic reform is admirable and much needed as well and will, in time, deliver higher productivity and therefore income. But they are also now wedged between tax changes that will hammer house prices and the need to sustain mass immigration (and the wages crush) to prevent the housing market from crashing. Labor also clearly has far too many blind faith mass immigration believers.
Making matters worse, China is slowing and it is looking increasingly likely that the ToT adjustment will return in H1 2019 as iron ore corrects, dropping another anvil on wages and wider political pain.
The mass immigration model has destroyed the Coalition Government via the rise of One Nation. The suicidal politics of internecine climate change has flowed from this destabilsing core. But it will visit upon Labor next as wages get worse not better in its first term. The housing adjustment combined with mass immigration guarantees it.
The national security threat of political instability identified by Michael Fullilove is not at an end.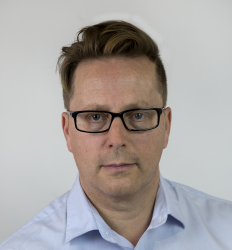 Latest posts by David Llewellyn-Smith
(see all)