Via The Australian:
The nation's largest single electricity user has questioned how it will keep power running at its Tomago aluminium smelter under Labor's 45 per cent emissions reduction target and ­$10 billion plan to turbo-charge investment in renewables, declaring that "batteries are not a solution".

…Energy Minister Angus Taylor warned yesterday that hundreds of thousands of jobs dependent on the supply of affordable and reliabl­e power could be jeopardised by the Labor plan, including the 1100 jobs at Tomago.

"We are layering in inter­mittency, with more and more wind and solar coming in, displacing coal," Mr Howell told The ­Australian.

"What I think about it (the Labor policy) is, there is in­sufficient detail. How will we achieve the 45 per cent emissions ­reduction across the country and 50 per cent renewable target and keep the lights on for energy-­intensive manufacturing? If Aust­ralia wants to be a nation that makes things — bricks, glass, cemen­t, steel and aluminium in particular — you've got to have inter­nationally affordable and reliabl­e energy. We are deeply, deeply ­concerned that our smelter is being called upon to load-shed when there is insufficient reserve margin in the National Electricity Market."
It's true that batteries are not a solution, yet. But they will be as prices keep falling and accelerating that via subsidy is not terrible policy even if it is not the most efficient mechanism.
But the bigger issue for Labor now is not the battery subsidy. As said yesterday, Labor has not confronted the gas cartel yet and that is a gap that the Coalition loons are going to swing their wrecking ball through. The idea that Labor is "layering in inter­mittency" is right, though the CEFC will no doubt be helping fund storage as well.
Labor's hidden assumption for higher reliability and lower prices to offset greater intermittency is its reform of the east coast gas cartel. That is where the incoming government has provided little detail, really only declaring vaguely that it will use domestic reservation and lower prices further than current ranges. It is gas that is marginal price setter in the National Electricity Market now and it is gas generation that must provide the dispatchable power to stabilise renewables. From the ACCC: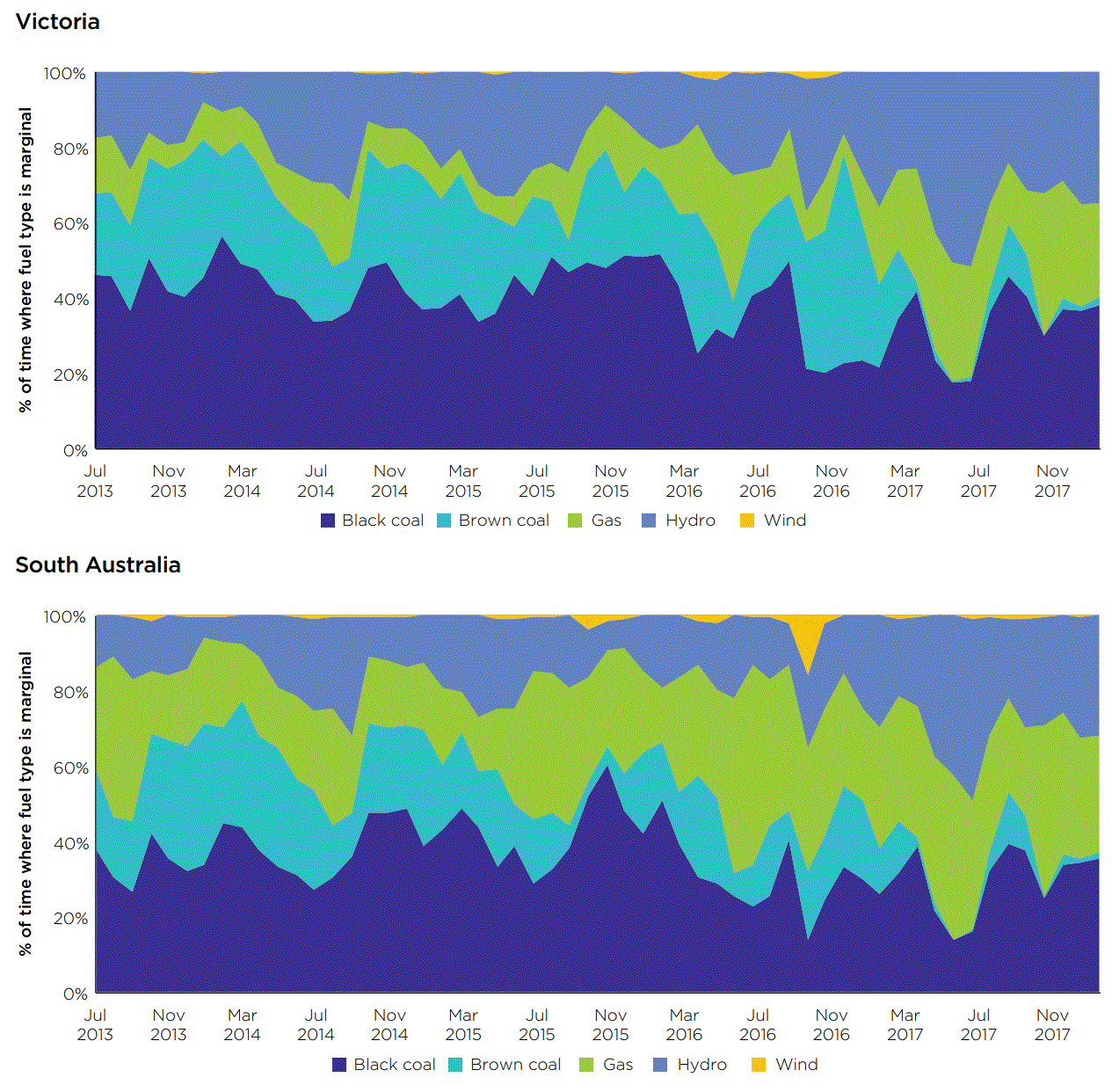 Every $1Gj rise in the gas price adds $10MWh to power prices. And gas prices have been rising again. They're hovering at $11-12Gj today up from $9-10Gj for much of the year.
There is no avoiding it. The gas cartel must be broken or Labor's energy policies will kill it swiftly in office. Wider reform policies are going to lower the Australian dollar and that will make local gas more expensive as export net back rises.
It's understandable that Bill Shorten does not want to poke the resources bear before an election, and the Coalition will make hay out it, but Labor must prepare for the confrontation when it takes power or energy will again be the millstone around its neck.