The Age's shocking bias in favour of mass immigration and a 'Big Australia' has be laid bare by editor Alex Lavelle's latest rant.
Despite feigning concern that world-beating population growth is crush-loading Melbourne:
…traffic congestion; crowded and insufficient public transport; a shortage of flexible and affordable housing; a lack of community and commercial infrastructure; and pressure on health and education services. They all stem from a single phenomenon – the rapid growth in Melbourne's population, which has been expanding by about 3 per cent a year, one of the fastest rates in the world and the equivalent of annually adding Darwin to our metropolis…

Victorians might be concerned by news that the ALP government's attempt to offset insufficient investment by successive state administrations is barely keeping up with current needs, let alone catching up with the backlog.
The Age editor has wholeheartedly thrown the paper's support behind the current mass immigration policy:
The Age has long argued the best way to salve the growing pains is to invest more in infrastructure, rather than to slash population growth rates. In any case, with immigration a federal issue, there is little states can do to control how many people add to the population. Studies in Australia and throughout the industrialised world show the benefits of population growth outweigh inconveniences of the like Melbourne is experiencing.
What are these "studies" showing that the benefits of extreme population growth outweigh the costs?  Because, the Productivity Commission's various reports have certainly not shown net benefits to incumbent residents.
In any event, 15-years of empirical evidence in Melbourne has unambiguously shown that infrastructure, housing, schools and hospitals have all been crush-loaded – as explicitly acknowledged by The Age above.
Moreover, Infrastructure Australia's modelling shows Melbourne's liveability will unambiguously deteriorate further as the city's population surges to a projected 7.3 million people by 2046, with worsening traffic congestion and reduced access to jobs, schools, hospitals and green space under every build-out scenario: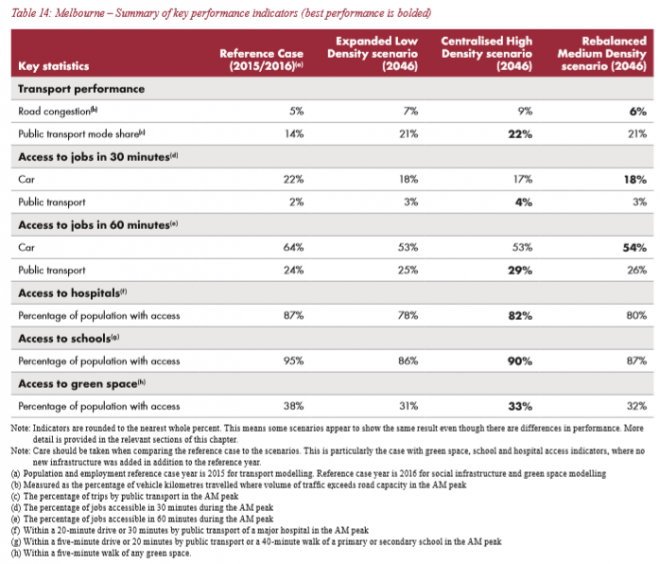 Why would The Age wish this future upon its readership, rather than taking the logical path of lobbying the federal government to reduce immigration back to sensible historical levels (see next chart)?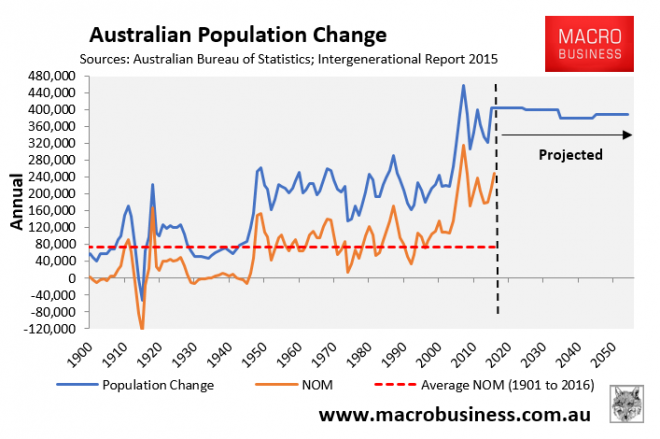 The only genuine solution to protecting Melbourne's amenity is to lower immigration and prevent the city from transforming into an Asian-style mega-city. The Age's editor needs to stop representing the wealthy rentier owners of capital and stand-up for ordinary Melbournians.
At the rate Domainfax is shedding staff dedicated to objective coverage, that may cost him his job of course.
Leith van Onselen is Chief Economist at the MB Fund and MB Super. Leith has previously worked at the Australian Treasury, Victorian Treasury and Goldman Sachs.
Latest posts by Leith van Onselen (see all)