The lack of planning and foresight to cope with the never-ending population (immigration) influx into Australia's big cities never ceases to amaze.
Over the past 13-years, Melbourne's population has ballooned by an insane 1.2 million people: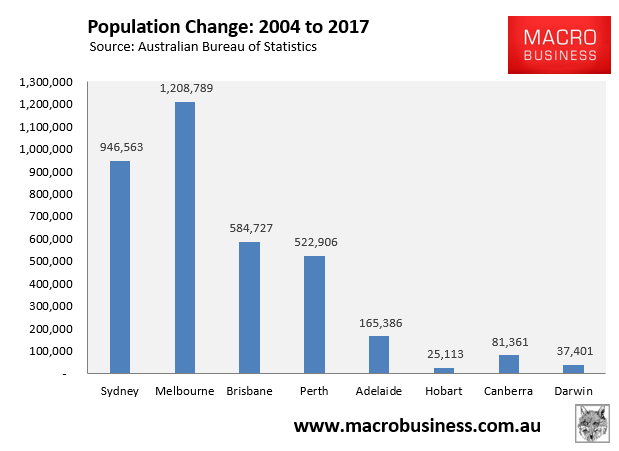 And the predictable result has been the crush-loading of all manner of economic and social infrastructure, from roads to public transport, to schools and hospitals. Today, we have received yet another example of this madness, with Melbourne's secondary schools bursting at the seams:
At Melton Secondary College, perched on the fringe of Melbourne's north-western sprawl, teachers are forced to roster class heating and cooling…

"We have 40-year-old buildings with a capacity of 900 students and we're now nearly 1,100 enrolments — and growing," school council president Chris Papas said.

"There are only three state secondary schools in an area, with up to eight primary feeder schools … and we're all bursting at the seams"… It's among the Victorian schools facing a big squeeze…

"With secondary schools, the crunch has arrived and it's going to get worse," said the Grattan Institute's school education program director, Pete Goss…

Melton Secondary College is feeling the squeeze so tightly that it's had to remove student lockers from narrow, congested corridors to prevent a crush during lesson changes and breaks… Within five years, Mr Papas believes the school is on track to reach up to 1,600 students…

Wyndham City Council, also in Melbourne's west, is predicting "an explosion" in the number of secondary-school-aged children trying to get into its already "overcrowded" campuses.

"We're now at that tipping point," said the Good Education Group's Ross White. "What we're talking about is many, many more students coming into far fewer schools…

Mr Goss said the old days of having a single-storey school spread out across a big area are probably gone in Melbourne…

The Labor Government has already built a number of multi-storey "vertical" schools in Victoria, designed to fit more students onto smaller blocks of land…

With Victoria's population continuing to surge at breakneck pace, decisions will need to be made quickly…

"It's clearly a disgrace and an absolute travesty that the investment hasn't even been able to keep pace with what's going, let alone trying to track in front, which is what should be happening as good communities grow" [Mr Papas said].
Last week, Labor promised to build 100 new schools in Victoria over the next eight years. But this will barely touch the sides. According to Peter Goss, School Education Program Director at the Grattan Institute, Victoria will require 220 new schools in the decade to 2026 merely to keep pace with projected student enrolments: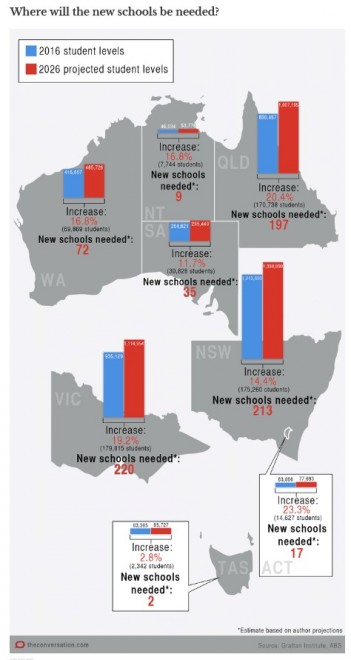 As we all know, the primary driver of this mess is the federal government's mass immigration 'Big Australia' program: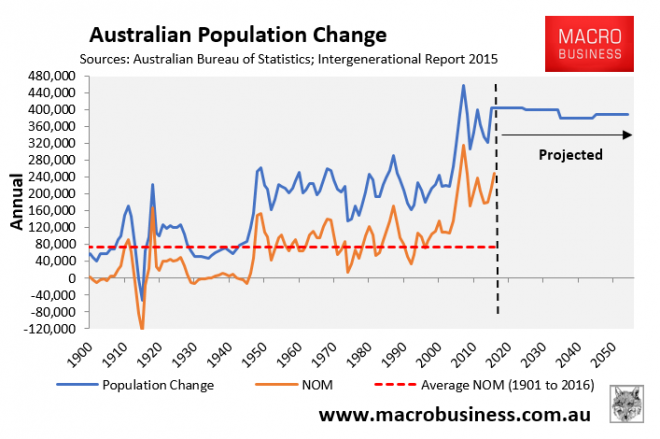 When I worked at the Victorian Treasury in 2006, the Government had recently released "Melbourne 2030", which projected that Melbourne's population would reach 5 million people by 2030. In 2010, the Government released "Melbourne Beyond 5 million", which projected that Melbourne would add one million people in 15 years and warned that the city was not ready for this growth.
As we all know, Melbourne has smashed those projections, hitting 5 million people in 2018, 12 years earlier than projected in Melbourne 2030, after adding a whopping 600,000 people in just the five years to 2017!
And the crush-loading is only going to get worse according to Infrastructure Australia's recent modelling, which showed that as Melbourne's population surges to a projected 7.3 million people by 2046, traffic congestion and access to jobs, schools, hospitals and green space will all materially worsen regardless of how the city is built-out: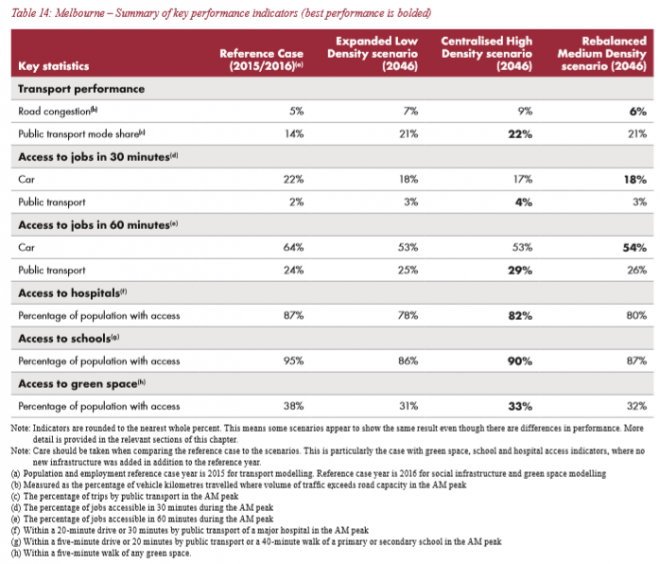 Running a mass immigration program without adequate planning and investment means incumbent residents will spend more time lost in traffic, spend more on (smaller) housing, receive less public services (e.g. health and education), and experience overall lower living standards.
The only genuine solution to protecting Melbourne's liveability is to lower immigration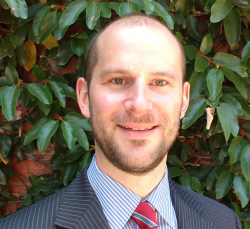 Latest posts by Unconventional Economist
(see all)