The Australian's Adam Creighton has revealed analysis from the Parliamentary Budget Office (PBO) suggesting that 710,000 younger and lower-paid Australians would oft-out of compulsory superannuation, and increase their take-home pay, if given the choice. And allowing this option would improve the Federal Budget by $1.9 billion a year by 2029:
An estimated 7 per cent of ­employees, including one-fifth of those under 30 on low incomes, would prefer to take their 9.5 per cent compulsory super contributions as wage and salary income, rather than lock up income in super accounts…

"Those earning in the top 15 per cent of wages and salary ­income (above $100,000 a year) would not opt out," it said. "Those aged over 60 would not opt out."

The conclusions imply that the benefits of the landmark Labor policy flow to higher income earners and older workers.

"The proportion of individuals choosing to opt out of the superannuation guarantee would vary by age and income, and would ­increase over time," the PBO said.

It is estimated that about 15 per cent of workers earning less than $60,000, whose super contributions would amount to a maximum of $5700 a year — would opt out immediately…

The analysis, titled Making the Superannuation Guarantee Voluntary, found such a policy would improve the budget bottom line by $590 million in the first year, rising to $1.9 billion a year by 2029.
We already know that compulsory superannuation is a dud policy in its current form. This is because the lion's share of concessions flow to higher income earners, therefore "both the short and long term, superannuation tax breaks cost the budget more than they save in pension payments", according to the Grattan Institute: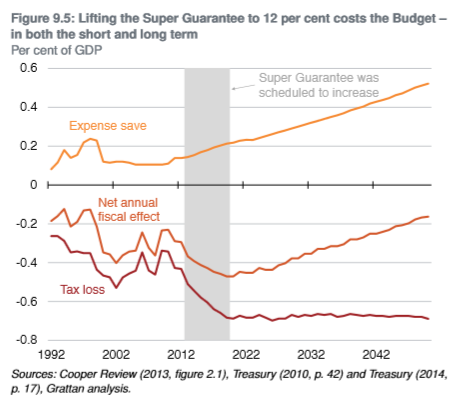 The Henry Tax Review made similar observations:
"An increase in the superannuation guarantee would … have a net cost to government revenue even over the long term (that is, the loss of income tax revenue would not be replaced fully by an increase in superannuation tax collections or a reduction in Age Pension costs)."
While ending compulsory superannuation may be a bridge too far politically, the rate most definitely should not be raised above the current 9.5% to 12%, as is currently legislated. doing so would cost the Federal Budget another $2 billion a year, would exacerbate inequities already present in the system, and would rob lower paid workers of even more disposable income.
Our politicians must also remember that the Henry Tax Review explicitly recommended against raising the superannuation guarantee:
"The retirement income report recommended that the superannuation guarantee rate remain at 9 per cent. In coming to this recommendation the Review took into the account the effect that the superannuation guarantee has on the pre-retirement income of low-income earners".
Let's hope our politicians are listening to sound evidence over the special pleadings of the superannuation industry seeking to 'clip the ticket' on more funds under management.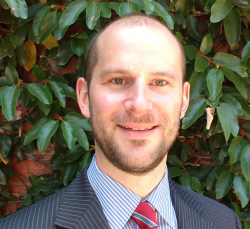 Latest posts by Leith van Onselen
(see all)