New Zealand's housing market looks set to follow Australia's into a correction.
According to Realestate.co.nz, Auckland's housing market is now favouring buyers for the first time since 2011, whereas Quotable Values says that average prices are now falling:
It's a buyer's market in Auckland for the start of summer, with the number of homes for sale up strongly and average asking prices and property values down.

The October figures from Realestate.co.nz show that the number of Auckland homes newly listed for sale on the website in October was up a whopping 20.1% compared to October last year, while the total number of homes available for sale in the region at the end of October was up 17% compared to a year earlier.

However, the average asking price of Auckland homes listed for sale in October was down 1.3% compared to September…

"Given the level of new listings, the total amount of stock for sale and a slowing of sales rates, the Auckland market is favouring buyers to an extent we haven't seen for nearly nine years," Realestate.co.nz spokesperson Vanessa Taylor said…

According to QV the average value of all homes in the Auckland region, not just those that sold, was down by 0.3% at the end of October compared to three months earlier…

"Undoubtedly, the heat has been taken out of the market in recent months," QV General Manager David Nagel said.

"A key market indicator, the median days to sell, is up across many regions including Auckland.
Meanwhile, ANZ's latest Business Outlook Survey shows a sharp drop in intentions to construct in both residential and commercial sectors, with ANZ now forecasting official interest rate cuts:
A sharp drop in intended residential and commercial construction activity is one of the notable features in the latest ANZ Business Outlook Survey…

The falls in levels of intended construction activity may ring some alarm bells as the Government seeks to ramp up residential activity through its Kiwibuild programme…
Well know New Zealand housing commentator, Hugh Pavletich, now believes its only a matter of time before New Zealand's housing market follows Australia's downward:
Tightening bank lending is leading to a property crunch in Australia and it could also happen here, a housing commentator says.

Christchurch-based Hugh Pavletich of the housing thinktank Demographia says reports of Sydney and Melbourne houses losing $1000 a week are a result of rising interest rates and the Australian banking inquiry, making banks ultra-cautious.

​Pavletich said that in Australia, the housing bubble was bursting. "The days of high multiple-lending are over"…

Pavletich said there was a warning for New Zealand in Australia's woes.

"The banks are also stiffening up here in New Zealand, getting a lot more diligent. The lending isn't as loose here as it used to be, and internationally interest rates are lifting, and New Zealand cannot be isolated from that."
While New Zealand's households are carrying less debt than their Australian counterparts: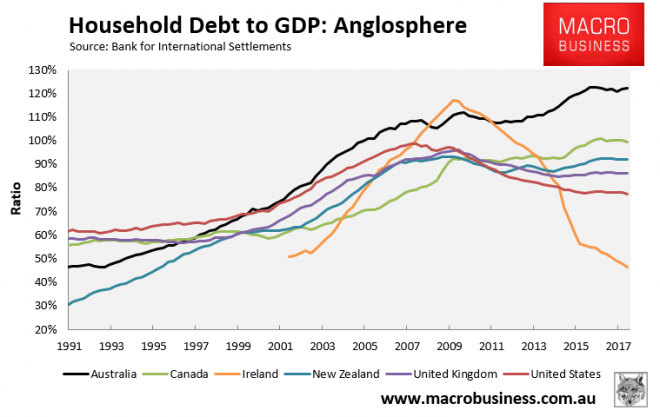 It's housing market is more overvalued: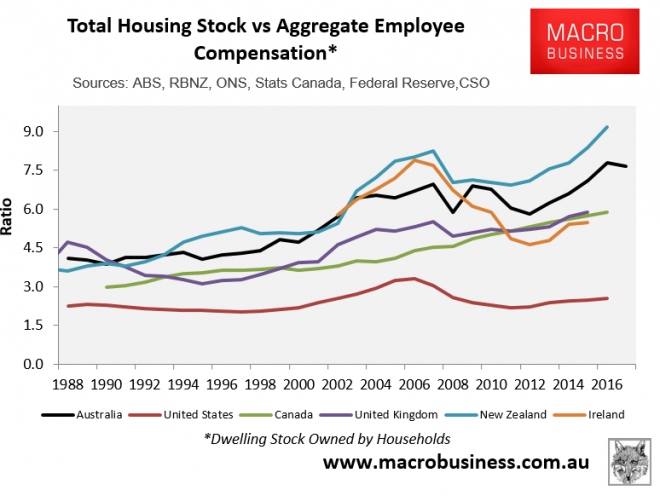 Given the similarities between the two nations, such as having effectively the same banking systems, there is every likelihood that New Zealand housing will follow Australia's path.
Latest posts by Leith van Onselen (see all)