Just when I thought we'd hit peak stupid in the negative gearing debate, along comes The Courier Mail's Peter Gleeson with the following faeces laden argument that Labor's policy will somehow hit battlers the most:
OF ALL the destructive policies to be implemented under a Bill Shorten-led People's Socialist Republic of Australia, there is one that stands out as the most pernicious… his plan to "reform'' negative gearing on property investment. That's the one that Australians should fear the most. Ironically, it's also the policy that will most hurt young Australians, the very group that Shorten says he's trying to benefit.

… guess who becomes the major beneficiary of the property portfolio accumulated by the hardworking parents who had the foresight to accumulate a nest egg so that they could live comfortably in retirement? You guessed it. The kids get the inheritance…

Don't just take my word for it. Andrew Bell is the long-time principal of Ray White Surfers Paradise… Bell was in business in Sydney when former prime minister Paul Keating abolished negative gearing. He saw firsthand the debacle it caused across all sectors of the property market… the great majority are average Australian battlers who are simply trying to break out of dependency on the government and be self sufficient by providing for their own retirement. They would never be able to buy a property without negative gearing.

Bell says the untold story of abolishing negative gearing will be its social impact. He says, for example, it will drive investors away from buying in places like Ashmore, Southport and Labrador on the Gold Coast, predominantly second-hand suburbs, into areas like Pimpama and Coomera where most of the new developments are under way. It means a shortage of investment properties in the central areas will spark rapidly rising rents as competition for those central suburbs drive rental values higher.
Righto, so eliminating an egregious tax break that is distorting the housing market and costing the federal budget billions is somehow "socialist" policy? Doesn't Peter Gleeson believe in a 'free market' without subsidies?
Gleeson's argument that the young benefit from negative gearing because they get to inherit their parent's property nest eggs is hilarious. So, by crowding-out first home buyers and locking them out of home ownership and forcing them into the insecure rental market, investors are somehow helping young Australians. You can't make this stuff up.
Next, Gleeson leans on, you guessed it, a real estate agent for his 'expert advice' (no conflict there!). This agent not only spins the myth that Paul Keating's 1980s change to negative gearing caused a "debacle.. across all sectors of the property market", but also claims that the humble property investor in merely trying to save for their own retirement and would "never be able to buy a property without negative gearing".
Basically, they endorse making life more difficult for the other 90% of taxpayers that are not negatively geared by bleeding the Budget of billions of dollars in tax revenue and/or inflating the cost of their housing. It is selfishness writ large.
Illogically, this real estate agent then goes on to claim that abolishing negative gearing would drive investors away from established suburbs, thus forcing renters to live in areas where new developments are concentrated. This, supposedly, "will spark rapidly rising rents as competition for those central suburbs drive rental values higher".
Earth to idiots: removing negative gearing from established dwellings – which comprises 90% of current investor demand – would free up these homes for FHBs: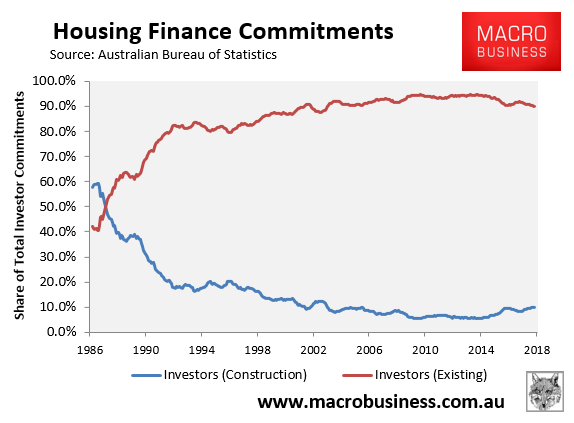 Combined with Labor's 'new homes only' policy. this would very likely place downward pressure on rent. Why? Because as renters transition into home ownership, rental demand for established dwellings will fall in the same proportion as rental supply, leaving the rental supply-demand balance unchanged. Meanwhile, Labor's 'new homes only' policy will boost overall rental supply via increased construction. More supply means lower rents, other things equal. It's basic economics.
In a separate article, RiskWise CEO Doron Peleg argues that Labor's proposed negative gearing reforms would create a two-tiered property market. From The AFR:
"Assume the proposed changes take place, which means you can still enjoy the benefits of negative gearing as you are the primary investor, however, if you want to sell to another investor, that investor will need to assess how much he or she is willing to pay given they will not be able to claim negative gearing against their wages and only receive 25 per cent capital gains tax discount"…

"The secondary investor will have significantly lower financial benefits and therefore he will want to pay much less for the property."
That's kind of the idea, isn't it? You know, to remove speculative demand from the market, lower prices (other things equal), and enable first home buyers to get a foothold.
Meanwhile, Tyrone Hodge of JLL has tried to argue that Labor's policy will have a negative impact on housing supply and drive up rents and prices:
"At the moment our system relies on a certain level of investors to create supply, so if you reduce supply you're actually going to put pressure on rents, you're going to put pressure on prices, and you're going to create more affordability issues"…
Again, as shown above, 90% of investors buy established dwellings, so they aren't actually creating supply. Rather they are substituting homes for sale with homes for let. Moreover, Labor's 'new homes only' policy will encourage new supply, thus placing downward pressure on rents.
The longer the negative gearing debate drags on, the more deluded the defender's arguments have become. But the drivel by Peter Gleeson is possibly the worst I've seen.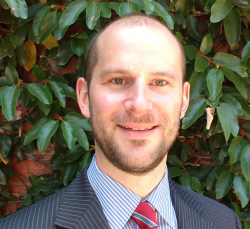 Latest posts by Unconventional Economist
(see all)