Jess Irvine's obfuscation of Australia's dying political economy has crashed to new depths as she probed what's gone wrong with Australian democracy yesterday:
The envy of the world, as it enters its 27th year of continuous economic growth, the Australian economy in November earned a place on the cover of The Economist magazine for the first time, in an edition titled "Aussie rules: What the world can learn from Australia". The special feature extolled Australia's economic success while expressing only mild perplexion at the revolving door of prime ministers Down Under.

But Aussies are not buying it.

Just 5 per cent of Australians feel they have personally gained a lot from our record-busting economic run, according to a Community Pulse survey in April by the Committee for Economic Development of Australia (CEDA).

In contrast, 74 per cent believe large corporations have "gained a lot".

Amid the scandals unearthed by the banking royal commission, Australians also made international headlines last month when they erupted with fury over the placement of corporate advertising emblazoned across the Sydney Opera House.

The head of CEDA, Melinda Cilento, says Australia is suffering a "democratic disconnect".

"No matter how impressive we feel our track record of growth has been, very few people feel that they personally have gained much. "

When you step back and look at the aggregate, we have done really well.

Yet this is unfounded, says Cilento. While there remain areas of entrenched disadvantage, particularly in Indigenous communities, most Australians have benefited from the fruits of economic growth, including low unemployment, rising incomes, tax relief and rising asset prices.

"When you step back and look at the aggregate, we have done really well. We have this brand of economic development – which is a type of democracy – where we make sure that we sustain growth but we have a really strong social compact that sustains our values."
Stop right there. This series is a good idea and Jess has done a credible job within her accepted limitations. But if you're going to interview the usual suspects with the same old ideas that got us to our current impasse why would you expect a different answer. Her article is designed to fail.
Why? Apparently Jess suffers from the same mysterious blindness that every other Domainfax journo does. Neither she, nor her chosen sources, can see that strong headline GDP no longer "trickles down". According to the ABS, the real average compensation per employee fell another 0.4% in the year to June 2018 to be 4.2% lower since March 2012: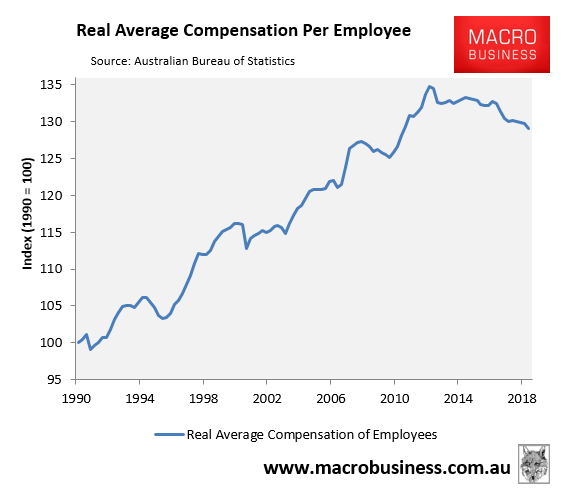 The below chart tracks quarterly real per capita HDI: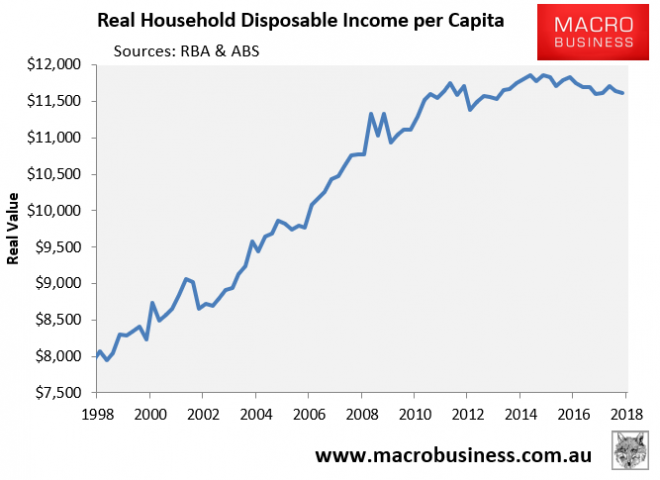 As you can see, quarterly real per capita HDI has fallen by 0.8% since June 2012!
Below is the same chart presented on a 4QMA basis: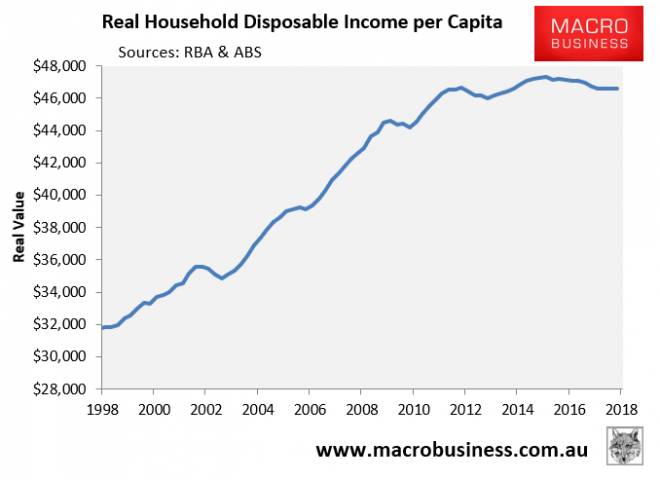 Here, real per capita HDI fell by 0.3% in the year to June 2018 and has fallen by 0.2% since June 2012.
To add further insult to injury, the growth in real per capita HDI so far this decade remains anaemic at just 0.60% per annum, which is lower than the 1960s (2.34%), 1970s (1.86%), 1980s (0.90%), 1990s (1.30%), and 2000s (3.18%):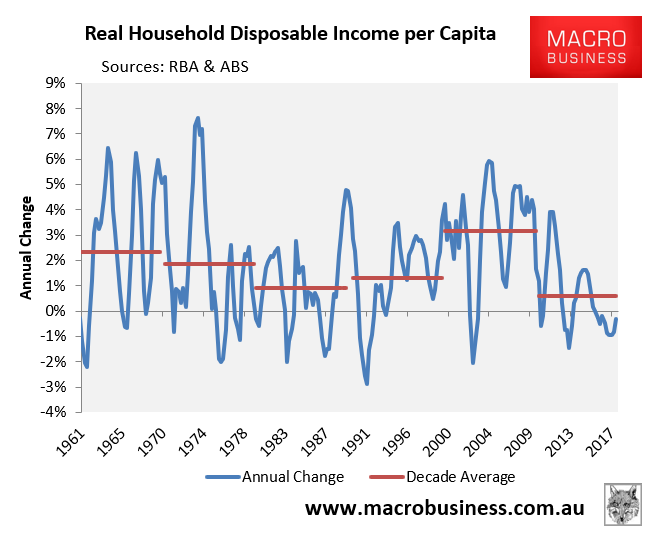 The truth is households have gone nowhere for a decade. This is unprecedented in modern history and coming on the end of a boom is a slap in the face to a polity with high expectations.
Why has it happened? Partly it has been the fall in the terms of trade as the China boom went bust which is a national pay cut shared by all. Secondly, the policy response has been terrible. At every turn it has treated a structural adjustment with cyclical remedies such as mass immigration which has pushed it all down household's throats via historically weak wages while capital got off scot-free. Is it any wonder there is a perception of corporate success and personal failure? It's true! The results are a political disaster.
There are lots of other problems but this is the heart of it. Australian economic policy has swung away from the good of the many to the good of the few. Yet Jess Irvine and her mates in capital – property capital in particular represented in her Domainfax employer – constantly obscure these simple statistical facts. This is spitting in the face of the daily lived experience of falling living standards afflicting ordinary Aussies. The disconnect is as predictable as it is substantial.
It's not overly complex, Jess.
It is you.