ABC News has done an interesting report on Darwin's property crash, which has wiped $1 billion off the Territory's property market since 2014, equating to a 53% drop:
Recent figures from the NT Real Estate Institute show Darwin's house prices are now the lowest they have been since 2009, with the median house price slipping to below $500,000 this month.

The Territory's minute population growth and the end of the INPEX construction phase has cut more than a billion dollars worth of value out of residential property, amounting to a 53 per cent drop in four years…

Ms Paton and Mr Tumuls had lived in Darwin their whole lives and wanted to buy a family home in quiet cul-de-sac.

"It seemed like a good time to buy for me, I was in a relationship, and I wanted to get a nice house with a back yard and a pool, so I bought," Ms Paton said.

Now Ms Paton thinks the government should have done more to manage the boom and bust economy after the INPEX gas project wound down production.

"The government really oversold the benefits of INPEX project, where does the project leave locals like me who don't work in a mine?" she said.

"Now we're in a bit of a real-estate crisis, having to sell at a loss.

"It makes me feel really sad because you put hard work into your home and my home is actually depreciating in value, it's going down"…

Quinton Killian from the NT Real Estate Institute warned there could be further falls in property prices if the population continues to decline.

"If we don't see an increase in population we could see a further slide in house prices and volumes," Mr Killian said.
The below charts summarise the situation.
House values have fallen by 18% since their May 2014 peak, whereas unit values have fallen 37% since their May 2010 peak, with dwellings down 24%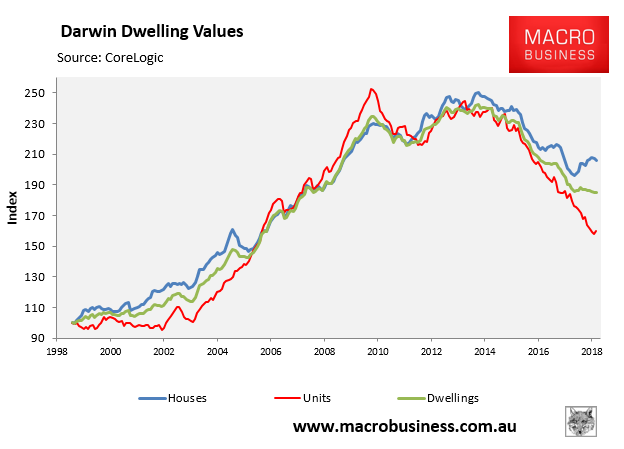 Darwin rents have fallen by 19% since their 2014 peak: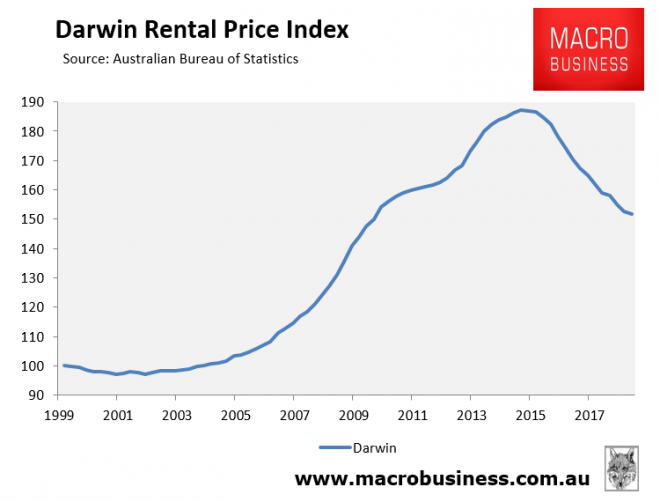 Whereas population growth into the NT has crashed to almost zero, with dwelling commencements – which have also crashed – still running well ahead: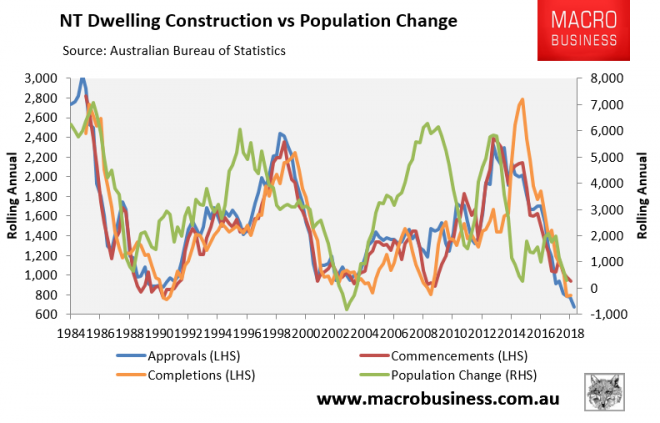 Now that's a property crash!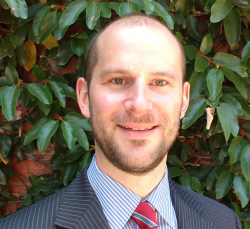 Latest posts by Unconventional Economist
(see all)