The superannuation industry has returned fire on the Grattan Institute's retirement report which calls for plans to increase the compulsory super guarantee to 12% to be shelved. They warn that more Australians would have lower living standards in retirement and be dependent on the age pension if the Grattan Institute's proposal is adopted. From The AFR:
"The Grattan Institute wants to dismantle our world-class retirement funding system and replace it with a model that has two-thirds of the population relying on the age pension", Association of Superannuation Funds of Australia (ASFA) chief executive Martin Fahy said…

"Getting the super guarantee to 12 per cent is vital to deliver a decent standard of living for working people who have little scope to save for their retirement outside super," [Industry Super Australia retirement income adviser Phil Gallagher] said…

Australian Institute of Superannuation Trustees chief executive Eva Scheerlinck said leaving the super guarantee at 9.5 per cent would consign low-income workers, and people with broken work patterns, to financial hardship.
The below chart from Grattan says it all: "both the short and long term, superannuation tax breaks cost the budget more than they save in pension payments":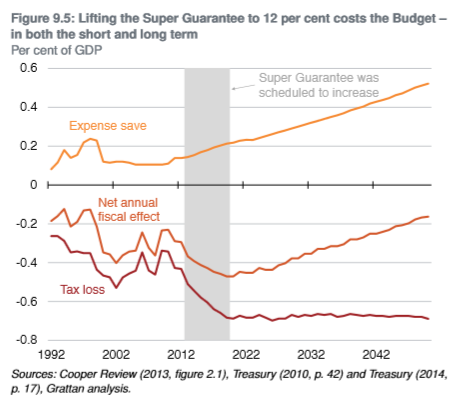 Grattan is far from alone in holding this view.
Actuarial consultants, Rice Warner, also recently warned that Australia's compulsory superannuation system is costing taxpayers more than it saves in Aged Pension costs.
Whereas former Treasury secretary, Ken Henry's, tax review explicitly acknowledged that compulsory superannuation is costing the federal budget dearly, even after accounting for Aged Pension savings:
"An increase in the superannuation guarantee would … have a net cost to government revenue even over the long term (that is, the loss of income tax revenue would not be replaced fully by an increase in superannuation tax collections or a reduction in Age Pension costs)."
The Henry Tax Review also explicitly warned against raising the superannuation guarantee because it would lower workers' after-tax pay and have a punitive impact on lower-income earners:
"Although employers are required to make superannuation guarantee contributions, employees bear the cost of these contributions through lower wage growth. This means the increase in the employee's retirement income is achieved by reducing their standard of living before retirement…

The retirement income report recommended that the superannuation guarantee rate remain at 9 per cent. In coming to this recommendation the Review took into the account the effect that the superannuation guarantee has on the pre-retirement income of low-income earners".
Politicians need to face up to the facts. Tax concessions on superannuation already cost the Budget an inordinate sum, and are growing rapidly. Raising the superannuation guarantee to 12% would mean they become an even bigger ($2 billion a year) Budget drain over time.
Meanwhile, it would do little to boost superannuation savings for lower income workers – those most likely to become reliant on the Aged Pension – given the lion's share of superannuation concessions would flow to higher income earners.
Raising the superannuation guarantee would merely heighten inequities already present in the system. It would rob younger (and lower paid) workers of much-needed disposable income and worsen the long-term sustainability of the Budget.
About the only winners from such a policy would be the superannuation industry, which would get to 'clip the ticket' on more funds under management and earn fatter profits. This is why they are lobbying so hard for the superannuation guarantee to be lifted. It's pure self interest.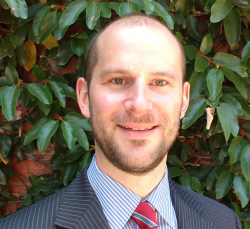 Latest posts by Leith van Onselen
(see all)