Somebody just sent me this piece from Crikey:
In recent months we've seen a doom 'n' gloom bidding war on property prices by foreign bank analysts and the media. Last month it was Morgan Stanley claiming the biggest fall since Fraser was prime minister; this week it was UBS and its claim of a 30% price slide. Old mate Martin North reckoned 40-45% earlier in the year on 60 Minutes. Anyone care to bid 50%?

Fairfax and News Corp love it, of course — Fairfax will run a prominent story on literally any two-bit screen jockey who makes a ridiculous claim about property prices.

News Corp owns 61% of REA Group, the country's biggest property listings website operator, and Fairfax Media owns 59% of Domain, the second biggest. The newspapers and websites of both companies carry dozens of stories a week on property prices, hidden bargains, traps for buyers, tips for young players, the biggest rises and falls — all property-porn clickbait to cash in on our obsession with real estate, especially in Sydney. Expect plenty more when Nine takes over Fairfax and Domain begins working with Nine's tabloid TV offerings.

But there's one key figure that discredits the myth of a property crash: home lending was still running at 5.2% annual growth in the year to September, according to the Reserve Bank — still much faster than the 4.4% growth in business lending. Growth in lending for owner-occupiers was over 7%. Some crash. And that's in a consumer environment of continuing strong jobs growth, albeit with low wages growth unless you work in health, near-record workforce participation and other indicators of a well-performing economy.

Not merely is there no housing crash, but there are few of the macroeconomic factors that would panic mortgage holders and create the environment for one.

In fact, what has been spun as a "crash" could also be seen as enhancing the resilience of the financial system. In remarks to a finance conference in Melbourne recently, Reserve Bank deputy governor Guy Debelle made some pointed comments on the great property plunge beat up.

"I don't regard it as likely that household borrowing will collapse under its own weight," he said. "Rather, if a negative shock were to hit the Australian economy, particularly one that caused a sizeable rise in unemployment, then the risk on the household balance sheet would magnify the adverse effect of that shock."
As usual, Crikey opts for bitchy point scoring over analysis, a problem that has dogged the masthead for many years. Neither UBS nor MN have claimed that property is going to crash. Both have provided sensible  scenario analysis in which they ascribe a low risk to such a high impact event among various other more likely outcomes. UBS's base case is a goodly correction but not a crash. MN actually complained about being misrepresented as a crashnic on 60 Minutes. MS will very likely be right about the correction being the deepest in modern Australia. Indeed, this view is now consensus with even permabulls like Paul Bloxham agreeing, which the article completely ignored.
As for housing finance, sure it's still growing but it's the credit impulse that matters. That is, it is the rate of change in that growth that will determine the depth of the correction. It has been falling steadily. Moreover, housing credit growth is not the thing to watch but rather housing finance commitments, which have turned sharply negative: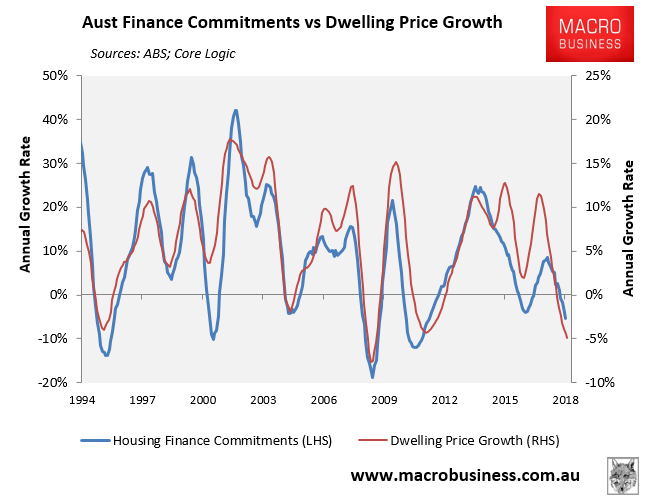 One wonders why Crikey is so embittered by those who have called the housing correction right. Perhaps they are long property themselves or their reader are, being mostly Boomers. Or, like much else that the masthead does, it is a reflexive superiority that alienates the reader on every subject that it touches.
I no longer read it for this very reason despite getting it for free. It can't wash its face on the opportunity cost.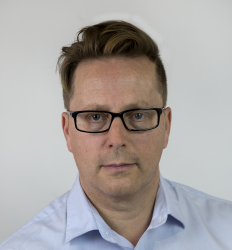 Latest posts by Houses and Holes
(see all)