Twenty years ago, in 1998, the Australian Bureau of Statistics (ABS) forecast that Australia's population would hit between 23.5 and 26.4 million by the year 2051.
However, ever since that initial forecast 20 years ago, Australia's population forecasts have been continually revised upwards as well as overshot, as noted by Bernard Salt:
Every edition of these projections since 1998 has upped the mid-century outlook for our nation. The present medium projection delivers 38 million by 2050 and 44 million by century's end. At the start of this century the projections for 2050 indicated only 25 million. We've upped the outlook by 13 million in two decades.
Yesterday, the ABS released its updated population projections, which were largely unchanged from the 2013 Projection, with Australia's population projected to hit 38 million by 2053 under the medium (Series B) projection.
The below tables show the assumptions underpinning these ABS' projections:

And below are the projected population outcomes under these assumptions: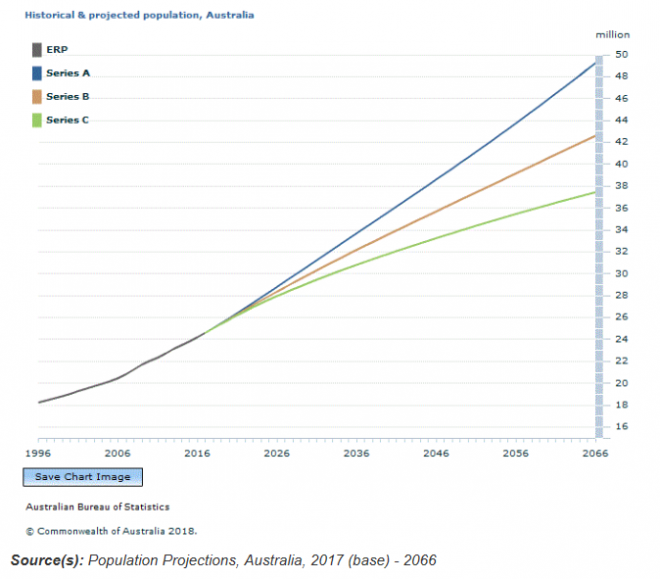 As shown in the table below, the population increase is projected to be the greatest in Victoria and New South Wales, which will continue to attract the lion's share of overseas migrants:

Alarmingly, Melbourne's population is projected to increase to more than 10 million people by 2066 under the medium (Series B) projection, with Melbourne's share of Victoria's population to increase from 77% currently to 85% in 2066: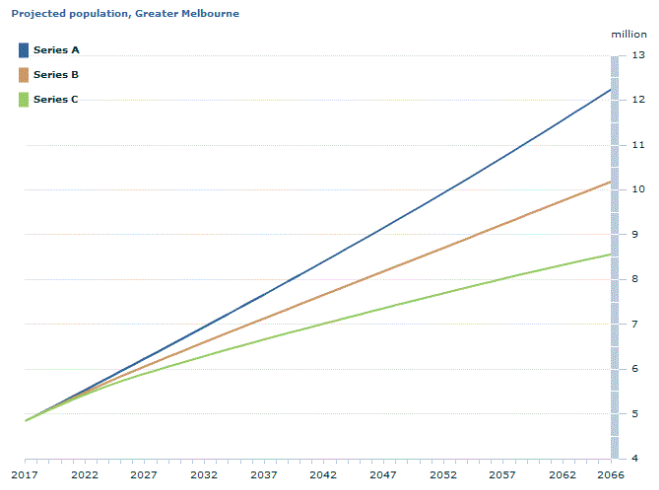 That is, Melbourne's population will double in size in less than 48 years, and will be more than triple the size that it was at the turn-of-the century (3.3 million).
Similarly, Sydney's population is projected to balloon to just under 10 million by 2066 under the medium (Series B) projection: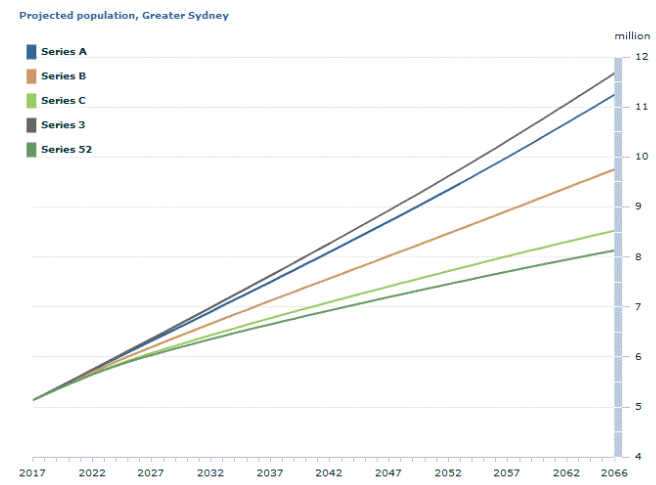 In short, both Melbourne and Sydney are projected to transform into Asian-style mega-cities.
Who wants this kind of future for our children and grandchildren? Who voted for this?
Australia needs to dramatically reduce immigration before it is too late.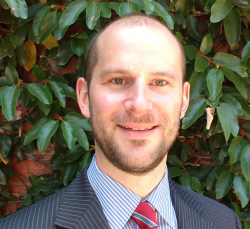 Latest posts by Unconventional Economist
(see all)