As interest rates rise the US housing market has begun to slow and stock prices of home builders have crashed: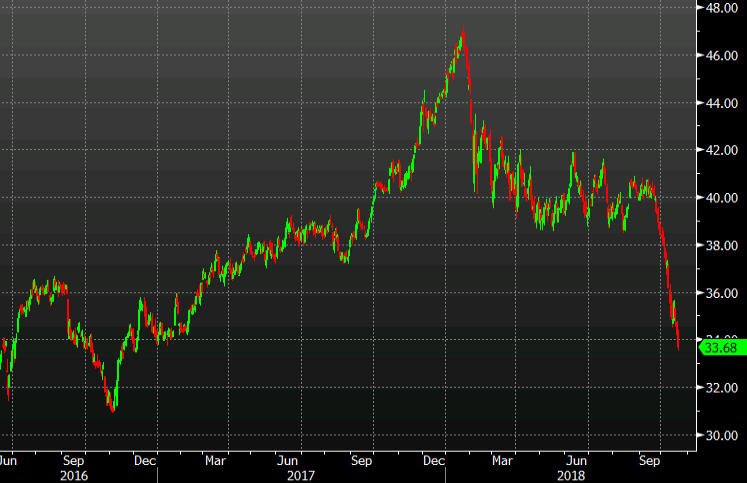 Is this the beginning of the end for the US expansion? Via BofAML:
Home prices nationally, as measured by the S&P CoreLogic Case-Shiller index are running at 6.0% yoy as of the latest data in July. Assuming some modest slowing into the end of the year, we believe we are on track for home prices to end up 5.0% this year, as measured by 4Q/4Q change. As we look ahead into next year, we expect the slowing in home prices to persist, leaving home price appreciation (HPA) of 3% at the end of 2019.

…Home prices are ultimately anchored to a fair value which is a function of income growth. Based on the OECD's methodology, we compare nominal Case-Shiller home prices with disposable income per capita, indexed to 100 in 1Q 2000 (Chart 4) which shows the overvaluation during the housing bubble given the irrational exuberance in the market and easy credit conditions. The housing bust left prices to tumble back below fair value. Based on our calculation, prices are once again overvalued on a national level, albeit not nearly as much as during the bubble period. Over time the overvaluation can be solved in two ways: 1) home prices grow at a rate below income for a period of time to close the gap; 2) home prices decline to correct the valuation difference. The pull to fair value can be quite strong.
So, that sounds more like a 2020 risk than an immediate problem. The best US property market analyst I know is Calculated Risk and he is still sanguine:
A few key points:

1) The key for the housing – and the overall economy – is new home sales, single family housing starts and overall residential investment. Overall this is a reasonable level for existing home sales, and the recent weakness is no surprise given the increase in mortgage rates.

2) Inventory is still low, but was up 1.1% year-over-year (YoY) in September. This was the second consecutive year-over-year increase in inventory, and the first YoY increases since May 2015.

3) As usual, housing economist Tom Lawler's forecast was closer to the NAR report than the consensus. See: Lawler: Early Read on Existing Home Sales in September. The consensus was for sales of 5.30 million SAAR, Lawler estimated the NAR would report 5.20 million SAAR in September, and the NAR actually reported 5.15 million.

The current slight YoY increase in inventory is nothing like what happened in 2005 and 2006. In 2005 (see red arrow), inventory kept increasing all year, and that was a sign the bubble was ending.

Although I expect inventory to increase YoY in 2018, I expect inventory to follow the normal seasonal pattern (not keep increasing all year).

Also inventory levels remains low, and could increase significantly and still be at normal levels. No worries.

The second graph shows existing home sales Not Seasonally Adjusted (NSA).

Sales NSA in September (420,000, red column) were well below sales in September 2017 (462,000, NSA), and the lowest for September since 2012.

Sales NSA through September (first nine months) are down about 2.1% from the same period in 2017.

This is a small YoY decline in sales to-date – it is likely that higher mortgage rates are impacting sales, and it is possible there has been an impact from the changes to the tax law (eliminating property taxes write-off, etc).
So, marginal slowing as rates rise but not alarm bells. That said, when we do see the next US bust that overvaluation looks pretty likely to retrace and exacerbate the downturn.