The epic stamp duty bust coming to NSW and VIC is finally in the public spotlight, as both dwelling values and transaction volumes plummet: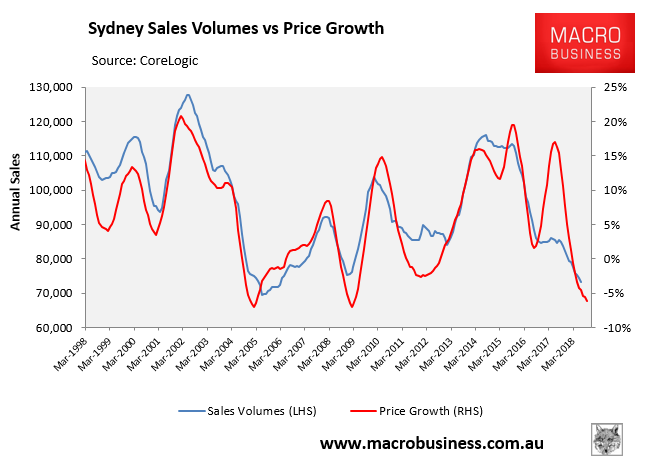 David Ross from News.com.au has sounded the alarm:
STATE governments love splashing the cash, especially at election time.

New road? There's $4 billion to you. What about that long-promised rail link between the airport and the city? Another few billion.

But the well of cash is running dry, and it's all because we've stopped buying houses…

Stamp Duty is a huge percentage of revenue in the states. In Victoria, it's the second largest source of income, just shy of the $6.3 billion collected from the state's biggest source of income, payroll tax. The fall in houses sold will hit everyone in that state hard…

The Grattan Institute's Brendan Coates told news.com.au that Victoria and NSW had relied too heavily on stamp duty to pay for government expenditure, which could prove costly as stamp duty moved around so much each year.

"Victoria and NSW have essentially become addicted to rising stamp duty revenues," he said.

He added the two states had been "forecasting relatively modest declines in prices, but the declines have been larger than what most economists expected."

Mr Coates said the NSW government had predicted a turnover decline in the order of 10 per cent, but current CoreLogic figures show the real decline to be 18.5 per cent in Sydney.

Both states have relied heavily on stamp duty to pay for big projects over recent decades. But AMP Capital's Chief Economist Shane Oliver says something has to give.

He's worried that if the downturn runs long or grows deeper then paying for the infrastructure needs of the future was in doubt.
Ross Elliott has also warned that NSW and VIC are most at risk:
NSW is going to feel the pain. Its last State Budget announced a raft of infrastructure projects which had the country weeping in envy. Their stamp duty revenues alone grew from $4billion per annum in 2011-12 to $9billion in 2016-17. Property tax dependency also grew – from around a third to nearly 45% in the same period. A sustained fall in sales volumes combined with a fall in prices could see $3billion per annum wiped from future state revenues.

Victoria doesn't fare much better. With both stamp duties and land taxes steadily climbing, their annual revenues have swelled by over $3billion per annum. Their property tax dependency has grown from around a third to over 45% of all income. Nearly one in two state tax dollars comes from property. That's going to take some delicate fiscal balancing if revenues fall on the back of a slowing property market.
Both states have ridiculously optimistic forecasts for stamp duty revenue (see red bars below):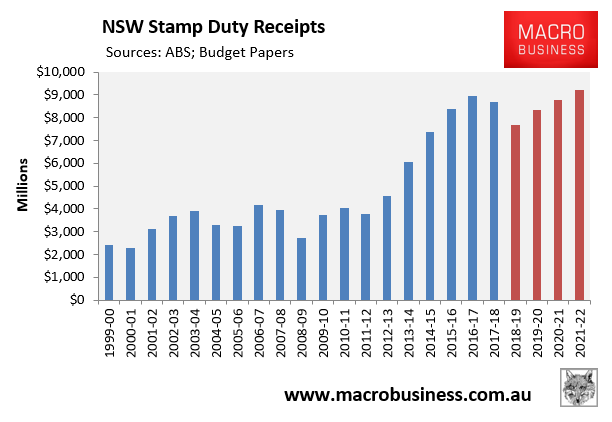 However, WA offers a valuable insight about how far stamp duties could fall, given it has experienced a prolonged housing slump: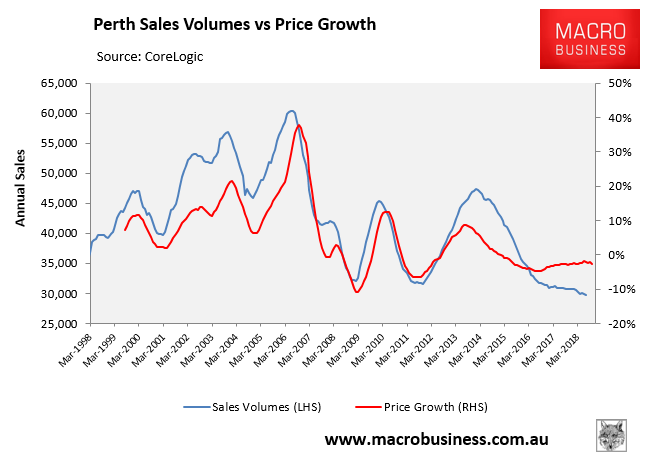 Actual stamp duty receipts peaked in WA in 2007-08 at $2,243 million, but have slumped to $1,497 as at 2016-17 – a 33% decrease (obviously much worse after inflation):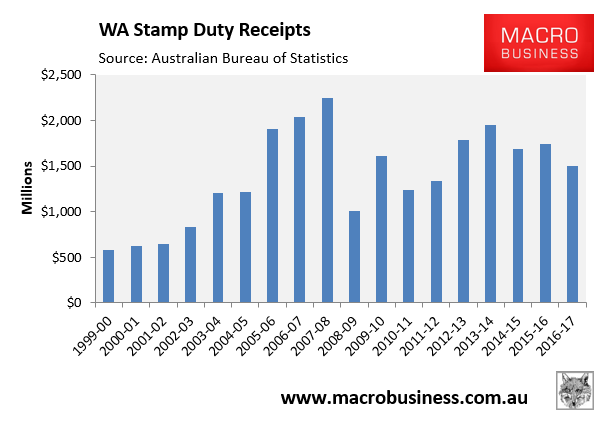 Applying the same kind of correction to NSW and VIC implies a revenue decline of around $3 billion per annum in NSW and $2 billion in VIC.
Goodbye fiscal spending, hello austerity.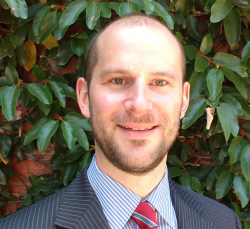 Latest posts by Leith van Onselen
(see all)