Via MPA:
While Asia and Europe enjoyed the highest Chinese investment growth in 2017, Australia and New Zealand experienced significant drops, according to Juwai.com's Chinese Global Property Investment Report. The report provides an estimate of actual Chinese investments in Australian residential and commercial property.

According to the report, total Chinese property investment in the two countries fell by 23.2%, from $23.9bn to $18.4bn. Although Australia recorded the largest share of the decline, Chinese investment in the country still remains substantial. Chinese purchases of residential and commercial properties in Australia dropped by 26.8%, from $24bn to $17.4bn.

In a statement, Juwai.com CEO and director Carrie Law said their estimate of Chinese investment in Australian property is based on industry data that helped them calculate the roughly $100bn-worth of new dwelling sales in the country last year.

"About one-quarter of those went to foreign buyers, and that Chinese buyers accounted for about three-quarters of foreign buyer spending. That yields about $19.4bn (US$14.1 billion) in estimated Chinese residential investment," Law said.

Law attributes last year's reduced Chinese investment to capital controls, restrictions on bank financing to offshore buyers, and to new foreign buyer taxes and restrictions. She expects moderate growth this year, "which is in line with Beijing's goal of managed, rational overseas investment".

Chinese buyers still consider Australia to have long-term value despite the higher stamp duties, Law added. The majority of Juwai's residential buyers are purchasing properties in the country because they have kids studying or working there, or because it's a place they plan to visit regularly or retire in.

"Australia offers a stable environment, safety, quality educational institutions, and high quality of life. Both Sydney and Melbourne rank in the top five most liveable cities in the world," Law said

The report also showed that other than the U.S., Hong Kong, and Japan, Australia was China's top destination for commercial property investment. Overall, Chinese international property investment rose to $65.9bn, with Australia, U.S., Hong Kong, and Malaysia receiving the most investment.

"Sources like KPMG suggest that Chinese commercial real estate investment accounts for one-third of all Chinese corporate direct investment in the country. Political tensions between the two countries have a greater impact in creating uncertainty with corporate commercial real estate investors than they do with individual investors buying residential property for their own use," Law said.
According to the NAB survey it is closer to half: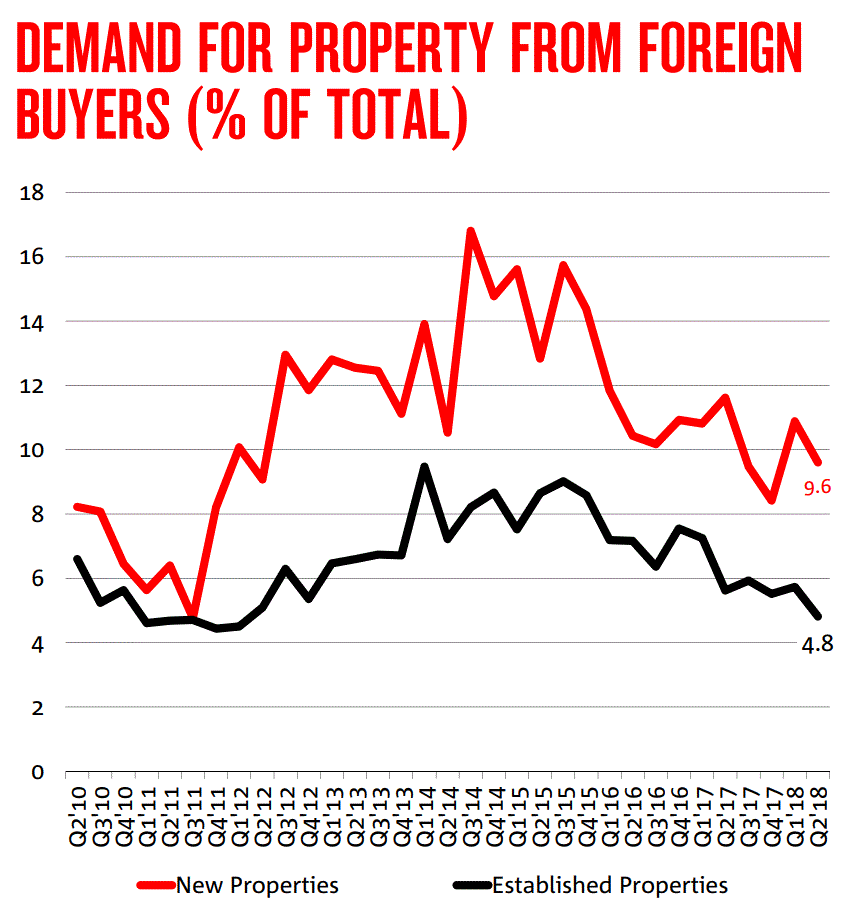 Advertisement