Via Bill Evans at Westpac:
Over the last month the Australian dollar has fallen from around USD0.74 to USD0.71 and is now settling around USD0.72. The AUD is closing in on our mid 2019 forecast of USD0.70 at a much faster pace than we had envisaged.

Recall that the key arguments we have used throughout 2018 to signal a significant fall in AUD from its peak in January 2018 of USD0.81 have been around: Australian interest rates falling much further below US rates than had been expected by markets; a general slowdown in the world economy, particularly through 2018 and 2019; some deterioration in the Australian housing market; and political uncertainty associated with the Australian Federal Election due by May 2019.

These issues have been evolving largely as we expected.

In July last year markets were priced for the RBA cash rate to be around 40bps above the Federal Funds rate by end 2018 whereas Westpac argued that the RBA cash rate would be around 40bps below the Federal Funds rate by that time. Markets have now largely embraced our call although, with the advent of the tax cuts and spending boost from the Trump administration, we revised up our Fed call to give a margin of around 88bps by end 2018. Markets are now largely in line with our call for end 2018 but still remain somewhat cautious for mid-2019 with Westpac expecting a margin of 137bps compared to market expectations of 115–120bps. That interest rate differential points to further downside risks for the AUD.

Disappointing developments in Europe; an ongoing slowdown in China; and some instability amongst some emerging markets support our view that global growth in 2019 will slow from 3.8% to 3.6% with further weakness expected in 2020. Slowing US growth remains the cornerstone of this view.

In Australia, house prices have been falling in the two largest cities – Sydney and Melbourne – through most of 2018. Foreign investors remain nervous about Australia's housing market given Australia's high household debt and stretched affordability. The banks are the main vehicle for borrowing to fund this debt and, with their assets dominated by mortgages, international lenders are always sensitive to adverse developments in the housing market.

Political uncertainty has also been a factor for markets following the recent leadership change in our Federal Government. Several elections are due between now and mid-2019 including for the Federal Government (by 18 May 2019 at the latest); the Victorian State Government (scheduled for 24 November) and the NSW State Government (scheduled for 23 March).

Last month we reaffirmed the target of USD0.70 for the AUD (around USD0.74 at the time) by mid-2019. The move to USD0.72 has run ahead of our timetable.

Fears of a global trade war and general contagion through emerging markets seem to be dictating this current development. We would argue that these two factors will prove to be largely transient in terms of implications for the AUD.

While the trade dispute between the US and China could escalate and certainly has further to run, we strongly doubt that a bilateral dispute is likely to spread globally – a view that appears to have driven the recent sharp drop in the AUD. The prospect of the US and China 'dumping' goods on other countries which in turn respond with their own across the board tariffs seems unlikely. Currency markets are currently running on momentum and emotion.

Westpac puts its highest weight on our medium term guidance to customers. We need to be careful not to extrapolate short term movements unless we believe the changes supporting those movements are going to be sustained.

Accordingly we are slightly lowering our end 2018 forecast from USD0.73 to USD0.72 and expect the final adjustment in the profile to USD0.70 to play out through the first half of 2019. However we are not sharply lowering our target low point in AUD – at this stage recent movements look to be an overreaction to fears that will not be franked.

In that regard we point to the outperformance of Australia's basket of commodity export prices. As noted in Figure 1 export prices are running well ahead of the normal relationship with the Australian dollar. That is, on the basis of the export price basket, the Australian dollar looks under-valued. On the other hand there is a looser relationship between the AUD/USD and the AU/US interest rate differential.

Figure 1: points to the AUD falling further given the sharp deterioration in the interest rate differential. Clearly, the commodity factor is offsetting. Our fair value models which seek to balance the relative impact of rates and commodities, favour a stronger relationship with commodity prices and are currently signalling that the net effect has the AUD undervalued.

Risks to our current forecasts centre around Fed policy. Our central view is that the Fed will tighten four more times in this cycle with the tightening cycle coming to an end in June next year. Further Fed hikes in the second half of 2019 would extend that interest rate differential beyond our central view and put additional downward pressure on the AUD even if the basket of export prices holds up.

Nevertheless our central view is that the peak in the USD will be around the June quarter 2019 when the market abruptly shifts to recognising that the Federal Funds rate has peaked. In extending our forecasts through 2020 we believe that the issues driving the AUD/USD cross will be dominated by the USD. With the Fed expected to go on hold by mid-2019, markets moving to price in rate cuts and the US yield curve inverting through 2020, the consequent weakening of the USD should see AUD lifting through 2020 to USD0.75 by year's end.
All eminently sensible except the last bit. I am warming a little to the view that next year will see a stronger US economy than most expect. If wage rises keep climbing then we may be on the verge of self-sustaining period of late cycle growth driven by robust consumer spending. Tariffs are also going to keep the heat on inflation. As well, Blind Freddy can see the US fiscal cliff coming H2 2019 and Mr Trump is not the kind of guy to sit around and watch that mug his boom going into the 2020 Presidential election. Infrastructure post-midterms is the obvious play.
Add that China is poised to slow into year-end but to keep growth solid with a runaway  property market to be joined with a new infrastructure push in 2019 and next year is shaping as solid for global growth despite (or because of) the trade war. It will be US-led and my worry is for 2020 when the Fed may be forced to hike into a red hot US labour market which is also being shoved along by election spending and that'll be all she wrote.
There is also waning Australian growth henceforth dragged down enough by falling house prices to trigger renewed labour market weakness and rate cuts some time next year.
In that event, the AUD will see 70 cents this year. Will keep falling next year in fits and starts for an average somewhere in the mid-to-high 0.60s. Then crater into the end-of-cycle shock to 50 cents.
18 months TM!
---
David Llewellyn-Smith is chief strategist at the MB Fund which is long US equities that will benefit from a falling Australian dollar so he  is definitely talking his book (or Bill Evans is!) Below is the performance of the MB Fund since inception: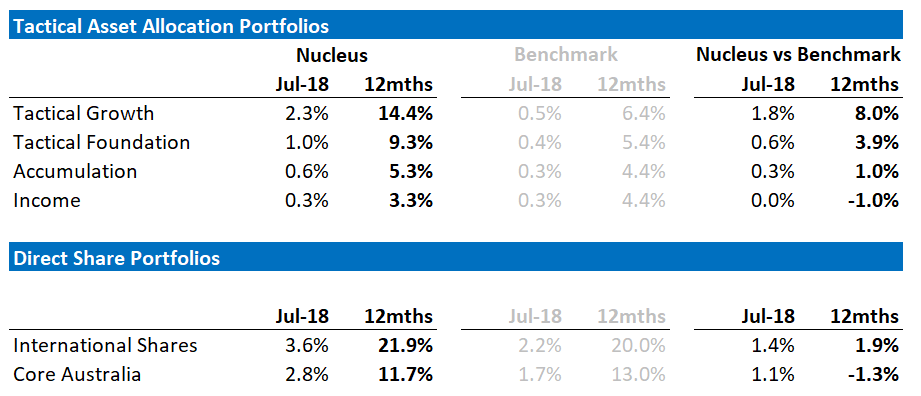 If the ideas above interest you then contact us below.