As Melbourne and Sydney rage builds, the answer for the living standards destroying growth lobby (property, banks, retail) is South Australia, via Domainfax:
Prime Minister Scott Morrison threatened to "pull levers" to get growth under control on Thursday, including sending international students to regional universities to relieve urban congestion as he puts together a formal population policy.

"Up in the north, they want more population, in Adelaide they want more population," he said.

"I can tell you, in the outer suburbs of Sydney and Melbourne, they don't."
The South Australian Liberal Government is preparing the ground for a cheap labour flood by axing labour hire laws targeting migrant worker exploitation. From The ABC:
Attorney-General Vickie Chapman has announced the State Government will seek to repeal the Labour Hire Licensing Scheme which was put in place by the former state government.

The scheme, which came into effect earlier this year, includes stricter penalties for wrongdoers and a requirement for all labour hire companies to be licensed.

The amendments successfully passed SA Parliament in November 2017 and stemmed from a Four Corners investigation alleging the exploitation and underpayment of migrant workers at various companies.

"The whole regime will go," Ms Chapman told the ABC.

"The labour hire laws were established on ideology and they'll be repealed on common sense…

The move has been met with both support and outrage, with Business SA applauding the repeal but the Opposition and SA Unions vowing to fight against it.
Let's recall what the parliamentary inquiry into establishing a modern slavery act said:
Committee view

9.146 The Committee recognises that recent Commonwealth, state and territory inquiries have highlighted the role that unscrupulous labour hire companies play in contributing to the exploitation of migrant workers…

9.150 While the Committee acknowledges that a labour licensing scheme is no 'silver bullet' to stopping exploitation and modern slavery, it considers that taken together with the Australian Government's existing measures and the recommendations of this report, it will assist to improve protections for migrant workers…

Recommendation 48

9.152 The Committee recommends that the Australian Government establish a uniform national labour hire licensing scheme, consistent with recommendations by the Parliamentary Joint Committee on Law Enforcement, the Joint Standing Committee on Migration and the Senate Education and Employment References Committee. This licensing scheme should incorporate random audits and unannounced inspections of labour hire firms to ensure compliance.
We can't have that! The horribly conflicted Migration Council wants less protections and it must have its way.
The question of whether or not South Australian's actually want this people flood is far more problematic. Back in October last year, the lobby group representing migration agents warned that South Australia's population growth could fall to zero, and economic problems would worsen, following visa reforms by the federal government. Thankfully, this false alarm was ridiculed by former South Australian Premier, Jay Weatherill, who rejected the Migration Institute's special pleadings:
"In South Australia over the last five years, during the Census period 2011 to 2016, (we) grew at five per cent," he said. "That's faster than France, it's faster than the UK, it's faster than the US. So in international terms population growth has been quite robust.

"In international terms, (we are) growing like a chemistry experiment. We are growing at twice the rate of the growth of the OECD, three times the rate of the growth of many countries around the world."

When challenged about the state's decline in population growth relative to other Australian states, he said: "We're not running a high population growth strategy."

"Look if you want to spend an hour and a half in traffic or spend over a million dollars for a home and actually deal with the crime and the dysfunction and the disunity that occurs in some of those other fast-growing places you're welcome to it, but we like it here."
During a subsequent debate, South Australia's then opposition leaders warned that the state's population was growing too slowly, which earned another strong rebuke from former Premier Jay Weatherill. From News.com.au:
South Australian party leaders have butted heads over population growth at a debate hosted by the SA Press Club on Friday.

While SA Best leader Nick Xenophon and opposition leader Steven Marshall highlighted the state's rate of growth as an area of concern, Premier Jay Weatherill said he was "not a high population growth person" and neither was his government.

"The notion that we're a slow growing state is nonsense, it's just that the rest of Australia is growing like a science experiment," he said.
Here's the chart of South Australia's population growth: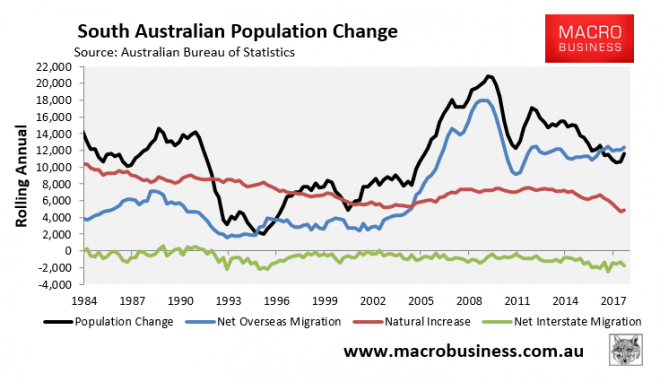 Hardly looks like an "area of concern", does it?
Then again, Jay Weatherill lost the election. So perhaps SA wants a new dose of falling living standards. Here's the chart of South Australia's labour underemployment and underutilisation rates (some of the highest in the land):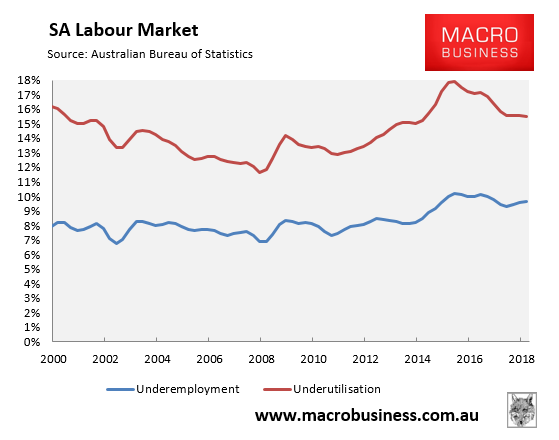 The irony is that the SA labour market has been hollowed out by manufacturing-destroying exchange rate lifting policies of the growth lobby. Now it will be internally deflated instead.
Get set for the crush-loading of Adelaide. Rising house prices, falling wages and reduced amenity for all.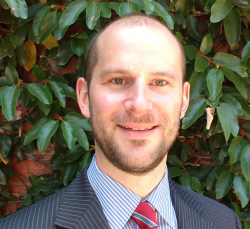 Latest posts by Unconventional Economist
(see all)