MB's warning that Sydney property investors are entering a doom loop of falling rents and prices has received support from various quarters.
Late last week, The AFR reported that real estate agency, LJ Hooker, is trying to coax vendors in Sydney's west to sell now before prices plunge further:
LJ Hooker's Peter Tannous has his work cut out for him in Sydney's west, where he is now either coaxing desperate homeowners to close the sale of their properties quickly before the market dips again or consoling those who have sold at a loss.

…this week Mr Tannous sold a two-bedroom unit for a 30-year-old homeowner who "couldn't afford his mortgage" any more with a newborn arriving.

The apartment on O'Neill Street in Guildford sold for $450,000 even though the owner wanted $489,000. He bought the home for nearly $483,000 at the peak of the market in 2015.

"The royal commission has done the west no favours as banks tighten their lending criteria and focus more now than they ever did on serviceability," he said…

Unfortunately, Mr Tannous and his colleague, LJ Hooker Merrylands principal John Contos have plenty more similar properties to sell especially for their investor clients facing pressure from rising rental vacancy rates and falling rents in Sydney…
Over the weekend, The AFR warned that Sydney renters are facing a deadly combination of falling prices, rising rental vacancies and falling rents:
Interstate refugees such as Crowley who are baling on Sydney, along with a rush of new apartments for rent and falling prices that have prompted some would-be sellers to look for tenants instead, have all combined to produce a rare breed of Sydney market, one where renters can call the shots.

Some 2.8 per cent of all rental properties in Australia's largest city are vacant, and the way things are going that could go as high as 4 per cent, a level not seen since the post-Olympics property lull of 2004, SQM Research's Louis Christopher says.

It seems the many new apartments will keep rents down for some time. ANZ Research data shows nearly 90,000 dwellings are under construction in NSW including 66,000 apartments…

Rental conditions will be worsened by the fact that tenants can now break a lease by paying a four-week penalty, BresicWhitney's Shannan Whitney says.

"In the past you couldn't leave until a tenant was found but now people will break the lease, pay the penalty and still be in a better position after finding a cheaper unit," he says…

Rent.com.au chief executive Greg Bader agrees there is plenty of scope for tenants to negotiate lower rents.
Meanwhile, as reported this morning, Sydney's auction clearance rate is projected to fall to 30-year lows, weighing further on Sydney's market:
SQM Research analyst Louis Christopher said spring clearance rates would likely fall to a similar level to 29 years ago due to a sudden surge in new listings. This will add to the glut of unsold properties already on the market, giving buyers a huge selection to choose from.

"It's going to be a very good spring for home buyers," Mr Christopher said. "Auction clearance rates are already very low and since spring usually sees a bounce in listings every year, it will mean the clearance rate will go even lower"…

"The only way clearance rates can go from here is down," Mr Christopher said. "There is always an increase in auctions over spring because homeowners think the better weather and chance to get the sale done before Christmas make it the best time to sell."
Last week, CoreLogic's Cameron Kusher posted the below chart showing that Sydney rents fell by 0.4% in the year to June – "their greatest decline in at least 12 years (timeseries of our data)"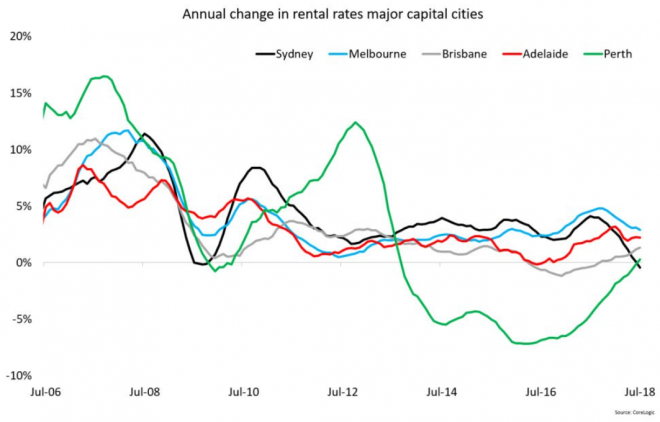 Which came as Sydney's rental vacancy rate hit the highest level in the series' 13.5 year history at 2.8% in June, according to SQM Research: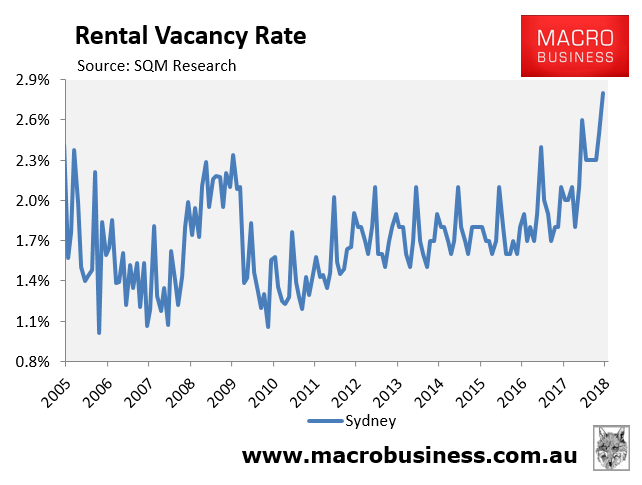 Meanwhile, Sydney dwelling values have fallen by 5.4% over the past 11 months: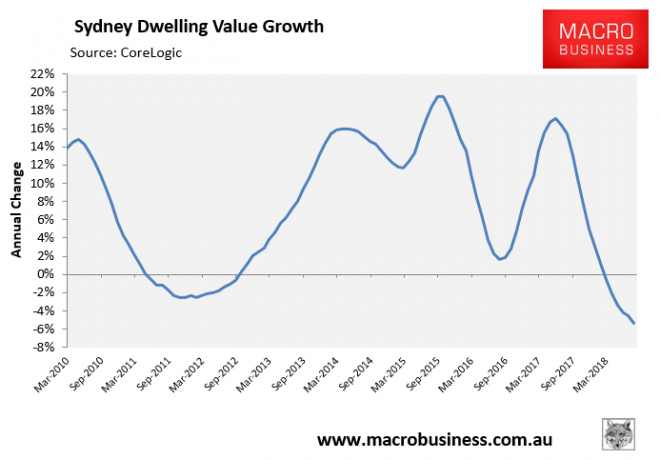 Thus, Sydney's army of highly-leveraged landlords are facing the nightmare scenario of falling rental returns and falling dwelling values, at the same time as many investors' mortgage repayments will increase by 35% as they transition from interest-only to principal and interest.