Via The Guardian:
Only one in five Australian workers say they had a pay rise in the past year that covered increases in the cost of living with almost half reporting no rise at all, according to a new ReachTel poll.

The poll, commissioned by the Australian Council of Trade Unions, suggests that the majority of voters have noticed record-low wage growth and rate it a significant political issue.

Labor is gearing up to make sluggish wage growth a key election issue, signalling it wants to change the way the minimum wage is set and prevent labour hire being used to undercut the pay of permanent employees.

The poll of 2,453 people on 2 August first asked voters if they were in paid employment and, if yes, had they received a pay rise that was large enough to cover increases in the cost of living in the past 12 months.

Almost half (47.6%) said they had "no pay rise at all", a further 32.9% said they had "a pay rise but not enough to cover my cost of living, and 19.5% said they had "a pay rise that covered my costs of living".

When asked how significant low wage growth was to how they would vote 28.2% said it was "the top issue", 54% said it was "important but not the top issue", while 17.9% said it was not important. However, no other single issue was polled for comparison.

The poll found Labor leading the Coalition 51% to 49% in two-party preferred terms.

Wages in Australia have stagnated. Figures released in August show that in the past year wages grew by a record low of 1.9%. The latest ABS figures showed the cost of living for working households increased by 2.3% in the year ending June 2018.

The ACTU secretary, Sally McManus, said "Australians need a pay rise".

"Working people and their families are struggling to keep their heads above water," she said. "The cost of living is going up and people are struggling."

"We need to change the rules so that fair pay rises can meet the rising cost of living."

The ACTU has called for an end to the system of enterprise bargaining that allows strike action only for pay increases at the workplace level in favour of a mix of options including industry-wide pay deals.
This makes good sense at the microeconomic level. The pendulum has swung too far from labour in industrial relations. Where it fails is at the macro level. ACTU solutions won't work in today's macroeconomic circumstances of excess supply. The Australian output gap is huge. Indeed it remains thoroughly recessionary: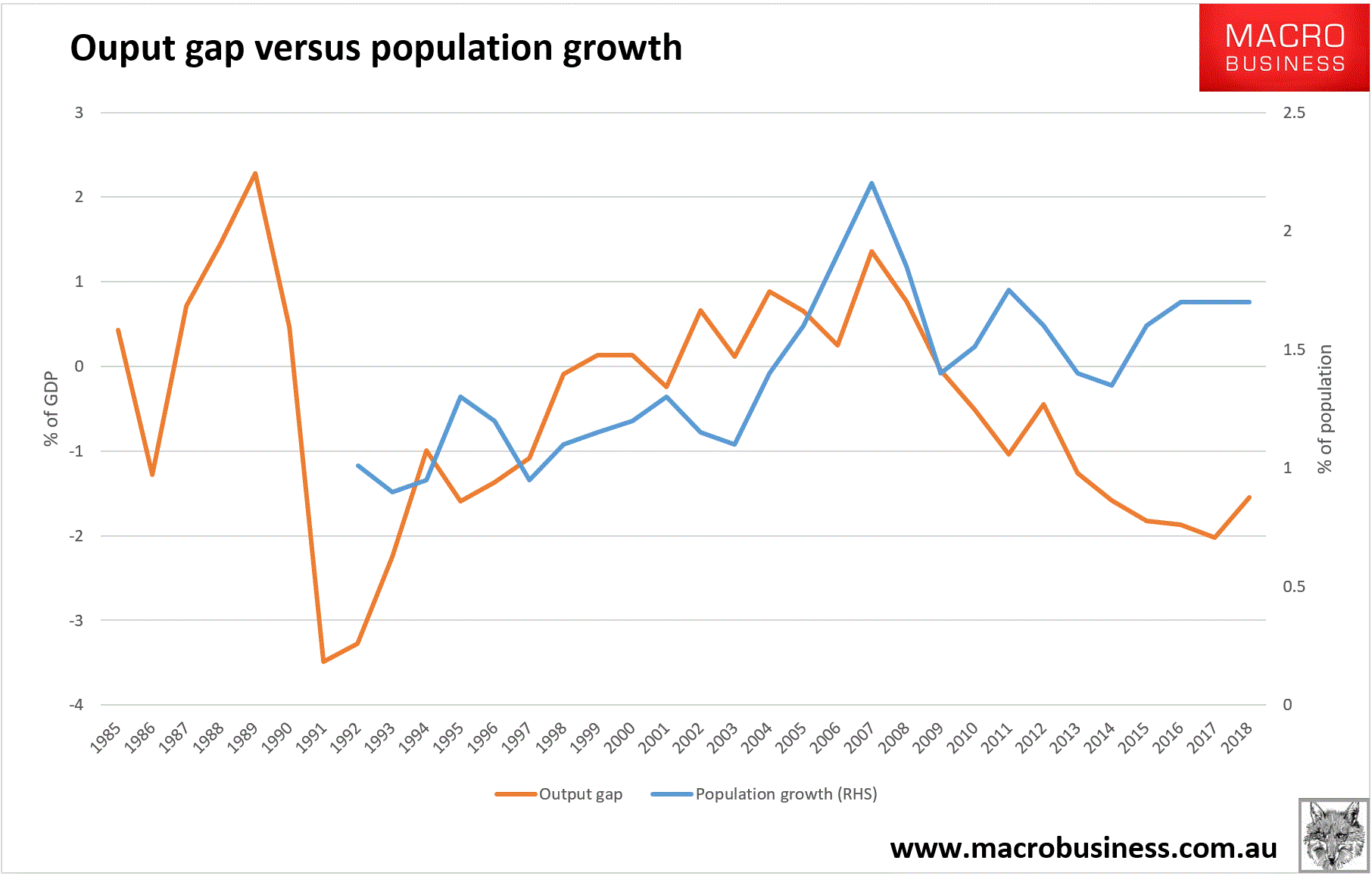 This is because the structure of the economy is exhausted thanks to:
deteriorating demographics;
peak household debt;
hollowing out of non-mining tradables, and
the ongoing post-mining boom crash plus the narrowing of national income drivers to a few large miners
If unions manage to lift wages in these circumstances then it will directly result in falling profitability, job cuts and falling wages. Excess supply means business has no pricing power, either, hence our fantastically low inflation. Workers will be right back where they started with a bullet.
The answer is to reform economic structure to boost aggregate demand and profits. Stop trying to lift wages directly. Start doing everything in your power to lift competitiveness and productivity to take up the economic slack. Then wages will rise sustainably with a bit of union muscle.
There are millions of microeconomic policy levers to pull on this front. But if you don't get the macro settings right it won't matter. We desperately need to fix the real exchange rate to boost aggregate demand. To achieve that  we need a much lower currency. That can be achieved by loosening monetary policy if you feel confident that it won't boost house prices again or by cutting immigration.  The latter is also adding to labour supply when we have too much of it already. Sure, it adds to demand as well but only via the dead horse of household debt, augmented now by unsustainable public debt, inflating things like land values and the currency, elevating the real exchange rate.
Sally McManus has no hope of lifting wages until she recognises the macro reality that she is in.