Statistics New Zealand has released it's June quarter population estimates, which shows that New Zealand's population is fast approaching 5 million people, increasing by 92,000 (1.9%) over the past year to 4.89 million: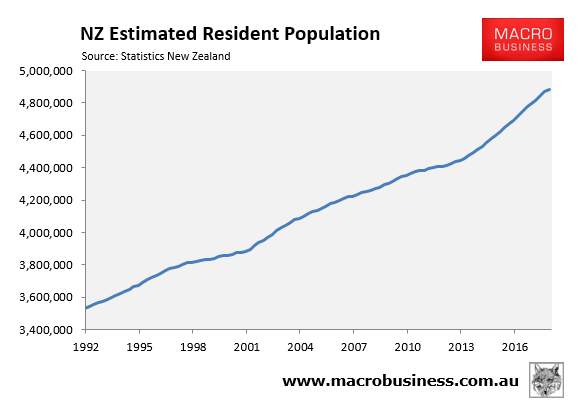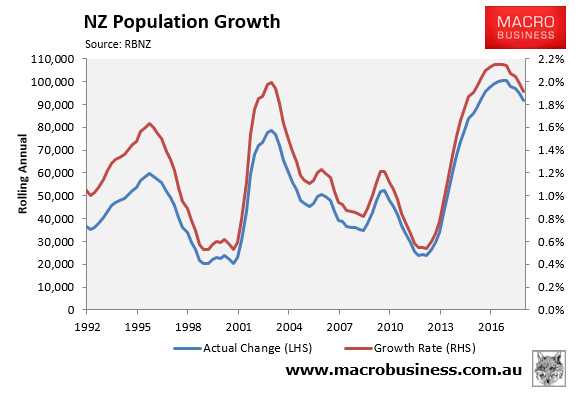 As usual, this growth has been driven by mass immigration, which added 65,000 in the year to June: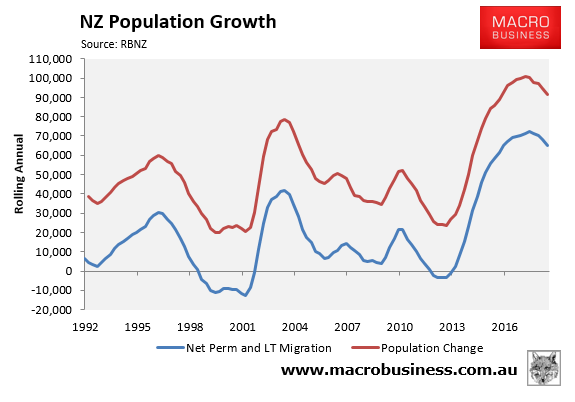 According to Statistics New Zealand, "the latest population figure is up 443,200 from 30 June 2013, which is equivalent to adding the population of the Waikato region since 2013".
Statistics New Zealand also notes that NZ's population is growing in most age groups, with the latest estimates showing more women than men aged over 30, and men outnumbering women:
"The age-sex distribution is a result of a combination of drivers," population insights senior manager Brooke Theyers said. "These include international migration trends, sex ratios at birth, women generally living longer than men, and New Zealand's ageing population."

Younger age groups have more males – typically 105 males are born for every 100 females in New Zealand. Additionally, recent trends show that greater proportions of young males on work or student visas have migrated to New Zealand than any other demographic group…

The gap between the median ages of males and females is growing wider, to more than two-and-a-half years, compared with just over one year a decade ago.

The median age (half are younger, and half older, than this age) of males and females in 2018 were 35.6 years and 38.2 years, respectively.