Statistics New Zealand released its permanent & long-term migration figures for July 2018, which revealed that immigration into New Zealand has continued to drift back from record high levels, with 63,779 annual net permanent and long-term arrivals landing in New Zealand in the year to July, down from a peak of 72,402 recorded in the year to July 2017: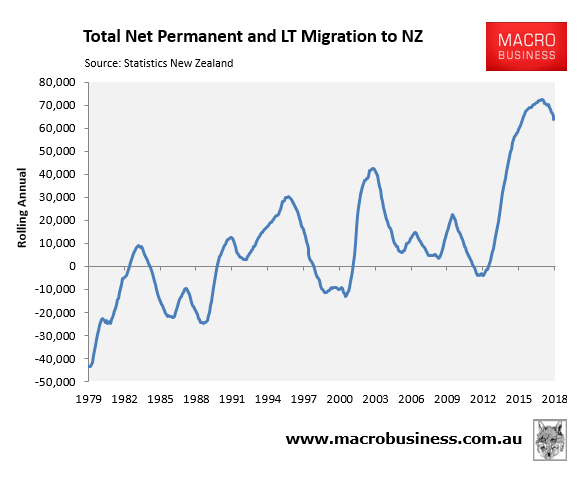 According to Statistics New Zealand:
"Even though annual net migration is lower than a year ago, it is still high by historical standards," population insights senior manager Brooke Theyers said…

"The more recent net migration rates are high for New Zealand and high by international standards"…

New Zealand's current migration rate is almost four times as high as the United Kingdom and the United States. Both had a net migration rate of 3.4 people per 1,000 population in the June 2017 year…
Net migration from Australia to New Zealand has turned negative, with 1,080 leaving New Zealand for Australia in the year to June. This is down from the recent peak flow of 1,965 people that moved to New Zealand from Australia in the year to September 2016: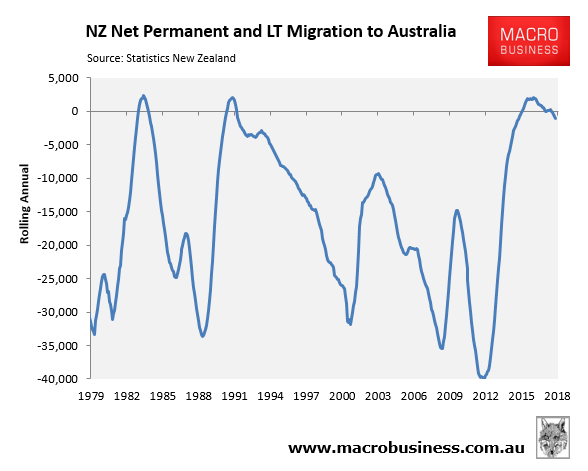 As pointed out each month, New Zealanders should be particularly sensitive to employment prospects in Australia, and swings in migration levels between the two nations should be indicative of the underlying strength of the Australian labour market compared with the New Zealand market.
That is, when job prospects are relatively strong in Australia, we should logically expect migration into Australia from New Zealand to increase substantially. By contrast, when Australian employment conditions weaken, we should logically expect New Zealand migration to slow.
The below chart plots annual Kiwi net migration against the trend Australian unemployment rate: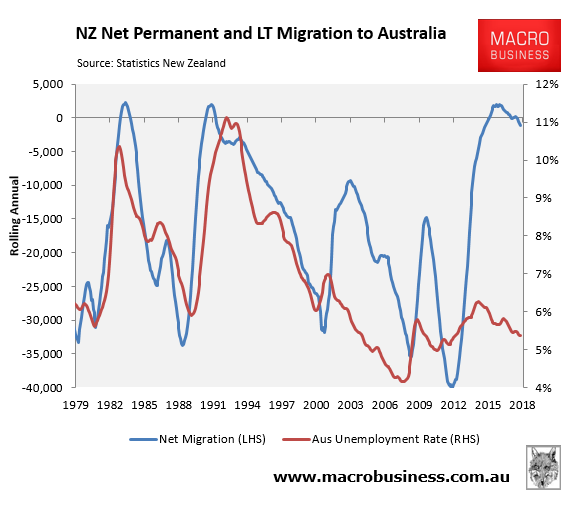 As you can see, the correlation is fairly strong. And Australia's improved labour market has encouraged a net inflow of Kiwis back to Australia.