by Chris Becker
Elon Musk has "surprised" the market by laying out a tentative plan to privatise the currently publicly listed Tesla electric car/solar energy company with a $420 per share price offer. Shares lifted nearly 11% to finish at just below $380 per share in response, following a similar surge after the Q2 earnings report.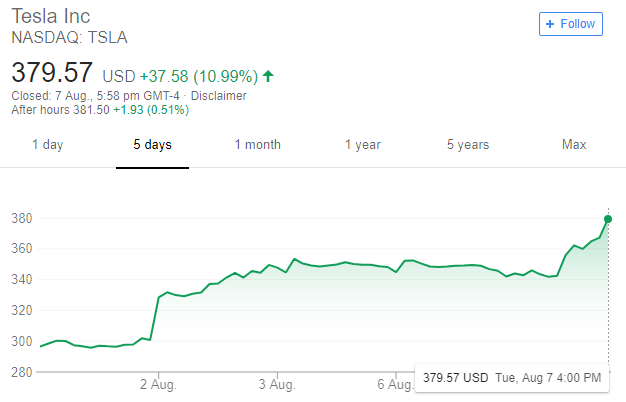 This is really no surprise, given his other major endeavour – SpaceX – is privately owned and is likely never going to be listed publicly. Followers of SpaceX know the main reasons behind, namely the ease with which the company has been able to raise capital from private investors and the longer term goal settting that a lack of public scrutiny allows, giving rise to massive multi-hundred million investments in infrastructure and new projects like the Falcon Heavy and Big Falcon Rocket, which have multi-year or even decades long payoff timelines.
Now the question is, is this a similar move, taking the pressure off the public performance that Musk disdains each quarter, combined with some hubris over decimating the multitude of short positions. Or part of a conspiracy to save a failing company as the FUD headlines are exalting, sidestepping the responsibility that comes with owning a public company?
Advertisement
Or is it part of a wider phenomenon, combined with crowdfunding, seed/Angel venture capital and billionaire philanthropy whereby the primary and secondary public share market functions are being truly subverted.
It's no joke that particularly in the US and here in Australia, public companies are using share markets more for capital subversion, tax minimisation and corporate capture rather than truly creative, risky capitalistic endeavours.
Full statement here via Reuters:
Advertisement
Earlier today, I announced that I'm considering taking Tesla private at a price of $420/share. I wanted to let you know my rationale for this, and why I think this is the best path forward.

 First, a final decision has not yet been made, but the reason for doing this is all about creating the environment for Tesla to operate best. As a public company, we are subject to wild swings in our stock price that can be a major distraction for everyone working at Tesla, all of whom are shareholders. Being public also subjects us to the quarterly earnings cycle that puts enormous pressure on Tesla to make decisions that may be right for a given quarter, but not necessarily right for the long-term. Finally, as the most shorted stock in the history of the stock market, being public means that there are large numbers of people who have the incentive to attack the company.

I fundamentally believe that we are at our best when everyone is focused on executing, when we can remain focused on our long-term mission, and when there are not perverse incentives for people to try to harm what we're all trying to achieve.

This is especially true for a company like Tesla that has a long-term, forward-looking mission. SpaceX is a perfect example: it is far more operationally efficient, and that is largely due to the fact that it is privately held. This is not to say that it will make sense for Tesla to be private over the long-term. In the future, once Tesla enters a phase of slower, more predictable growth, it will likely make sense to return to the public markets.

Here's what I envision being private would mean for all shareholders, including all of our employees.

First, I would like to structure this so that all shareholders have a choice. Either they can stay investors in a private Tesla or they can be bought out at $420 per share, which is a 20% premium over the stock price following our Q2 earnings call (which had already increased by 16%). My hope is for all shareholders to remain, but if they prefer to be bought out, then this would enable that to happen at a nice premium.

 Second, my intention is for all Tesla employees to remain shareholders of the company, just as is the case at SpaceX. If we were to go private, employees would still be able to periodically sell their shares and exercise their options. This would enable you to still share in the growing value of the company that you have all worked so hard to build over time.

Third, the intention is not to merge SpaceX and Tesla. They would continue to have separate ownership and governance structures. However, the structure envisioned for Tesla is similar in many ways to the SpaceX structure: external shareholders and employee shareholders have an opportunity to sell or buy approximately every six months.

Finally, this has nothing to do with accumulating control for myself. I own about 20% of the company now, and I don't envision that being substantially different after any deal is completed.

Basically, I'm trying to accomplish an outcome where Tesla can operate at its best, free from as much distraction and short-term thinking as possible, and where there is as little change for all of our investors, including all of our employees, as possible.

This proposal to go private would ultimately be finalized through a vote of our shareholders. If the process ends the way I expect it will, a private Tesla would ultimately be an enormous opportunity for all of us. Either way, the future is very bright and we'll keep fighting to achieve our mission.

 Thanks,

Elon