From late 2015 to early 2018, Australia experienced a rare phenomenon, whereby there was a net migration of people from Australia to New Zealand  – something that has previously only occurred during recessions: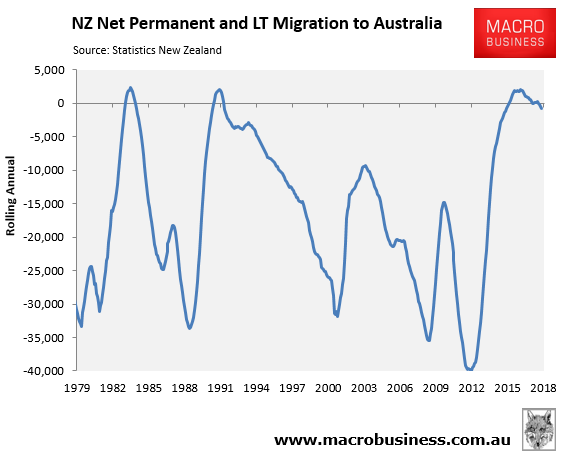 This net migration halted in April, and over recent months Australia has received a net inflow of Kiwis, albeit a trickle.
However, Interest.co.nz's David Hargreaves is concerned that this trickle could soon lead to a flood, causing a 'brain drain' from New Zealand:
At the moment as a country we are looking to play catch up on infrastructure and particularly new housing based on recently rampant increases in population. What happens to this planning if the migration and population growth figures go into reverse?…

The low level of departures of New Zealand citizens, particularly to Australia, has been a significant factor in the net inbound migration figures hitting record annual highs of well in excess of 70,000.

… if you imagine we are light years away from seeing those sorts of figures, take a look at this example from the early 1980s. At the start of the period here the net loss of Kiwis to Australia was low – and see what happened. Here's the figures for a two-year period in that time.

Yes, so basically that was an over 2000% increase in the rate of net loss of Kiwis to Australia in that two year period…

Generally the turnaround is very quick. It's the snow ball effect. Once some Kiwis decide to go, so a lot decide to go. "I've had it, I'm going." "Yeah, me too."

I think all the evidence is there that we might be about to see something similar. Now there will be questions about whether it's now as easy for NZers to go to Austrailia. Will the Australian economy improve from here? What about the fact that there has been large scale migration into Australia from other countries?

So, because something has happened before doesn't mean it will happen again. But having said that, I reckon now it will…

Now the tide's changed on migration and the housing market is no longer giving everybody the feelgood factor lift…
Over the past 40 years, net migration of Kiwis into Australia has averaged 16,300 per year, with a peak of 40,000 reached in 2012 (see chart above).
Personally, I can't see immigration hitting those levels in the near term, given New Zealand's labour market is so much stronger than Australia's, reflecting its stronger economy: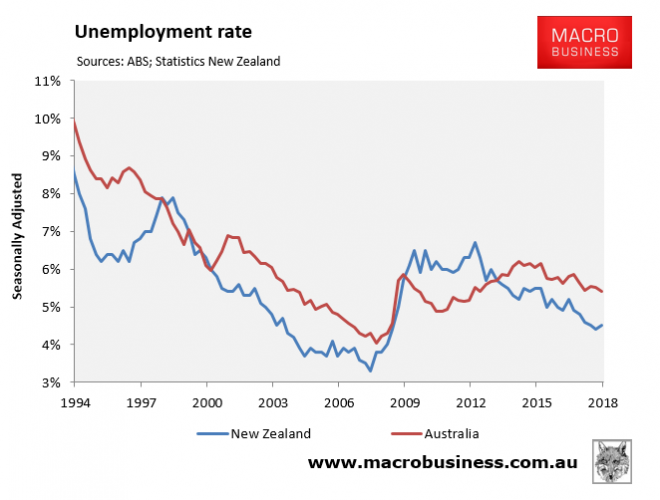 But should the New Zealand economy weaken relative to Australia's, then we could once again see a flood of Kiwis into Australia, thus adding to Australia's already chronic population pressures.
Leith van Onselen is Chief Economist at the MB Fund and MB Super. Leith has previously worked at the Australian Treasury, Victorian Treasury and Goldman Sachs.
Latest posts by Unconventional Economist (see all)