Via Herald Sun:
SYDNEY and Melbourne have been the powerhouse for Australia's booming property market but a new report shows only 17 suburbs across the two cities are seeing increased prices.

With just a handful of suburbs among Sydney's 700 showing steady rises in property values, experts say this continues to highlight a steady downward trend that's been under way for three years.

Instead it's the smaller capital cities that have previously underachieved that are emerging, most notably Adelaide and Perth.

Adelaide is now the nation's leading market with 61 suburbs that have rising sales activity, while the recovering Perth market has 45.

Canberra is also travelling well, with a solid 20 suburbs showing an upward momentum relative to the city's size.

Brisbane remains lukewarm and Hobart — currently the leading capital city on price growth — looks to have passed the peak of its up-cycle.

Darwin remains stuck in its downturn, with no signs yet of uplift.
That's house prices falling in 98% of Sydney and Melbourne suburbs. Here's what the "recovering" Perth and Adelaide markets looks like: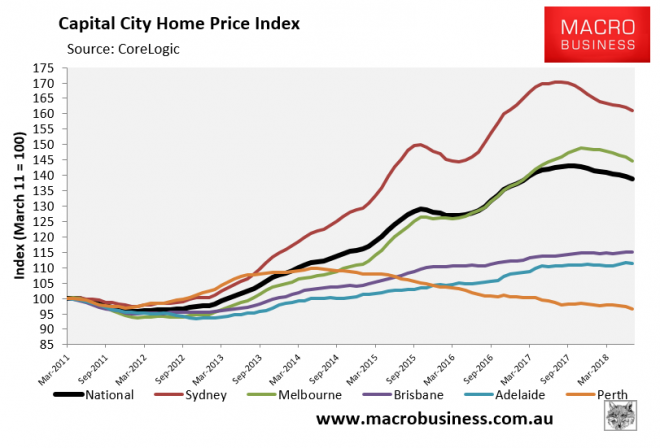 Both are falling. Adelaide in real terms and Perth still in nominal as well and steepening.
The truth is that from a top down point of view, there is no case to invest in Australian property today. Perhaps the odd localised market can buck the down trend but such widespread price falls are being driven by a credit crunch so it is generalised. It is especially concentrated for investors so those areas with the highest representation of such are worst hit, Sydney and Melbourne, but investors are the marginal price setters everywhere so it's a headwind everywhere.
Moreover, it's going to get worse. APRA is happy to allow the fringe banks and non-banks to take market share from the majors which are still ages away from delivering the loan leverage data needed to get approval for looser lending standards. Falling prices may well cause them to tighten standards further before we ever get there.
Then we have the interest-only reset and Labor's now inevitable negative gearing reforms (and/or a Coalition election Hail Mary immigration cut).
Supply is gushing out and more is coming. Building approvals are still very high if falling. Chinese buyers are gone.
Plus the end of the cycle is approaching one way or another and another offshore shock is inevitable. Aussie bank funding costs are already rising in part on that basis. But it is also structural given the perception shift of Australian credit quality driven by the royal commission. Mortgage rates are at or past the cheapest that they will ever be right now.
The last round of price rises came from paying no interest on mortgages and selling our children to corrupt Chinese. That tells you that unless the Martians develop a taste for Aussie property, we've exhausted the pool of both credit and buyers.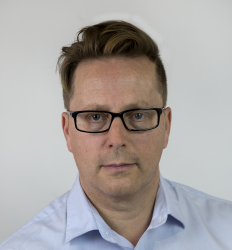 Latest posts by David Llewellyn-Smith
(see all)