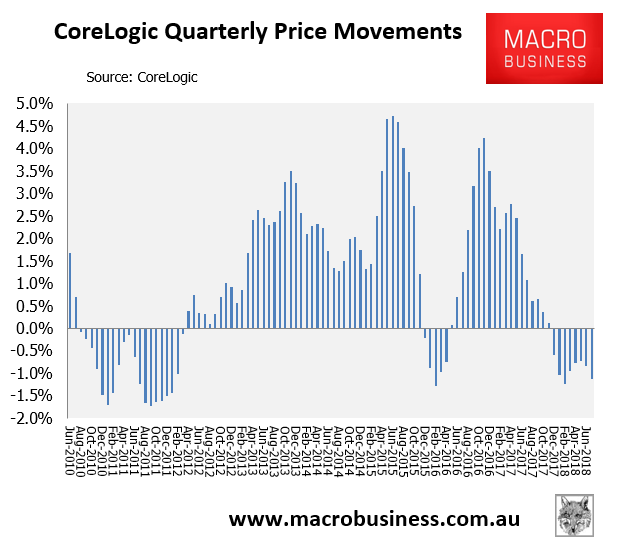 Fitch Solutions has released a research note warning that Australian property prices will continue falling which, when combined with falling credit growth, will hit bank profitability:
We are maintaining our long-held view that the outlook for Australian banks will remain subdued over the coming quarters, which will be mainly driven by the ongoing downturn in the domestic housing market. We expect credit growth to be negatively impacted given that mortgages account for approximately 60% of the total loan portfolio of the banking sector. We forecast credit growth to slow to 4.0% in 2018 and 3.5% in 2019. Banks will also be negatively impacted by the low interest rate environment and heightened regulatory oversight as the authorities seek to improve the conduct of the sector…

Following years of rapid increases in residential property prices, the Australian housing market peaked in September 2017, and we expect the ongoing downturn to persist over the coming quarters… With overall house prices still 31% higher than they were five years ago, there is therefore still room for a further correction.

Other than poor affordability, regulators have been clamping down on the availability of credit for speculative housing investment. Given their desire to limit the growth in household debt (around 120% of GDP), it is likely that the tightening policies will remain in place over the coming quarters…

Other than weakening mortgage loan growth, we expect Australian interest rates will remain low over the coming quarters as the RBA is likely to remain on hold amid an uncertain global economic environment and still muted inflation, which will weigh on net interest income and return on equity…

In our view, oversight by regulators is likely to intensify, which will weigh on the business operations of banks…

The underperformance of banking equities of Australian banks (S&P/ASX Banks Index) relative to the broader stock market (S&P/ASX 200 index) has gathered steam since late-2017, and we continue to hold a bearish view on Australian banks. Banks are likely to remain under pressure as their equity prices increasingly reflect the profitability challenges that the financial institutions face from cooling credit growth, the low interest rate environment, and increased scrutiny from regulators. The dividend payout of Australian banks is also lower compared to the peak of 102.3% in Q316 at around 79% in Q218 as they seek to preserve cash to boost their capital position in light of downside pressure on profitability.
Mortgage credit growth has been weakening, as investors rush for the exits: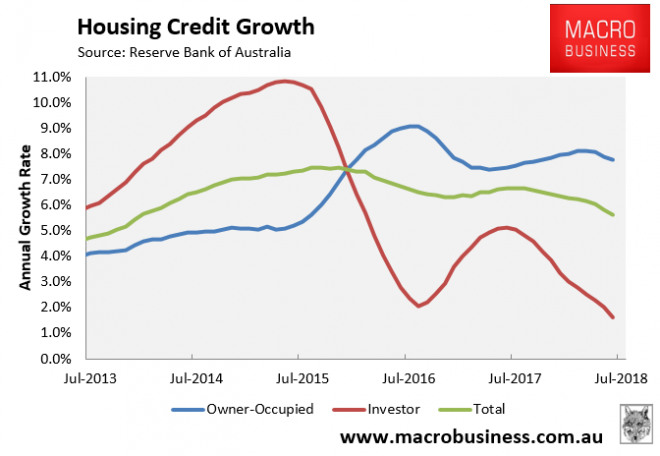 Whereas actual investor finance commitments have crashed which, given historical correlations, suggests housing prices will continue to fall: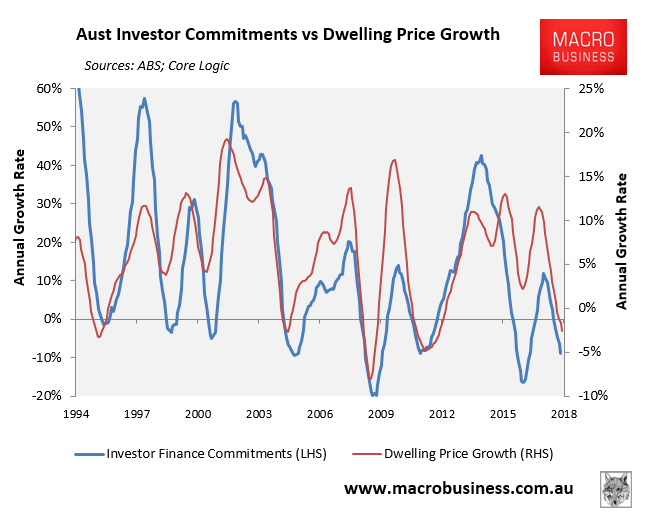 On top of the factors mentioned by Fitch, you can also add:
the massive interest-only (IO) mortgage reset due to take place over the next several years which, according to UBS, will see the potential expiry of IO loans in coming years (assuming a 5-year maturity and no rollover to another IO term) of up to $105 billion in FY18, $133 billion in FY19, and peak at $159 billion n in FY20, thereby increasing repayments by an average of 35%; and
Labor's planned reforms to negative gearing and the capital gains tax discount, in the event that it wins the upcoming federal election.
These are stiff headwinds building for Australian property and, by extension, Australia's banks.