Back in 2000, former Treasurer, Peter Costello, made the fateful decision to allow the conversion of franking credits into cash refunds for shareholders. This enabled tax-free (mostly wealthy) superannuation holders over the age of 60 to claim imputation credits even though they pay no tax, as explained by The Australia Institute:
When companies pay dividends to Australia shareholders out of after-tax profit, shareholders also receive 'franking credits' which are a credit against their own tax obligation and based on the tax paid by the company. This system, known as 'dividend imputation' is unusual and only 4 other countries in the world use it.

However, in 2000 Mr Costello made the system even more generous to shareholders by allowing them to get a cash refund if they receive more in 'franking credits' than they actually owe in tax. Because income from superannuation is tax free for people over 60, high income retirees can use franking credits to get a cash gift of over 40 cents for every dollar they receive in dividends.

The ATO estimates that Peter Costello's decision to allow 'excess' franking credits to be refunded as cash cost $4.6 billion in 2012-13…
As reported in Fairfax, the Australian Treasury warned of the ballooning cost of Australia's dividend imputation system before Labor announced a $55 billion plan to clawback tax refunds from 1 million retirees:
Treasurer Scott Morrison's chief of staff Philip Gaetjens requested a Treasury briefing within hours of Labor's policy being announced in March and was delivered a comprehensive distributional analysis, which typically takes more than a week to complete, showing the cost of the scheme had tripled in less than a decade.

Mr Gaetjens – who was appointed by Prime Minister Malcolm Turnbull as the new Treasury secretary in July – requested specific information on the impact of the policy on aged pensioners, self-managed super funds and those earning below the tax-free threshold…

The Treasury analysis found up to 230,000 pensioners would have been affected by Labor's original policy. The figure was used by the Turnbull government to trigger a political backlash that forced Labor leader Bill Shorten into a $4 billion backtrack that protects pensioners from the loss of refunds…

The principal adviser of Treasury's tax analysis division, Matthew Brine – a former adviser to Rudd-Gillard government treasurer Wayne Swan – delivered the analysis that found "older Australians are the key beneficiary of the refundability of franking credits …suggesting the cost of the refundability may increase as the population ages".

"The value of franking credits refunded has increased from $1.9 billion in 2005-06 to $5.9  billion in 2014-15," Treasury found.
The full analysis has been released on the Australian Treasury's website via FOI.
It shows the ballooning cost of franking credit refunds: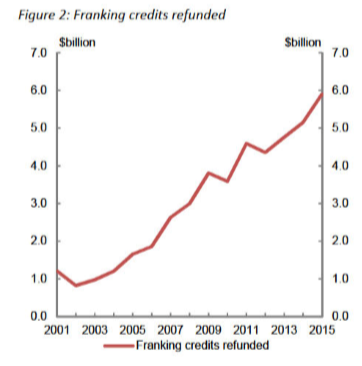 Most of which has gone to SMSFs: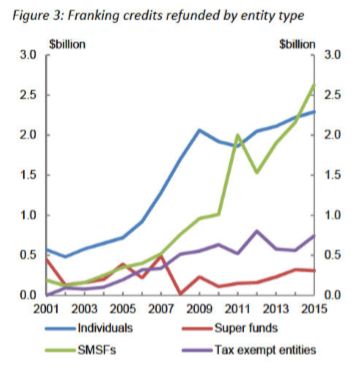 Of which most SMSF owners tend to be higher income earners: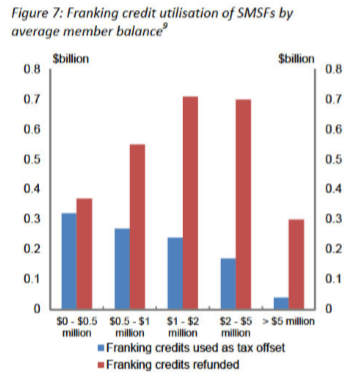 Back in March, Industry Super Australia's (ISA) Matt Linden claimed that Labor's revised policy on cash refunds for excess dividend imputation credits was fair and would primarily affect the wealthiest households, with 86% of the loss of imputation credits to be borne by the wealthiest 10% of Australians.
This ISA's findings were similar to the Grattan Institute's analysis, which showed that the wealthiest 20% of retirees own 86% of the shares: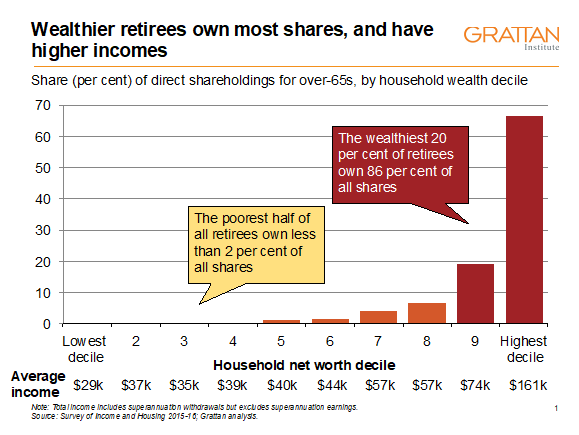 And showed that Australia's superannuation and tax system remains absurdly generous to older Australians, with older Australians paying less in tax today than they did 20 years ago, despite higher workforce participation and incomes, with the proportion of seniors paying tax almost halving in 20 years, from 27% in 1995 to 16% in 2014: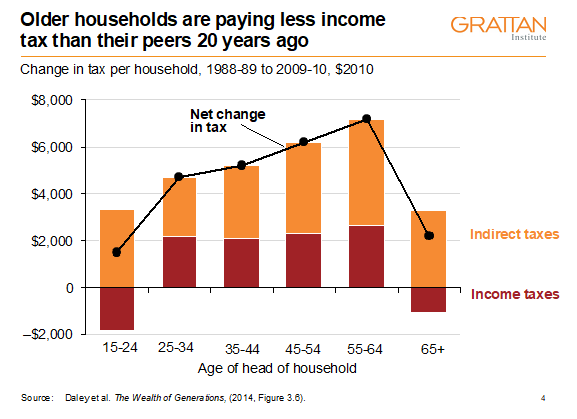 The fact of the matter is that Peter Costello should never have changed the dividend imputation rules in 2000 to allow the conversion of franking credits into cash refunds for shareholders.
Given the initial goal of dividend imputation was to avoid double taxation – i.e. ensuring that tax gets paid on company profits, but not twice over when paid out as dividends – then it made no sense to allow retirees paying zero or minimal tax on their superannuation earnings to then also receive cash refunds for their franking credits. Such a situation is not only inequitable and effectively a subsidy to the (mostly) rich, but the cost to the Budget (circa $6 billion) is simply too high to be ignored.
Now Labor finds itself in the difficult position of trying to overturn yet another piece of Costello budget vandalism, with beneficiaries of this largesse crying foul. Labor deserve support on this particular issue.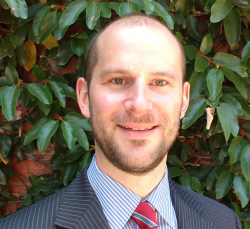 Latest posts by Unconventional Economist
(see all)