The epic boom in Sydney high-rise apartment construction: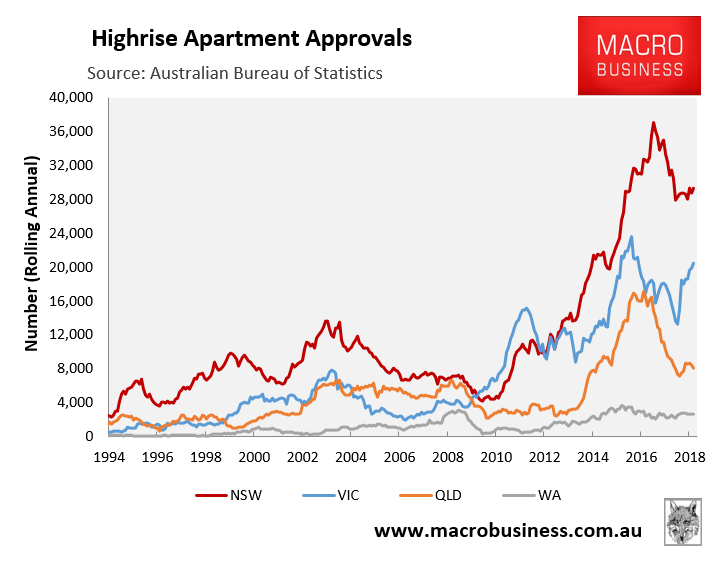 Threatens to send apartments prices tumbling into next decade, according to several leading property analysts:
Sydney-based SQM Research director Louis Christopher said the city's apartment prices were "nowhere near the bottom".

"To what magnitude, we don't know yet," he said.

"But they'll continue to fall."

Mr Christopher said two likely scenarios would play out in the Sydney market — either a "sharp fall" or a longer "stagnant period" similar to what was seen in the Sydney market from 2004 to 2012.

"This downturn is more than a restriction of credit," he said.

"It's more becoming demand-related. Investors don't want to catch a falling knife"…

The falls are being driven in-part by continued apartment construction in NSW, with Australian Bureau of Statistics figures released earlier this month showing more than 66,000 apartments are under construction across the state…

Cameron Kusher at real estate analyst firm CoreLogic also believed the falls would continue.

"The Sydney market on our data had been down for 12 months and there's real stretched affordability out there," he said.

"There's tighter availability of credit and people don't have the same borrowing capacity"…

"There's a lot of stock (apartment) sitting there, and that would suggest rents and apartment prices will continue to fall"…

In a separate report out this week, BIS Oxford predicted New South Wales would see falls in apartment blocks of up to 26 per cent over the next two years.
The fall in Sydney apartment prices come despite the NSW State Government's first home buyer stamp duty concessions, which were implemented from 1 July 2017, and have clearly supported the lower end of Sydney's property market:
Advertisement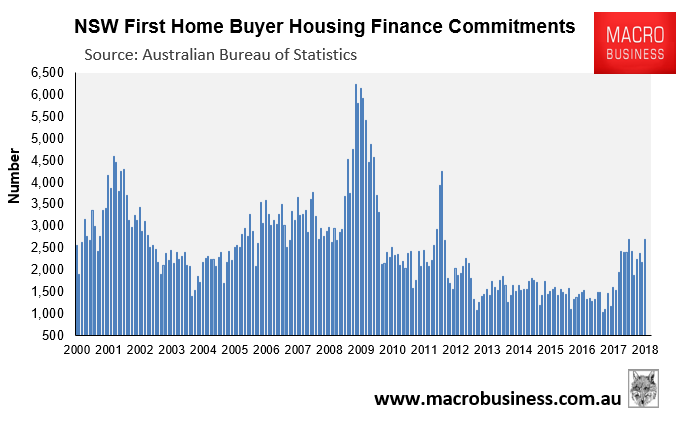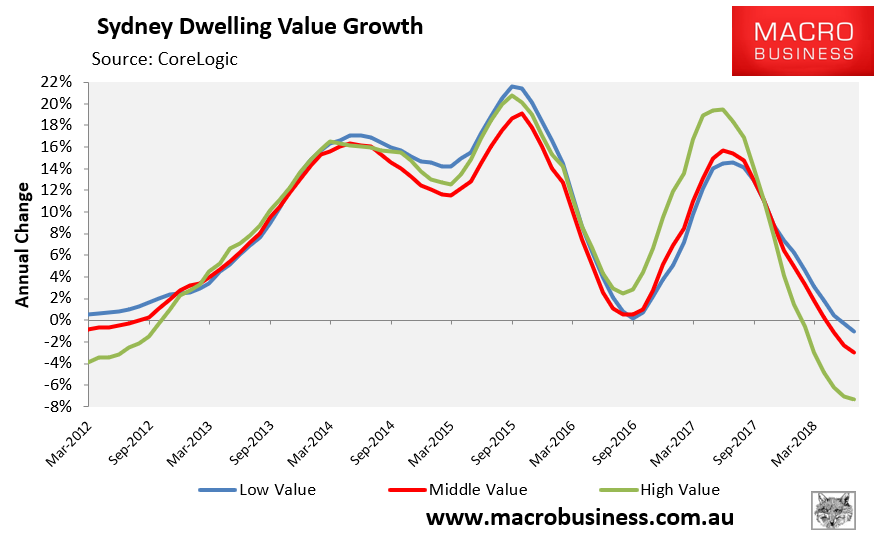 Without this artificial stimulus, Sydney apartment values would likely have fallen much further already.
Advertisement
Regardless, there are stiff headwinds facing Sydney property, which should heighten any downturn. These include:
The massive roll-over of interest-only mortgages into principle and interest (raising repayments by 35% to 50%);
Tightening lending standards arising from the banking Royal Commission;
Rising bank funding costs;
Labor's negative gearing and capital gains tax reforms should it win the next election;
Weakening Chinese property demand, and
A looming offshore shock.
How far Sydney's apartment prices plummet is anyone's guess. But we are likely facing a long and protracted correction.
Advertisement