The Australian reports that Immigration Minister, Peter Dutton's, "tough" vetting of migrants has slashed Australia's permanent migrant intake:
The annual permanent migration intake has fallen by more than 10 per cent to less than 163,000, marking the lowest level for more than a decade on the back of a crackdown on fraudulent claims and a sharp rise in visa refusals under the government's new integrity measures.

The Australian has confirmed that tougher vetting rules imposed by Home Affairs Minister Peter Dutton have cut 21,000 from the annual intake, returning it to levels last seen in 2007.

A report by the Department of Home Affairs has revealed the total number of people allowed under the migration program fell from 183,608 to 162,417 in a year, having hit a peak of 190,000 under the Rudd and ­Gillard governments.

The cut to the 2017-18 intake represents the largest single-year decrease in more than a decade…

The numbers show a drop of about 12,468 in the skilled migrant stream to 111,099 this year.

The largest fall was in the ­family stream — predominantly spousal visas — which was slashed by almost 15 per cent to 47,732 with a minor drop in special eligibility.
Here's the chart: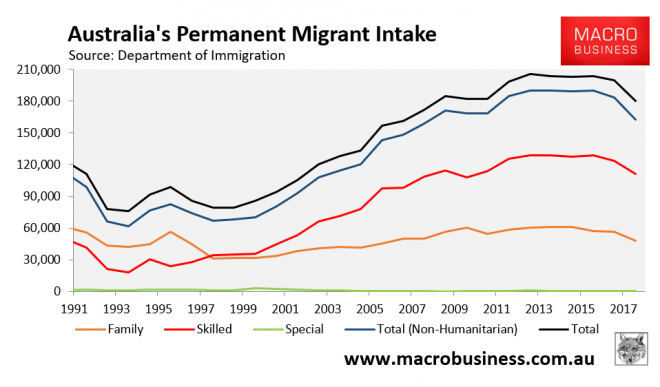 Don't get too excited: the permanent migrant intake has gone from ludicrously high to just ridiculously high, and remains more than double (100,000 above) the turn-of-the-century level.
Thus, this claimed 21,000 reduction is merely fiddling at the edges while our major cities' liveability burns.
Moreover, at the same time as the Coalition has "slashed" the permanent migrant intake, it has ramped up bridging visas, where there has been a "mysteriously" large rise by more than 40,000 from a year ago, with bridging visas up around 90,000 since 2014: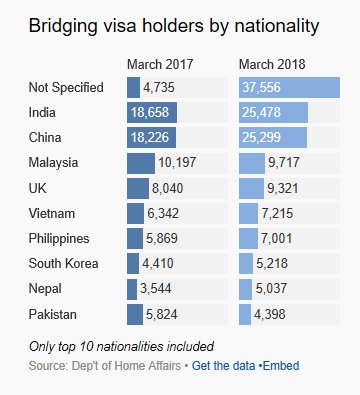 So, the Government seems to be juking the migration stats with transitional visas.
This helps to explain why the 21,000 reduction in the permanent migrant intake contradicts the Federal Budget's net overseas migration (NOM) projections, which forecast only an 8,000 reduction in NOM in 2018: