Populate or perish is back. From David Crowe on the weekend:
How many migrants should Australia take every year? "Wrong question," said Carla Wilshire, the chief executive of the Migration Council. She and others say the population debate should be much bigger than this.

"What we need to do is ask ourselves where we want to be in the future. What population do we need to maintain our security? Where do we want to be positioned in our region? What muscle do we need and which industries do we need to grow?" said Wilshire.

"Then we need to work out what population size we will need to maintain our standing and what skills we will need to bring in to develop the industries of the future."

This is vital. The rise of China and the doubts over US power under Donald Trump are a reminder that Australia cannot take its security for granted. Slamming the door on migration risks the growth that underpins security over the long term.

Australia's strategic future is fundamental but easily lost in the political argument.
Let's get some facts on the table here. Carla Wilshire is neither a strategic nor economic expert. She is a former Labor staffer turned CEO of the business lobby for mass immigration, the Migration Council. The chair of the Migration Council is Innes Willox who also heads the Australian Industry Group and who openly fights against legislation to prevent migrant wage exploitation. The Migration Council is funded by property developer cash. No media should ever quote it unless looking for the business angle of lower wages and more houses.
The AFR editorial on the weekend was no better:
Forty years ago this year, China began its rapid march from giant outlier to a giant at the centre of the world economy. This week, that great event continued to reverberate as an American president continued pulling his country from global leadership into a hostile, defensive crouch. Donald Trump has decided that in a world of new competitors like China, America must now put his own crude idea of self-interest first, second, and third. Mr Trump in recent days has undermined NATO, humiliated his close allies in London, and then abased himself for advantage with Russian autocrat Vladimir Putin. He has slammed his ally Germany for buying commercial gas from Russia. Would he swipe Australia for selling iron ore to his rival China if the mood took him? Our long-held assumptions about fundamental unity of purpose among Western nations are suddenly not so solid as they were.

Australia comes into this as a country still yet to fulfil all its potential. It is a frontier society with vast natural resources, whose best days are yet to come – but which must now live in a new age of uncertainty. The country needs to be able to handle itself in a neighbourhood that is geopolitically highly active at best, downright dangerous at worst. We need the ballast of a strong and well-managed economy that underwrites independent diplomatic and military influence there. That means a bigger population, and a bigger Australia.
Will more people protect Australia better? No. There is no army of sufficient size to cover our coastline. To be kind, that's 19th century thinking. Defense technology is the answer today including mulling The Bomb.
Will lower immigration reduce the size of the economy? No. It will make it larger over the long run. The mass immigration development model is based upon debt accumulation in both the private and public sectors. It drives overvalued house prices. It chokes productivity and income growth. And it drives public infrastructure investment that has dubious returns thanks to our corrupt political economy seeing it mostly as pork.
This is not a sustainable growth model. Such is obvious in the huge external deficits being run by the people ponzi-centres of NSW and VIC since the population ramp up began in 2003: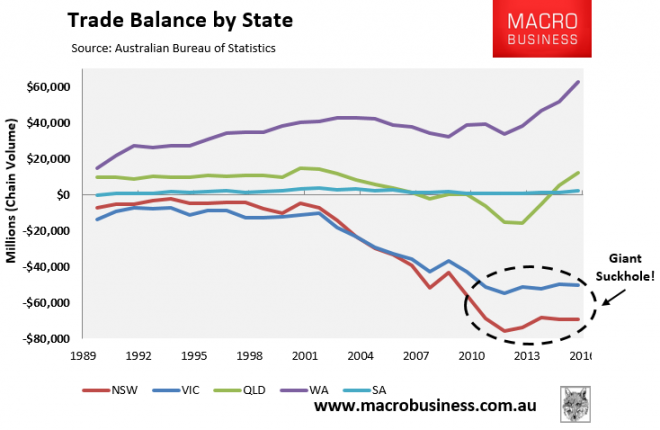 In both states, household balance sheets are already breaking as mass immigration drives jumbo mortgages even as it kills wages growth making deleveraging impossible. Public budgets are also under strain. The Federal Budget has seen temporary gains on Chinese stimulus. State Budgets are playing a game of shells as they run up ever higher debts but hide them off balance sheet in dodgy infrastructure projects. Ratings agencies have already warned that this is not sustainable either.
When these accumulated debt stocks peak and reset lower then the bust will shunt the national economy onto a lower growth path. Private debt will need to bailed out by foreign capital (read Chinese). Or, if it is made public, then huge budget deficits will need to funded by offshore capital (read Chinese).
The alternative path of lower immigration will encourage lower house prices and deleveraging now. That may result in lower growth for a short time. But it will also quickly reset Australian competitiveness as the Australian dollar falls hard and fast. Instead of ponzi-sectors booming we'll see tradable sectors booming as the 40% of the economy that exports or competes with imports takes off. Sectors such as education and tourism that currently rely in part upon the citizenship carrot will roar ahead even faster thanks to price advantage.
A much lower dollar dramatically lifts offshore incomes, nominal growth and Budget revenues. It also prepares Australia for inevitably slower Chinese growth which will hit the mass immigration model's debt stocks very hard otherwise.
In short, cutting immigration will help correct the current account deficit, reducing foreign borrowing and the selling of assets to foreigners. That, in turn, tips into the management of Australia's single-most most crucial national security challenge by far: how to manage burgeoning autocratic Chinese power.
The mass immigration model invites that power in. We've seen it now across our parliaments as Chinese Communist Party corruption seeks to undermine liberal democracy and its strategic underpinning in ANZUS. We've begun to fight back via legislation but it's a long term soft power war. And when one canvases how it might be won, the mass immigration model is very far from helpful. Via Anthony Bubalo of the Lowy Institute:
Not long ago I listened to four Australians of Chinese heritage speak at the Lowy Institute about the impact on their communities of the foreign interference question. Some of the issues they raised were similar to those articulated by Muslim Australians when they talked about the effect of terrorism on their relationship with broader society.

…The government is certainly seized of this challenge. New legislation has been passed and a new position, the National Counter Foreign Interference Coordinator, has been created in the Department of Home Affairs, similar to the longer-standing position of Commonwealth Counter-Terrorism Coordinator.

But alongside these measures the government will also need to protect the bonds in our society that allow people and communities to cooperate and trust each other despite cultural, ethnic, religious, or ideological differences.

…Some lessons are obvious, such as the importance of precise language. In the same way that it is vital to distinguish between the ideas of Islamist extremists and those of the Islamic mainstream, we must avoid using the the word "Chinese" in relation to foreign interference to ensure we are not conflating the CCP with Chinese Australians.
Feel good drivel aside, the best (and perhaps only) response that will prevent the spread of CCP influence within said community from corrupting the wider democracy is to cap its numbers. Discriminatory immigration is rightly anathema in a modern multicultural nation so we should simply slash the total permanent migrant intake to historical averages. Problem solved.
Viewed beyond the lens of sectional interests, any definition of Australian national security that includes defense of its liberal democracy must address the question of Sinofascism first and foremost. In that context the case for "populate or perish" collapses into dangerous nonsense.
Indeed, yesteryear's "populate or perish" is today's "populate and perish".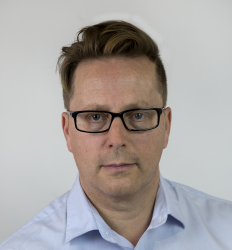 Latest posts by Houses and Holes
(see all)