Apparently, Western Australia is facing another mining boom and a chronic shortage of workers. From The ABC [my emphasis]:
Last time the workers flew in from all over the country and abroad to earn the big money on Western Australia's iron ore mines. Companies were offering ridiculous wages and conditions.

But when the mining boom ended, the workers moved on.

Five years later and the iron ore game is again ramping up, but poaching the workers needed might not be as easy this time around.

"We're already seeing a bidding war in certain occupations and skill sets," BIS Oxford Economics senior economist Adrian Hart said…

The rapid turnaround in fortunes in the jobs market shows just how much weight the iron ore heavies have when they pull the trigger on new construction.

BHP, Rio Tinto and Fortescue Metals Group are building new mines — all at the same time. This will require about 6,000 construction workers…

Adding to the problem is a dramatic fall in the number of students studying mining engineering…

Based on data from eight Australian universities, the number of engineering students set to graduate will fall to 50 a year by 2022, according to the Minerals Council of Australia…

"I think through South-East Asia and the Middle East and India — that's going to be our new target market for mining engineers," Mr Sala Tenna said.
Clearly this is a ruse to open the immigration floodgates and employ cheap foreign labour. Because any objective analysis of the data would see that capital expenditure in Western Australia has collapsed: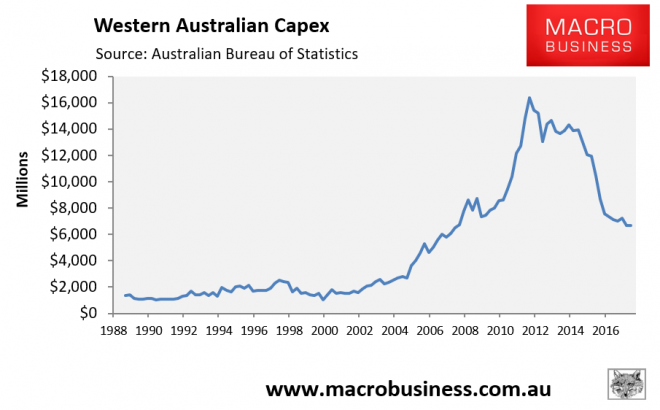 Dwelling construction has collapsed: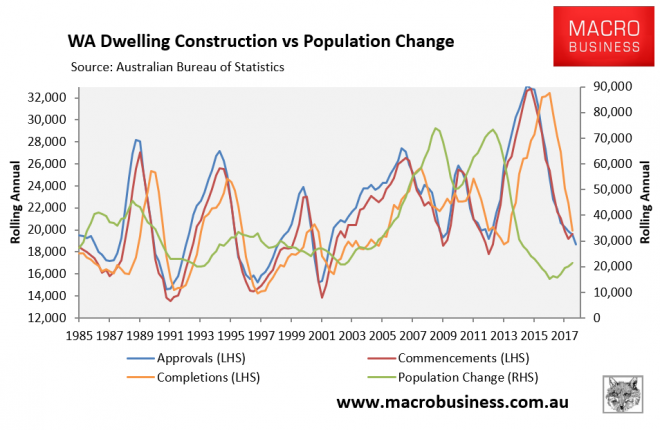 Labour underutilisation (i.e. both unemployment and underemployment) has skyrocketed: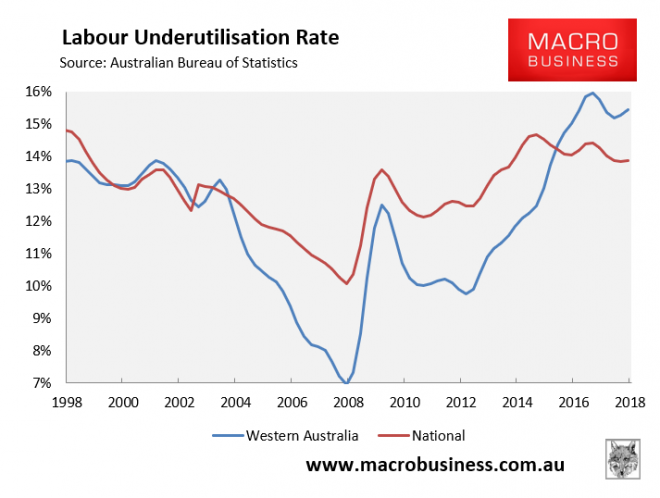 And there is a massive oversupply of engineers (including mining engineers), according to the Department of Employment's latest skills shortages report:
Labour market conditions for engineering professionals remain soft, particularly when compared with those prior to the Global Financial Crisis. None of the occupations assessed in 2017 were found to be in shortage…

Shortages have not been apparent for any of the assessed engineering professionals since 2013…

In 2017, employers attracted large numbers of applicants (on average, 39.9 per vacancy of whom 28.3 were qualified).

Although the average number of suitable applicants per vacancy has fallen from 3.6 in 2014 to 2.5 in 2017, there are considerably larger numbers than there were prior to 2013…

There is no evidence of shortages of mining engineers, with all advertised vacancies filled. Demand is currently subdued in line with reduced mining investment and is evidenced by the substantially low numbers of internet vacancies. Supply to the occupation is strong, with employers attracting large numbers of qualified applicants…

On average, employers attracted 28.3 qualified applicants per vacancy, almost nine in ten of whom were considered by employers to be unsuitable. The main reasons for unsuitability were lack of sufficient experience in the profession (for example, recent graduates) or lack of experience in a particular specialisation or industry sector…
Moreover, with giant LNG projects like Gorgon, Wheatstone and Ichthys all winding down, there is no reason to believe that mining construction will ramp-up any time soon.