The Australian's Adam Creighton has penned another excellent article attacking the cost of Australia's compulsory superannuation system on the Federal Budget:
The superannuation guarantee increases costs to the government, which therefore ­requires a higher tax burden. That's because the cost of the superannuation tax concessions is greater than the savings to the government in Age Pension costs — both now and in the future.

Don't take my word for it. In 2009, then Treasury secretary Ken Henry's tax review committee concluded: "An increase in the superannuation guarantee would … have a net cost to government revenue even over the long term (that is, the loss of income tax revenue would not be replaced fully by an increase in superannuation tax collections or a reduction in Age Pension costs)."

You don't hear this point very often because the super industry is vast and powerful. No one wants to admit the whole edifice of compulsory super offers appalling value for money.

Yet on July 1, 2021, the compulsory rate of superannuation contributions will ratchet up 0.5 per­centage points to 10 per cent, after which it will continue rising until it hits 12 per cent four years later. It's bad policy, especially in view of the Productivity Commission's report.

The commission's draft report into the inefficiency of the superannuation system estimated and catalogued a range of inefficiencies…

In 2007, 80 per cent of over-65s were on the full or part Age Pension. It is estimated that 80 per cent of over-65s still will be on the full or part Age Pension in 2047, after what will have been 55 years of compulsory superannuation. Relatively more retirees will be on a part pension, however.

So, all that for a greater take-up of the part pension?
These are great points by Adam Creighton. Raising Australia's compulsory superannuation rate (superannuation guarantee) from 9.5% to 12% is estimated to cost the Budget an extra $2 billion a year. That's a heck of a lot of money to give up in exchange for minimal savings in Aged Pension costs.
In fact, as noted by Creighton, there are actually net costs to the Budget from Australia's superannuation system – that is, after accounting for Aged Pension savings. And it's not hard to see why, given the lion's share of benefits flow to higher income earners that are unlikely to require the Aged Pension anyway: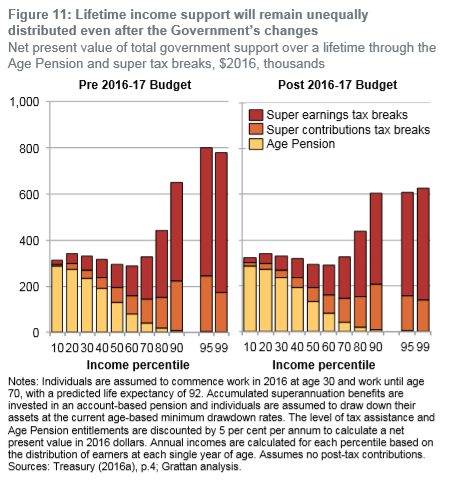 So why then is Labor still seeking to raise the compulsory superannuation rate? Expanding superannuation concessions would merely heighten inequities already present in the retirement system and would be a dud deal for low income earners and taxpayers alike.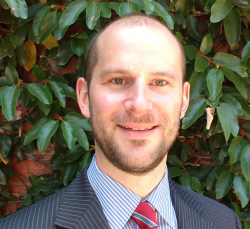 Latest posts by Leith van Onselen
(see all)