Via The Australian:
Chinese LNG demand is set to drive a global shortage in the next three or four years and push Australian east coast gas prices back above $10 a gigajoule, according to global energy consultant Fereidun Fesharaki.

The looming shortage, which may be coming faster than most had expected, is good news for the nation's offshore liquid natural gas producers and export revenues.

But it spells higher costs for manufacturers on the east coast and greater political pressure on Gladstone's three LNG export plants, run by Santos, Shell and Origin Energy/ConocoPhillips to keep a lid on domestic prices.

"We see it (a global LNG shortage) in 2021 or 2022," said Dr Fesharaki, chairman of respected oil and gas consultancy FGE.

…"The Chinese have changed it (the demand outlook)," said Dr Fesharaki, who is in Sydney to present at Credit Suisse's annual Australian energy conference.

…"That ($8-$10) is a reasonable long-term number, but during this period of time (when there is a shortage) it's going to be $10-$12," he said.
Fesharaki is pretty good so it's worth taking seriously. But I still can't see it. If you include the incipient Qatari expansion the supply side remains bloody ugly: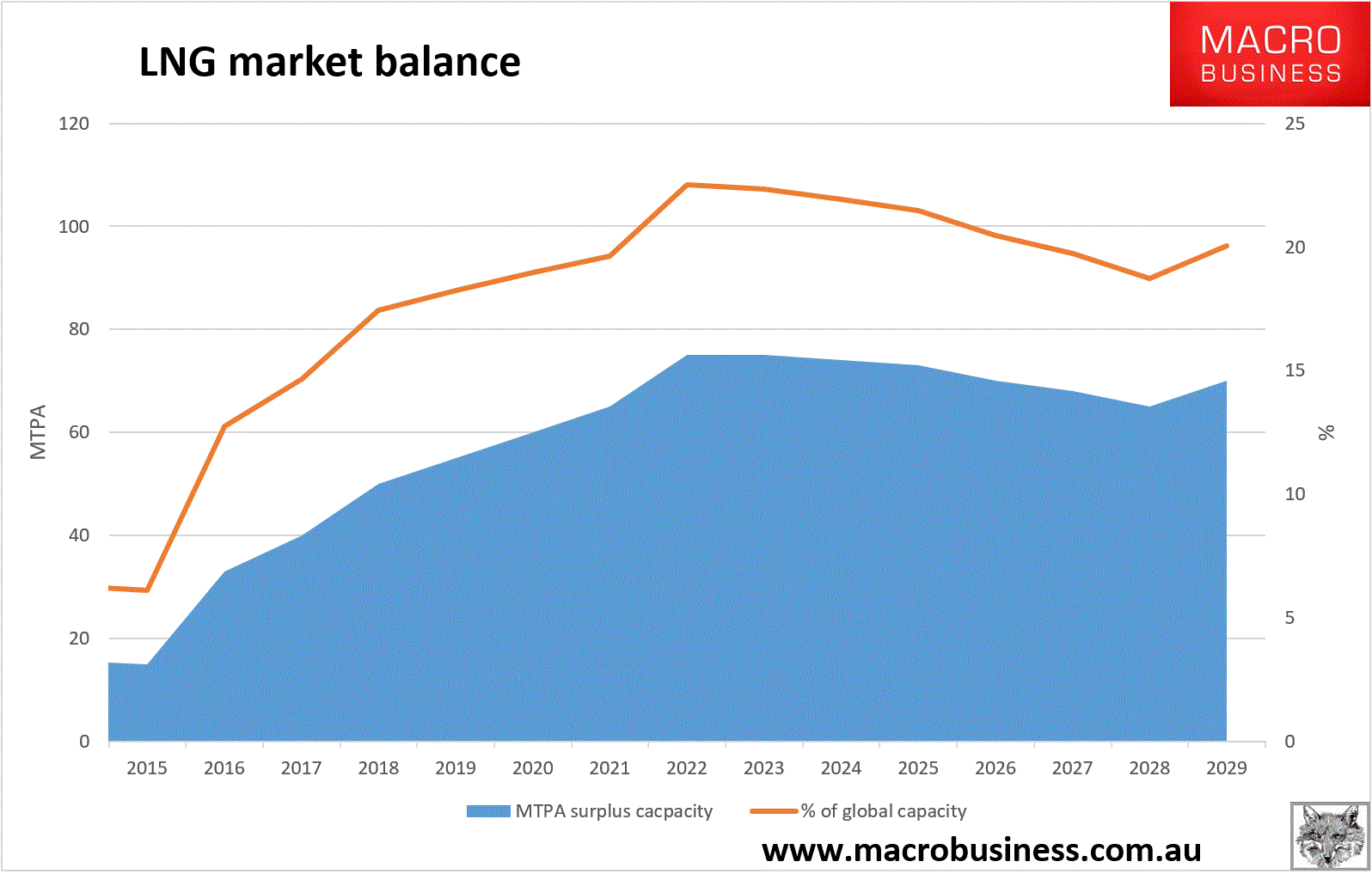 Of course low prices cure low prices but talk of a shortage is still fanciful.
But talk of higher prices is not for a different reason, via the AFR:
The old pipeliner in Mick McCormack delights in the gentle irony that AGL's quest to manufacture a virtual pipeline to feed its gas customers in Victoria will be made readily investible by his readiness to throw $200 million at the task of building a more traditional cross-country artery.

A pipeline development and transport agreement with McCormack's APA stands as one of two key project milestones AGL stepped past on Tuesday as it works towards fulfilment of its plan to import liquefied natural gas into Crib Point in Victoria's Western Port.

The other box ticked by the AGL manager that owns the Crib Point project, general manager energy supply and origination, Phaedra Deckart, was a collection of agreements with the Port of Hastings that will underpin remediation work on the Crib Point Jetty Berth No. 2.
This is simply one cartelier joining another in a move to displace the only thing that has lowered east coast gas prices: our modest gas reservation policy. As the monopolists pour forth with their "market" solution, sure as night follows day, the Australian Domestic Gas Security Mechansim is going to come under attack. It will have to or there is no business model for the importers. By definition they will be buying gas at Asian prices, which includes the cost of liquifaction, shipping, regasification, loss of 10% of volumes in the process, amortisation of the LNG import infrastructure and a margin for the monopolist. This versus just keeping our cheap gas here via the ADGSM.
And now, piling lunacy on top of madness on top of crazy, we get this:
The country's biggest gas pipeline company APA Group has attracted a $13 billion takeover bid from acquisitive Hong Kong giant CK Group at a price attractive enough to grant it access to its accounts.

The $11 a share, unsolicited proposal compares with Tuesday's close of $8.27, which is down from north of $9.50 12 months ago as worries over the impact of tightening regulatory scrutiny weighed on sentiment.

The offer, first reported on Street Talk, is still conditional on due diligence and approvals.
Let's sell it all to the Chinese who consume most of the east coast gas exports!
As one reader put it succinctly yesterday:
I doubt Monty Python at their finest could come up with something like this "export liquid gas at a loss so you can import same at a high price and sell back to yourself"
QED.