The infrastructure being built to fix the problems caused by mass immigration continues to create headaches for Sydney residents.
NSW taxpayers are already facing huge cost blowouts and delays from among other things:
a claim worth more than $1 billion from the builders of Stage 2 of the WestConnex ­motorway that links western Sydney with the inner city;
a claim of an extra $1.2 billion from Acciona to build the Sydney CBD light rail; and
an extra $400 million to $500 million to repair cracked spans relating to the Skytrain for the North West Metro project.
Now, Fairfax reports that the NSW Government's compulsory acquisition powers are facing legal challenges that risk further cost blowouts and delays for major projects:
A major hospital redevelopment, a new light rail line, road upgrades and the WestConnex toll road are among a long list of projects in Sydney worth billions of dollars that are at risk of significant delays due to serious doubts cast over the state's compulsory acquisition powers.

The Herald can reveal about 165 acquisition notices handed to landowners for projects such as the Prince of Wales Hospital redevelopment at Randwick and a major road upgrade near the new airport at Badgerys Creek are at risk of becoming invalid or lapsing within weeks.

Doubt has been cast on a further 86 properties that authorities planned to issue acquisition notices for by the end of next week, after property developer Desane won a legal battle in the NSW Supreme Court to stop the state government from forcibly buying land at Rozelle in the inner west for WestConnex.
The above highlights, yet again, why delivering infrastructure projects to keep pace with rapid population growth is so difficult and expensive.
Because cities like Sydney and Melbourne are already built-out, they require costly measures like land acquisitions and tunnelling, which makes projects increasingly costly: basic dis-economies of scale.
Don't just take my word for it. The Productivity Commission's (PC) 2016 Migrant Intake into Australia report explicitly noted that infrastructure will have to increase to accommodate a bigger population, and that this infrastructure will necessarily be expensive:
Physical constraints in major cities make the costs of expanding infrastructure more expensive, so even if a user-pays model is adopted, a higher population is very likely to impose a higher cost of living for people already residing in these major cities.

…governments have not demonstrated a high degree of competence in infrastructure planning and investment. Funding will inevitably be borne by the Australian community either through user-pays fees or general taxation…
Whereas, the PC's recent Shifting the Dial: 5 year productivity review explicitly noted that infrastructure costs will inevitably balloon due to our cities' rapidly growing populations:
Growing populations will place pressure on already strained transport systems… Yet available choices for new investments are constrained by the increasingly limited availability of unutilised land. Costs of new transport structures have risen accordingly, with new developments (for example WestConnex) requiring land reclamation, costly compensation arrangements, or otherwise more expensive alternatives (such as tunnels).
Therefore, infrastructure projects will become increasing expensive, with the extra costs borne by existing residents, so long as Sydney adds a projected 90,000 people a year, primarily via mass immigration: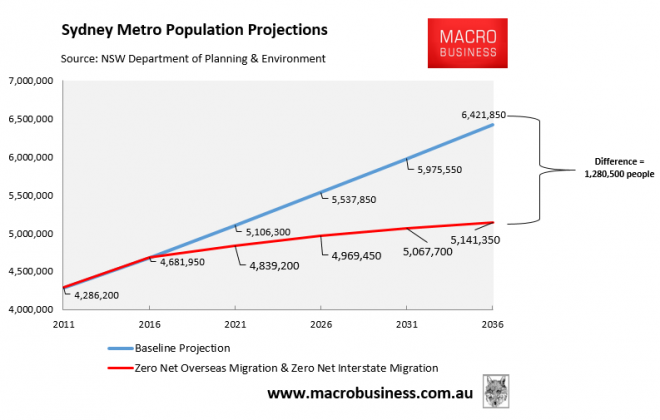 For what? Just so Sydney can grow to the size of London mid-century against the wishes of its residents?