It's supposed to be looking up for gold, with increased consumer demand and a series of central banks, including Russia, dumping US Treasuries to buy the shiny undollar.
So why are prices – in USD terms at least – in the doldrums?
According to the World Gold Council, overall demand in Q1 2018 was down 7% and the lowest in ten years:
The main cause was a fall in investment demand for gold bars and gold-backed ETFs, partly due to range-bound gold prices.
Jewellery demand was steady at 487.7t, as growth in China and the US compensated for weaker Indian demand.
Central banks bought 116.5t of gold (+42% y-o-y).
Technology demand extended its recent upward trend, growing 4% y-o-y to 82.1t.
Meanwhile supply was up by 3% and mine production slightly higher than expected.
But the outlook is rosy:
Increased consumer demand by Asian giants and greater ethical responsibilities of the gold mining sector will brighten the industry over the next few decades, according to analysts.

"As the middle class expands rapidly in China, India and elsewhere, demand for gold will undoubtedly increase. The gold mining industry is going to be challenged to produce as much gold in the next 30 years as it has done during recent years," WGC CEO Aram Shishmanian stated.

According to the latest study, technological advancement will become an increasingly important factor in the industry, while economic growth will continue to support global mining.

"Production methods and stakeholder relations will need to evolve if the gold industry is to make a meaningful contribution to society over the next three decades."

Barrick Gold Corporation chief innovation officer Michelle Ash believes companies will have to look to alternative mining methods to meet rising consumer demands to decrease environmental impacts.

"I believe that open pit mining will become increasingly unpalatable to local communities and central governments. Even today there is growing antipathy to the use of large amounts of land for mining, especially in developing countries where subsistence farming is practised," she stated.
Basically, in the long term as the working class Indians and Chinese become middle class and demand more gold as their economies expand, but only if they don't abandon their cultural want for the shiny, but nearly useless metal as they get richer.
Could extra demand in the medium term come from central banks or will they continue to shun gold as the non-money that it is? Russia is leading the way here, cutting its holdings of U.S. Treasuries by more than half. Not a big amount in the scheme of things – approx. $50 billion vs the $21 trillion pile – and done mostly on the back of uncertain sanctions from the US, so for want of a better word, it's not a headline.
In the short term, it's all bearish news, from a pure price perspective, looking at the daily chart first: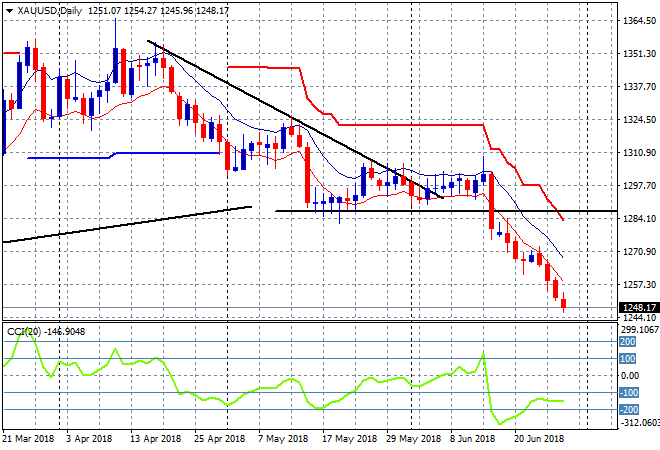 On the monthly chart you can see, all of the gains for calendar 2018 have been wiped out, with gold effectively going nowhere in nominal terms, let alone real terms for several years. Gold in USD has gone next to nowhere for a very long term, abrogating its primary role as being an inflation hedge, with the secondary role as that of insurance against volatility also lacking luster: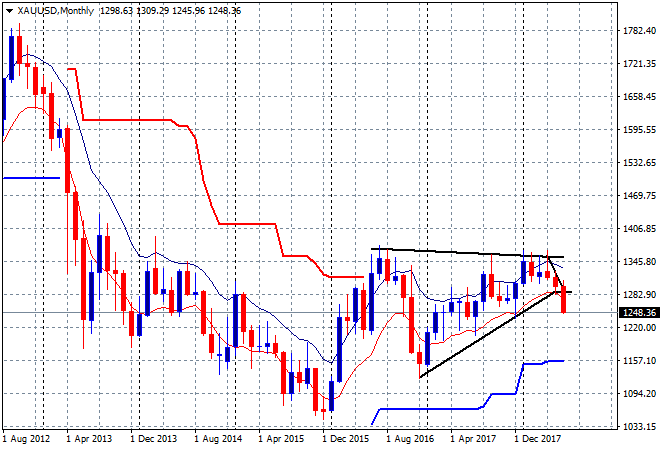 And speculators have moved to a net short position as of this week, prepping for the remainder of 2018. From Kitco:
The Commodity Futures Trading Commission releases a report each Friday showing the positioning of various categories of market participants as of the prior Tuesday.

The last "disaggregated" CFTC report showed that money managers were net-long, or bullish, by only 10,528 contracts as of June 19. This was the lowest level in more than two years.

"Even gold ETF [exchange-traded-fund] inflows of over three tonnes yesterday – the first in 12 days – were unable to halt the price slide," Commerzbank says. "As there has been no other news about gold demand in recent days, gold is presumably still being sold via the futures market. Speculative net-long positions are likely in the meantime to have been switched to net-short positions."
All of gold's normal catalysts – increased volatility, low or negative real rates, low or zero bond yields, the genuine safe haven bid – all haven't worked. Even US inflation at a six year high and rising, forcing the Fed's hand, is not helping: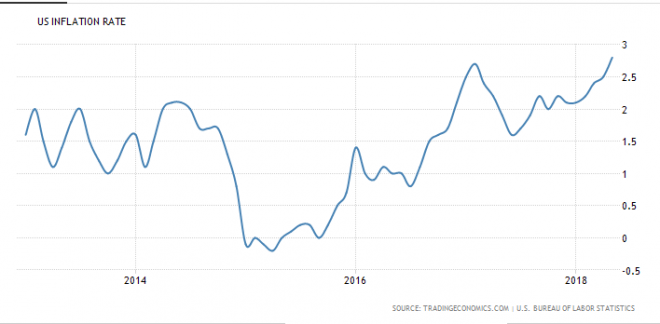 It's going to take a lot more Putin's and rich Chinese and Indian middle class women to get things moving higher again for gold.
That, or a falling USD.
Latest posts by Chris Becker
(see all)