The Victorian Budget was released yesterday afternoon, which contained all the hallmarks of a typical election year Budget, with cash splashes on all manner of programs, along with a nice dose of spruik. Below are key extracts from the Treasurer's speech, which highlight the Budget's essence:
Victoria is the fastest growing economy in the nation.

We have delivered the highest average surplus of any Victorian government in history, we've kept debt levels below what we inherited, and we've maintained our prized triple-A rating…

Speaker, since 2014 this Government has invested more than $48 billion to build the schools, the hospitals, the roads and the public transport system our state needs.
During this time, hundreds of thousands of jobs have been created…

In the coming year, $78.9 billion of state capital projects will commence, or are underway…

Speaker, our economy will have grown by $48 billion, in real terms, over the four years since 2014…

Speaker, at the heart of the 2018-19 Budget is a landmark $644 million investment to ensure Victorians can get the skills they need for the job they want.

This is part of our unprecedented $8.8 billion investment in the Education State, with a further $1.3 billion to build and upgrade more schools and facilities.

The budget also includes a record $4.2 billion to ensure quality healthcare for all, including historic action on mental health.

It provides more than $4.3 billion for some of the biggest road projects in the history of our state, projects that will significantly reduce congestion and get Victorians home safer and faster.

It provides an additional $1.9 billion to improve the efficiency and amenity of our public transport system, building on the more than $25 billion we've already invested.

The budget maintains our commitment to every corner of the State, with more than $4.3 billion for regional Victoria.

And it includes measures designed to ease cost-of-living pressures, particularly for our most vulnerable Victorians.

Speaker, this budget produces an operating surplus of $1.4 billion in the budget year, with surpluses averaging $2.5 billion over the following three years.

Net debt as a proportion of the economy is projected to be lower than the previous government's final year in office.

Real GSP is forecast to grow by 2.75 per cent in 2018 19 and continue at that growth rate over the next three years.

Indeed, Victoria's real GSP saw the highest growth of all the states in 2016-17 – one of the many economic indicators where we lead the nation…

Nearly 334 000 jobs have been created since we were elected, more than anywhere else in the nation during the same time…

Every time we build a school, excavate a tunnel or open a hospital, it means more jobs for Victorians…
Of course, the fuel driving Victoria's 'strong' economic performance is the state's manic population growth, with the state's population growing by around 450,000 since the Labor Government was elected in December 2014: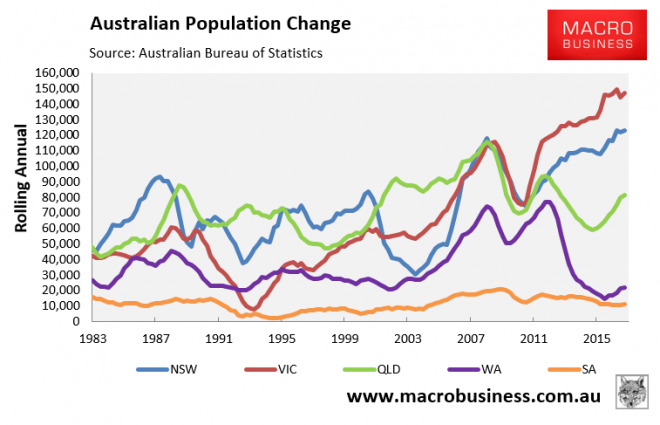 In light of this population growth – which has averaged around 2.3% per annum since Labor was elected – the state's job creation (334,000) and projected gross state product (GSP) growth (2.75%) is rather underwhelming:

This largely follows the script since the GFC whereby Victoria's overall real GSP has grown at a solid clip, but GSP growth per capita has been anaemic: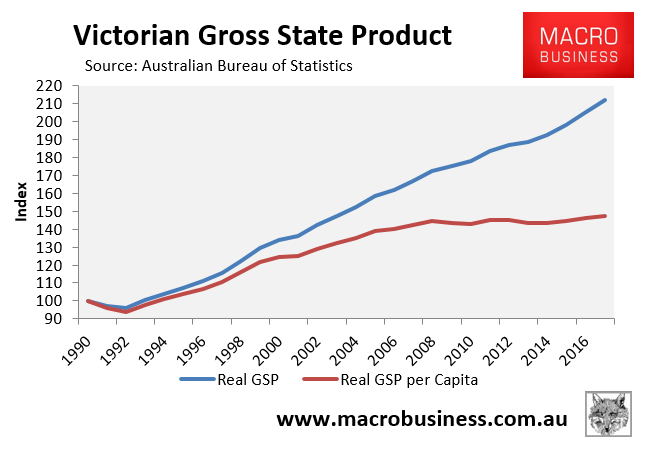 Basically, the Victorian economy has been growing due to manic population growth, but everyone's share of the pie has remained fairly stagnant.
Adding to the underlying malaise, the bulk of Victoria's jobs growth is projected to come from largely non trade exposed areas like healthcare & social assistance and construction, which are heavily reliant on government funding as well as the population Ponzi, and don't generate much export revenue: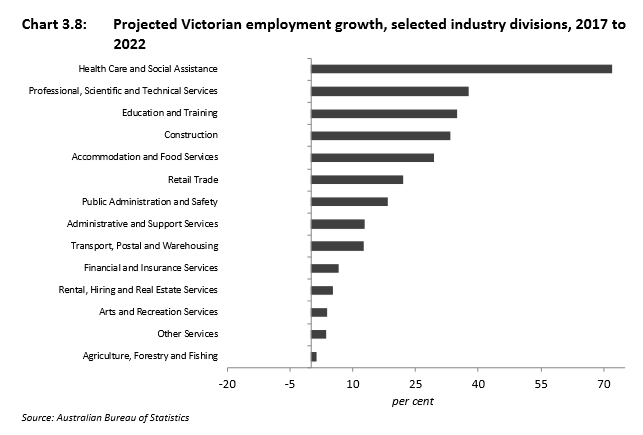 That said, to the Victorian Government's credit, it does plan to maintain higher levels of infrastructure investment – an area former State Governments neglected: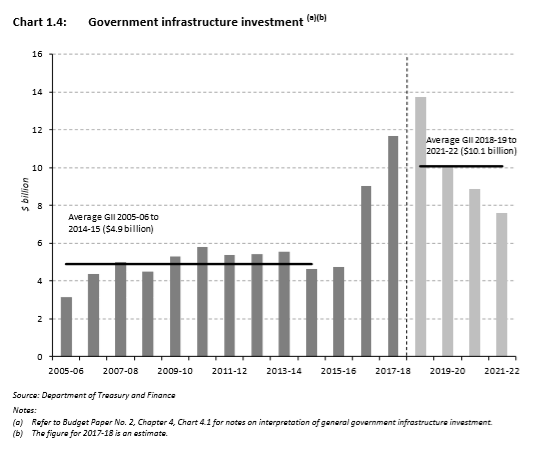 Indeed, given the State Government's own forecasts have Victoria's population growing on average by 115,000 people a year in the 35 years to 2051 – more than double historical norms but well below the current run rate (see orange line below) – massive investment will be required each and every Budget going forward in order to safeguard residents' living standards: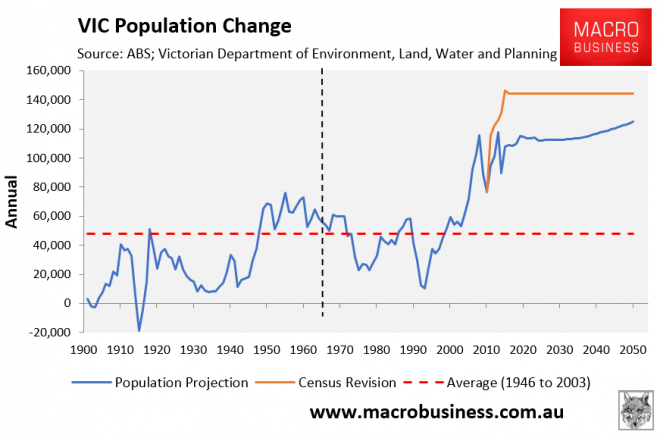 Without massive ongoing investment in roads, schools, hospitals, and all other forms of physical and social infrastructure, Melbourne will become even more crush-loaded, destroying living standards for the incumbent population.
As usual, the Victorian Budget has been underpinned by booming stamp duty receipts on the back of the housing bubble.
Land transfer (stamp) duty revenue in 2017-18 grew by 11% and was $235 million higher than projected in last year's State Budget. Stamp duty is also projected to grow solidly across the forward estimates (see next chart).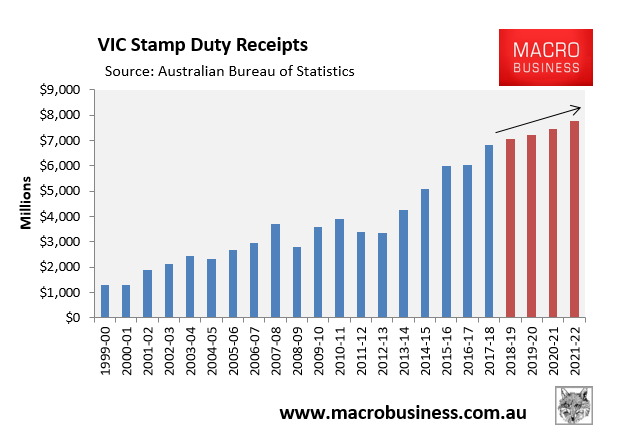 Land tax receipts in 2017-18 are also $88 million higher than projected in last year's State Budget, again with strong growth expected over the forward estimates: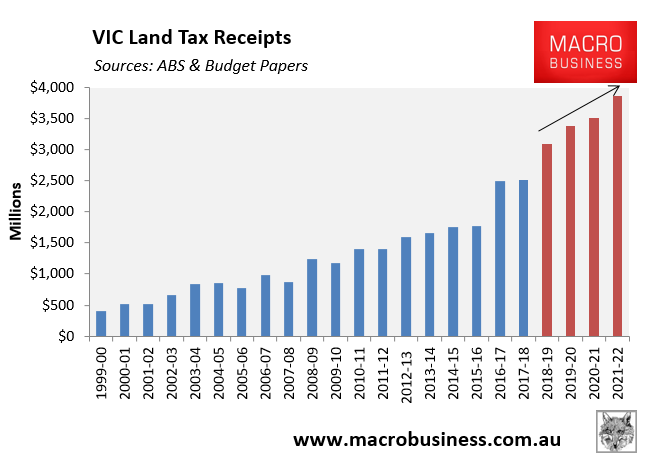 As always, there are great risks attached to these revenue forecasts.
The Melbourne housing market has finally begun to correct after hitting record highs against incomes, gross state product and rents. As both transaction volumes and prices fall, there will inevitably be a contraction in stamp duty receipts, punching a hole in the Budget.
By way of reference, stamp duty receipts fell by 24% in 2008-09 and by 15% in 2011-12 off only minor corrections in the housing market: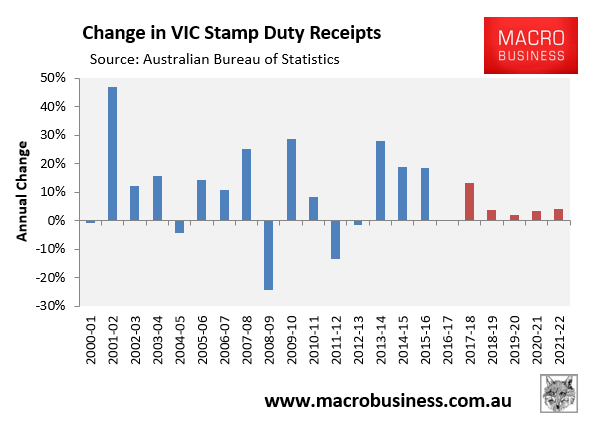 Given the unprecedented size of this bubble, stamp duty receipts could slump by at least 30% this time around.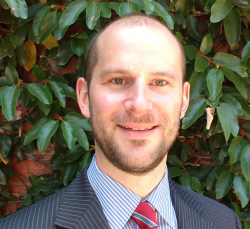 Latest posts by Leith van Onselen
(see all)