In the lead-up to last year's September general election, I praised New Zealand Labour's housing platform because it promised to address both supply and demand distortions via negative gearing reform, banning foreign buyers of existing homes, tighter capital gains taxes, removal of urban growth boundaries, plus bond financing for infrastructure.
I also praised Labour's plan to reduce immigration by around a third, which would help to relieve chronic housing and infrastructure pressures (especially around Auckland), as well as its plan to build 100,000 public houses over a decade (named 'KiwiBuild').
Back in March, we experienced some backsliding, with Immigration Minister Ian Lees-Galloway playing down immigration cuts by claiming there was no target for an overall reduction in numbers.
Housing Minister Phil Twyford also backslid on Labour's commitment to remove urban growth boundaries by force-feeding intensification rather than focusing on the key issue of lowering lot values, and in turn land prices.
Now, the Government seems to be backsliding on its 'KiwiBuild' program to build 100,000 public houses, according to Newshub:
A week out from the Budget, the Government's flagship housing policy Kiwibuild seems to be heading for the broken promise zone.

Housing Minister Phil Twyford has already delayed the start date, and Newshub can reveal he's also changed another key part of the policy…

KiwiBuild was always an ambitious policy, and now that he's in Government, Mr Twyford is tweaking it. The promise was to build 100,000 affordable homes, but the word 'build' has gone by the wayside.

In official documentation, it's been replaced with: "KiwiBuild aims to facilitate the delivery of 100,000 affordable dwellings."

Papakura MP Judith Collins was scathing.

"There's no evidence that they're going to build anything much now, so we've now gone from building 100,000 homes over 10 years to facilitating"…

Labour's KiwiBuild policy before the election was that standalone houses in Auckland would be priced between $500,000 and $600,000, and apartments would be priced $500,000 or lower.

But the tender documents show that's now changed. All new homes built under the policy will now be costed by room.

One bedroom will go for $500,000, two bedrooms $600,000 and three bedrooms $650,000 – that's $50,000 more than Labour promised in the election.
So basically, the NZ taxpayer will underwrite private developers, which means that taxpayers will protect developer margins, and developers will receive all of the reward without bearing the risk.
KiwiBuild is also unlikely to add much to overall dwelling supply, since it will merely 'underwrite' many dwellings that would have been built anyway.
Further, on what planet is a $500,000 one bedroom home considered 'affordable'? Even to the most bullish of observers, it's ridiculously expensive.
All of this comes as the latest Ipsos poll shows that housing is by far the number one concern of kiwi voters: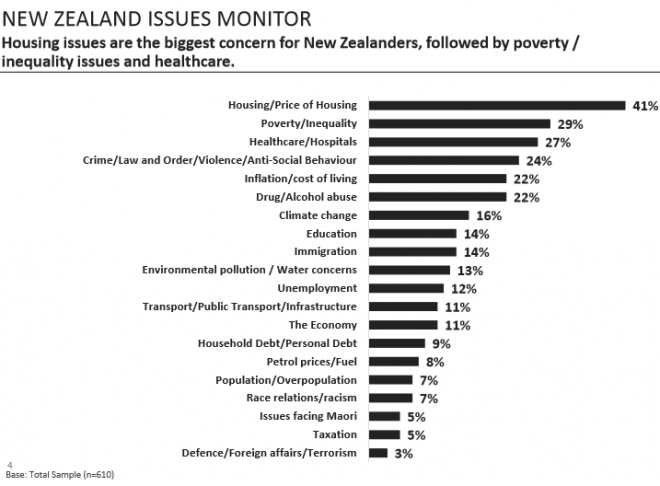 Unless Labour makes genuine cuts to immigration, as well as implements genuine supply-side reforms (especially removing artificial urban growth boundaries), Labour will fail to resolve New Zealand's housing affordability crisis, and could ultimately suffer the same fate at the ballot box as the previous National Government.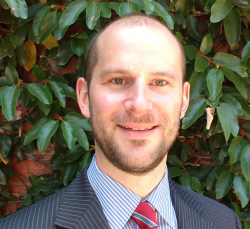 Latest posts by Unconventional Economist
(see all)