From The Guardian comes news that poverty rates in Australia are surging on the back of skyrocketing housing costs:
Housing costs alone are responsible for pushing a further 229,000 Australian children below the poverty line, a new analysis shows.

Researchers on Tuesday released the first longitudinal analysis of homelessness in Australia, showing the impact of stagnant wages and social security rates, inadequate social housing investment and increasing house prices.

The report confirms trends seen in the latest census data: rough sleeping is up by 20% in the five years to 2016, overall homelessness has spiked 14%, and demand for homelessness service has increase 22%.

But the analysis – commissioned by Launch Housing and prepared by the universities of News South Wales and Queensland – goes deeper, seeking to understand the consequences of policy inaction.

It finds, among other things, that the costs of housing are driving up the poverty rate by 3.3% points, to 13.3%. The cost of housing causes an additional 613,000 people to fall below the poverty line, using 2013-14 figures. That includes 229,000 children.

Property prices have increased by 80% in the past decade, while median household income grew by 40%. Overcrowding has increased by 88%…

Tony Keenan, the chief executive of Launch Housing, described the situation as a "national disgrace". Keenan said the data in the report, named the Australian Homelessness Monitor, should serve as a blueprint for action.
Righto, so soaring property values are the primary driver behind the surge in homelessness and overcrowding. And values have soared by far the most in Sydney and Melbourne since prices peaked in 2010 (values in the other major capitals have fallen in real inflation-adjusted terms):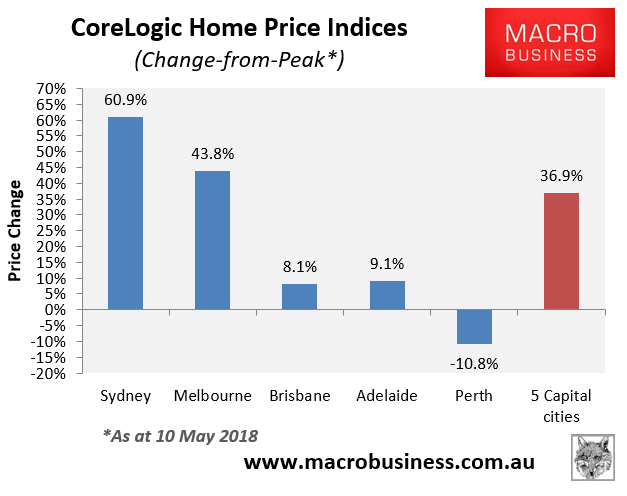 And this surge in property values in Sydney and Melbourne has occurred on the back of mammoth population growth into these two cities: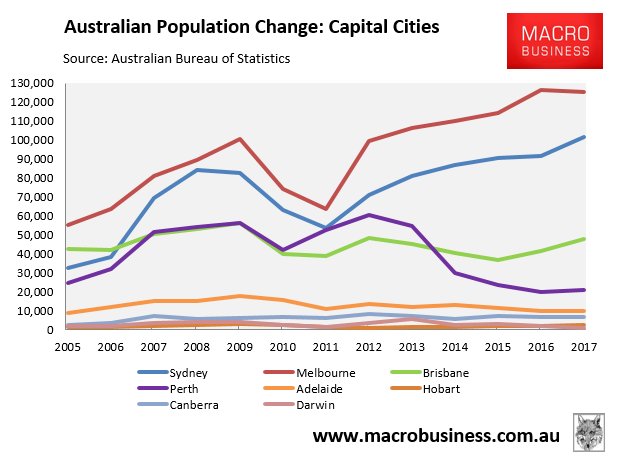 Which has been caused primarily by Australia's mass immigration 'Big Australia' policy: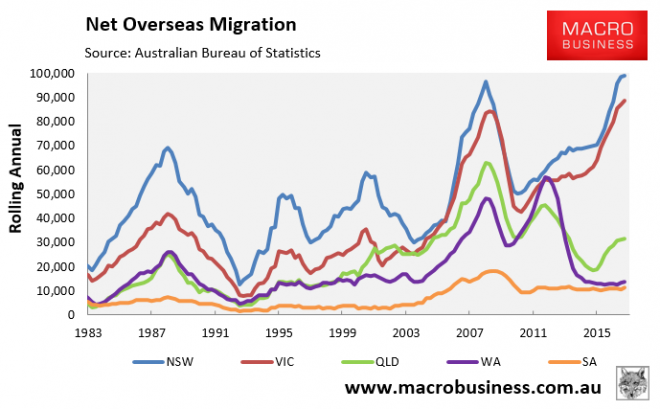 Why won't the Fake Left admit that Australia's population Ponzi is a key ingredient behind the rise in homelessness, overcrowding and poverty, and therefore lobby to have Australia's immigration intake reduced back to sensible historical levels of around 70,000 people a year?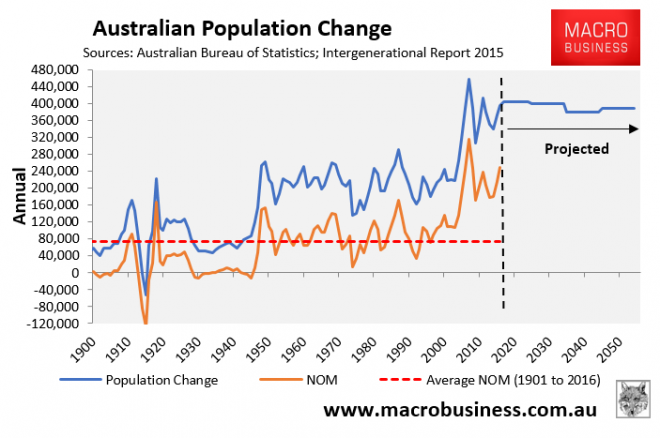 Indeed, an MB Reader, John, made similar points in The Conversation about the obvious connection between high immigration, increased housing costs, and poverty only to be censored:
Hello John,

Your comment on 'Homelessness: Australia's shameful story of policy complacency and failure continues' has been removed. There are several reasons why this may have occurred:

Your comment may have breached our community standards. For example it may have been a personal attack, or you might not have used your real name.
Your comment may have been entirely blameless but part of a thread that was removed because another comment had to be removed.
It might have been removed for another editorial reason, for example to avoid repetition or keep the conversation on topic.

For practical reasons we reserve the right to remove any comment and all decisions must be final, but please don't take it personally.

If you're playing by the rules it's unlikely to happen again, so feel free to continue to post new comments and engage in polite and respectful discussion.

For your reference, the removed comment was:

"The authors have totally ignored the fact (sic) that we are adding, quite deliberately, another million people into the Australian population every four years all of whom need housing along with a host of other infrastructure items that are falling progressively into disrepair. Roughly two thirds of this increase comes from the very high immigration rate, something supported by all political parties. This is not to blame immigrants for homelessness, it is to blame deliberate government policy. This high immigration rate is now opposed by a majority of Australians but the majority's wish ignored by all political parties".

For more information you can read our standards.

Kind regards,

The Conversation
For the life of me, I cannot find anything offensive or inaccurate in John's comment. He also used his real name (left out deliberately by me). So why has The Conversation censored debate?
Does the Fake Left genuinely care about the welfare of Australia's working classes who are being thrown under the bus to feed the 'Growth lobby'?