Ecologists have today warned that Melbourne's water supply is at risk due to the "collapse" of state forests caused by logging. From The Guardian:
New research led by Prof David Lindenmayer of ANU, published in PNAS journal on Tuesday, has found the ecosystem has already begun to undergo a "hidden collapse"…

The majority of Melbourne's water catchments are in mountain ash forests, which are either protected in national parks or in state forests where logging is either allowed or has previously occurred.

If those forests have been damaged or are still growing, Lindenmayer said, they draw 12 megalitres more water per hectare per year than forests that are more than 100 years old.

More than 98% of the mountain ash forest in Victoria is no more than 80 years old, and most of those in key catchment areas are less than 80.

In the Upper Thomson catchment, which feeds Melbourne's largest water supply dam, the Thomson reservoir, about 61% of the trees have been logged.

"That's a serious issue because two-thirds of all the rainfall in that catchment falls on one-third of the area and that's the ash forest … that's called an own goal," Lindenmayer said…

"My hope is that at some stage people will wake up and say, 'Oh my god, that's the water supply for 4.5 million Melburnians,'" Lindenmayer said. "Is it appropriate to compromise the water supply of soon-to-be Australia's largest city?"
4.5 million Melbournians? Try 4.9 million currently, with the city's population projected to balloon to 8 million people mid-century.
Regardless, warnings over insufficient water supply across Australia's major cities have accumulated recently.
In December, Infrastructure Australia reported that household water bills will double in line with energy bills because of population growth and climate change – hitting more than $2500 a year by 2040 – as supply is augmented through expensive desalination plants.
In February, Dr Jonathan Sobels – a senior research fellow at the University of South Australia and the author of a key 2010 report prepared for the Department of Immigration entitled Long-term physical implications of net overseas migration: Australia in 2050 – gave a brilliant incisive interview on ABC's Radio National that among other things warned that Australia's water security is being placed at risk from endless mass immigration:
…we are coming up towards physical limitations within our physical, built and natural environments that will lead to compromises in the quality of our life…

Not only are the dams not filling, but the ground water supplies are not filling. The only option you have open to you is water efficiency use and whacking up desal plants. But if your population keeps increasing at the rates we have seen in recent times, you won't be able to afford putting up billion dollar desal plants, which also have their environmental impacts…
And in March, ABC News warned that Australia's water supplies will be placed under intense pressure as the nation's population balloons:
Increasing demand for water needs to be addressed…

In Sydney, most of the 725,000 new dwellings that will need to be built by 2036 to keep pace with population growth will be built in the west, according to the Greater Sydney Commission.

The compass direction changes, but the trend is the same for all coastal capital cities: population growth is moving away from the coast and away from desalination plants.

"Water being non-compressible and quite a heavy substance — it's quite expensive to transport," said Mr Lovell.

"Even if you're looking at Sydney on the coast through to Penrith or from Wonthaggi to the north of Melbourne — you're looking at 80 to 90 kilometres. That's really expensive, and it's a really inefficient way to transport water"…

Professor Khan said a whole new set of pipelines would need to be built to get desalinated water west of there, where the population growth will be.
Unfortunately, desalination plants are environmentally destructive and hideously expensive, with costs borne by the incumbent population, as noted by The Conversation:
The desalination plants were expensive to build, consume vast quantities of electricity and are very expensive to run. They remain costly to maintain, even if they do not supply desalinated water. All residents pay higher water rates as a result of their existence.
There is, of course, a cheap solution to ameliorating water pressures – one that requires minimal additional investment, nor expensive technical solutions like desalination plants: cutting immigration back to historical levels: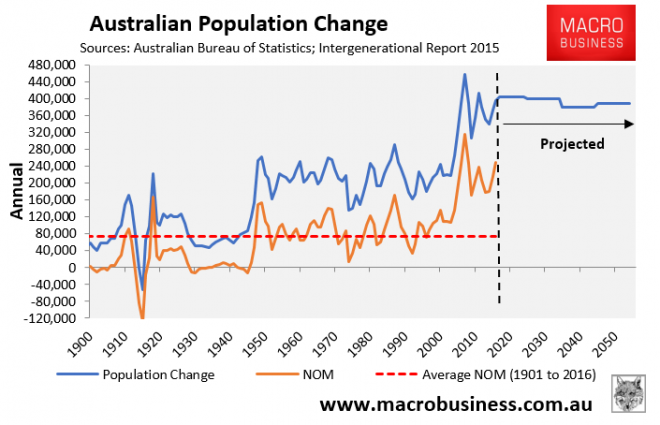 As noted in the 2010 report prepared for the Department of Immigration, entitled Long-term physical implications of net overseas migration: Australia in 2050:
Decreased urban water supply is a significant environmental constraint exacerbated by higher levels of NOM.  Modelling shows the vulnerability of Sydney, Melbourne, Brisbane and Perth to deficits in water supply…

Only NOM levels of 50,000 pa or less result in Melbourne and Sydney maintaining a small surplus of net surface supply over demand on average out to 2050, assuming current climate conditions persist. Potential options to alleviate water stress at high NOM levels over the longer term may be hard to find.
Clearly, Australia's mass immigration 'Big Australia' policy is a key threat to Australia's water security. So why exacerbate the problem in the first place, when it can be ameliorated by simply returning Australia's immigration intake back to the historical average of 70,000 people a year?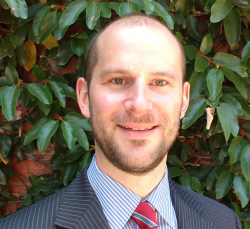 Latest posts by Unconventional Economist
(see all)