See the latest Australian dollar analysis here:
Markets! EUR soared last night: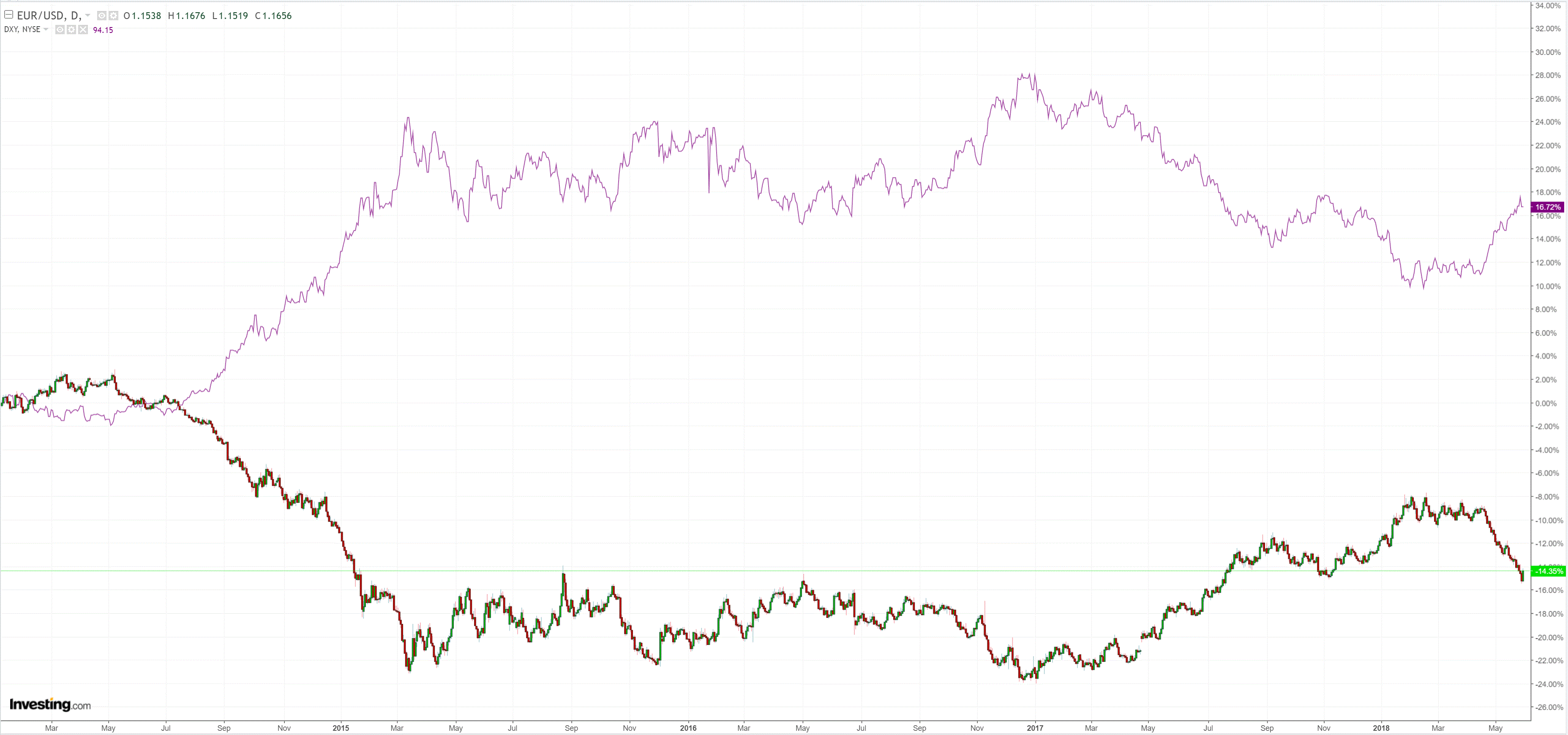 AUD too: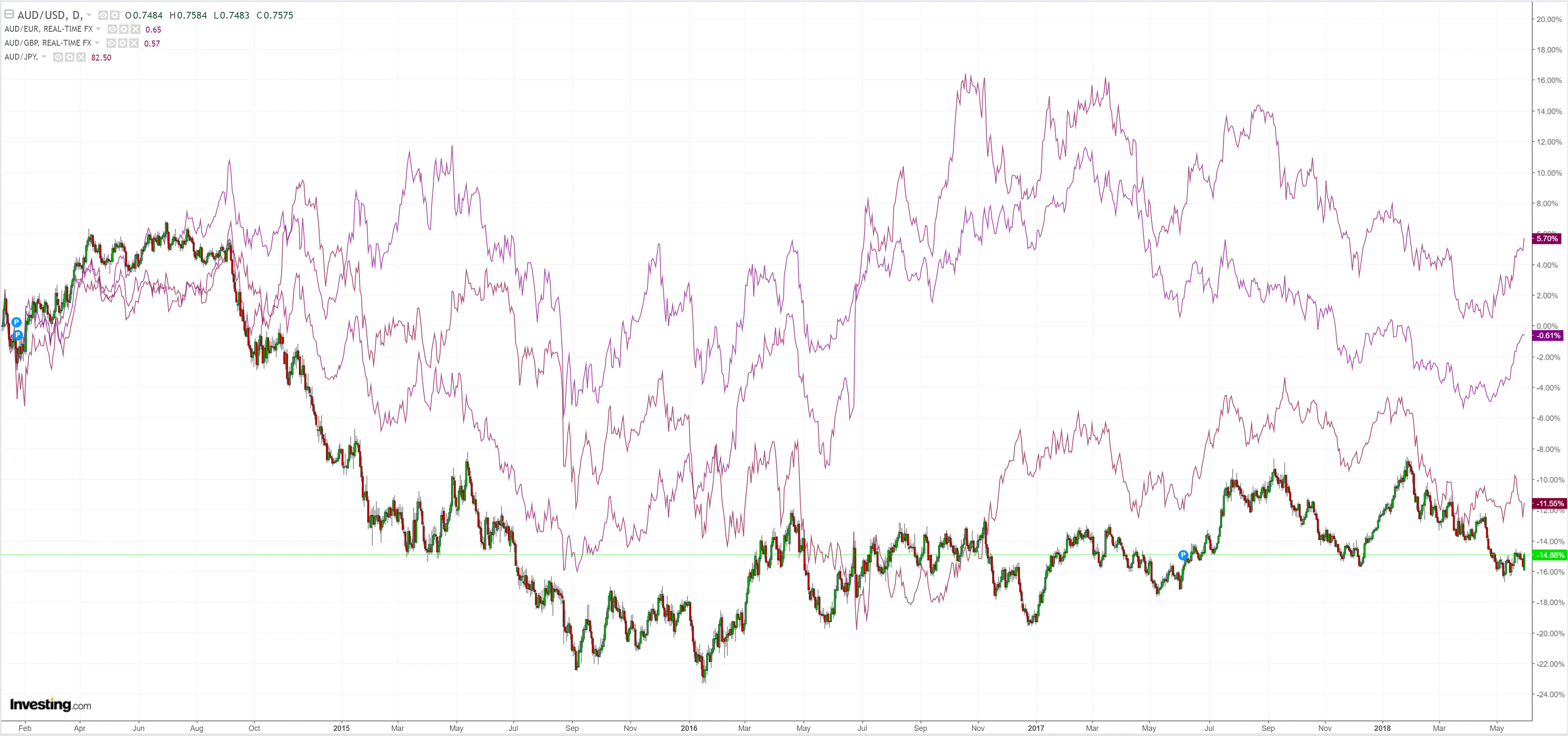 EMs not so much: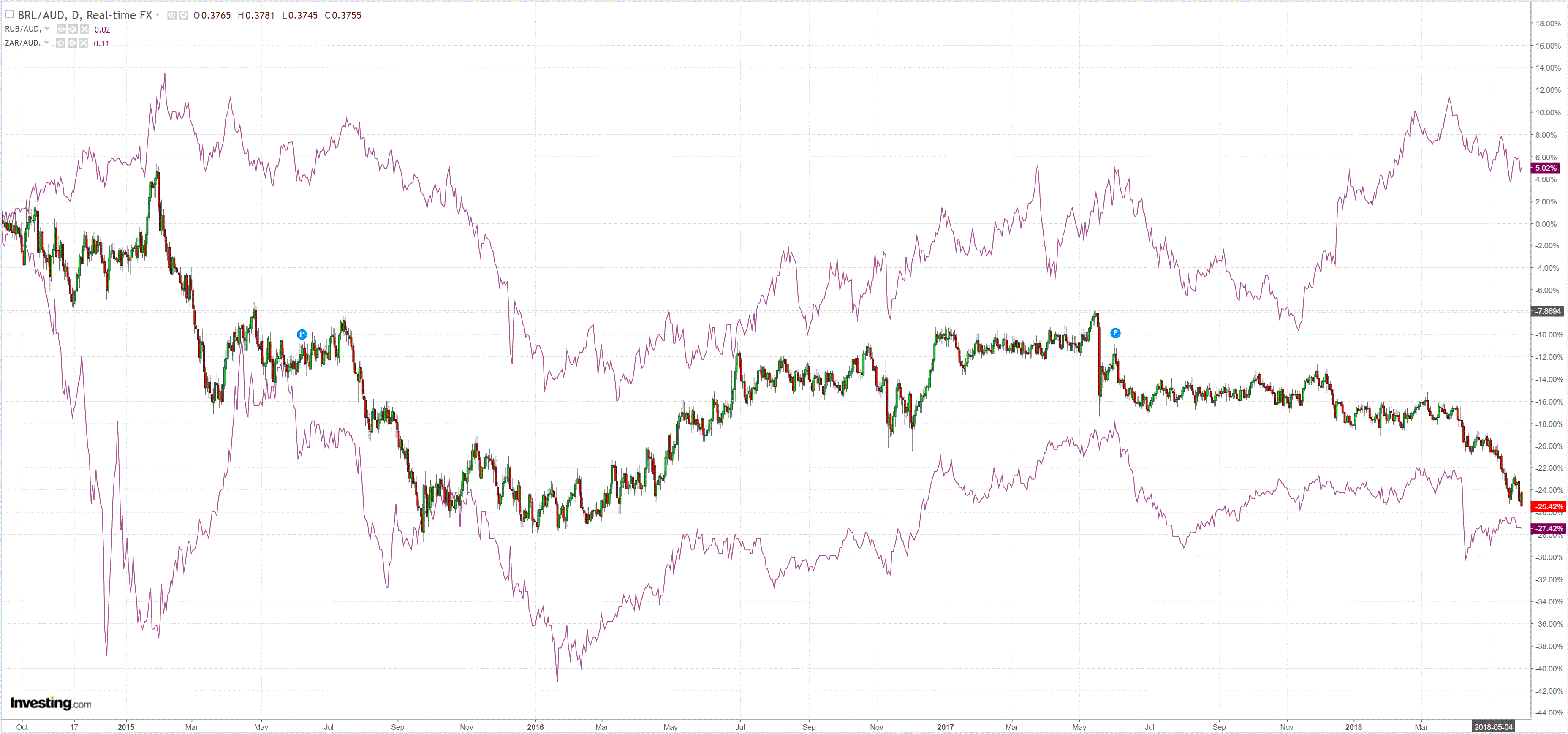 Gold ignored it all: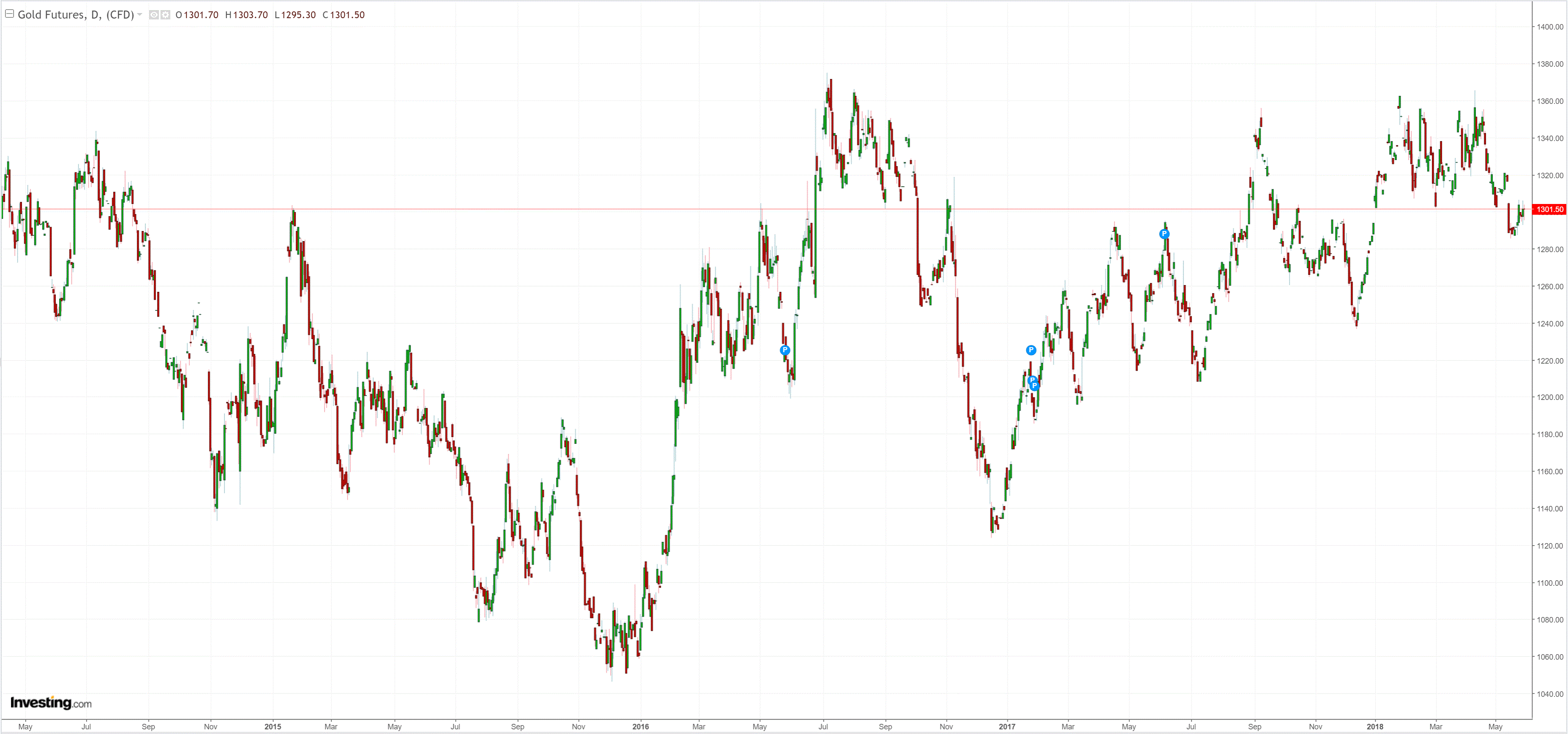 Oil rebounded, helped by a US gulf hurricane: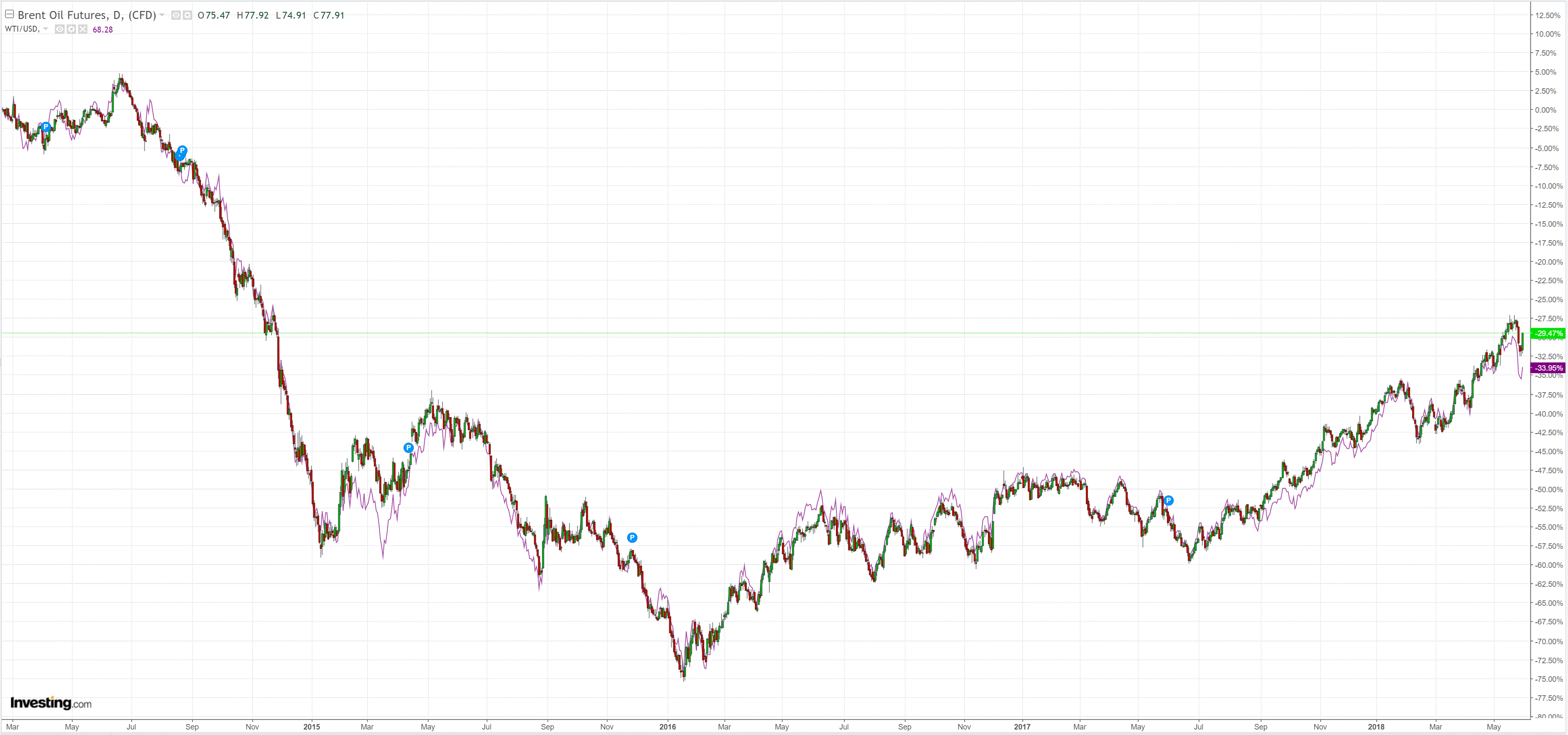 Base metals yawned: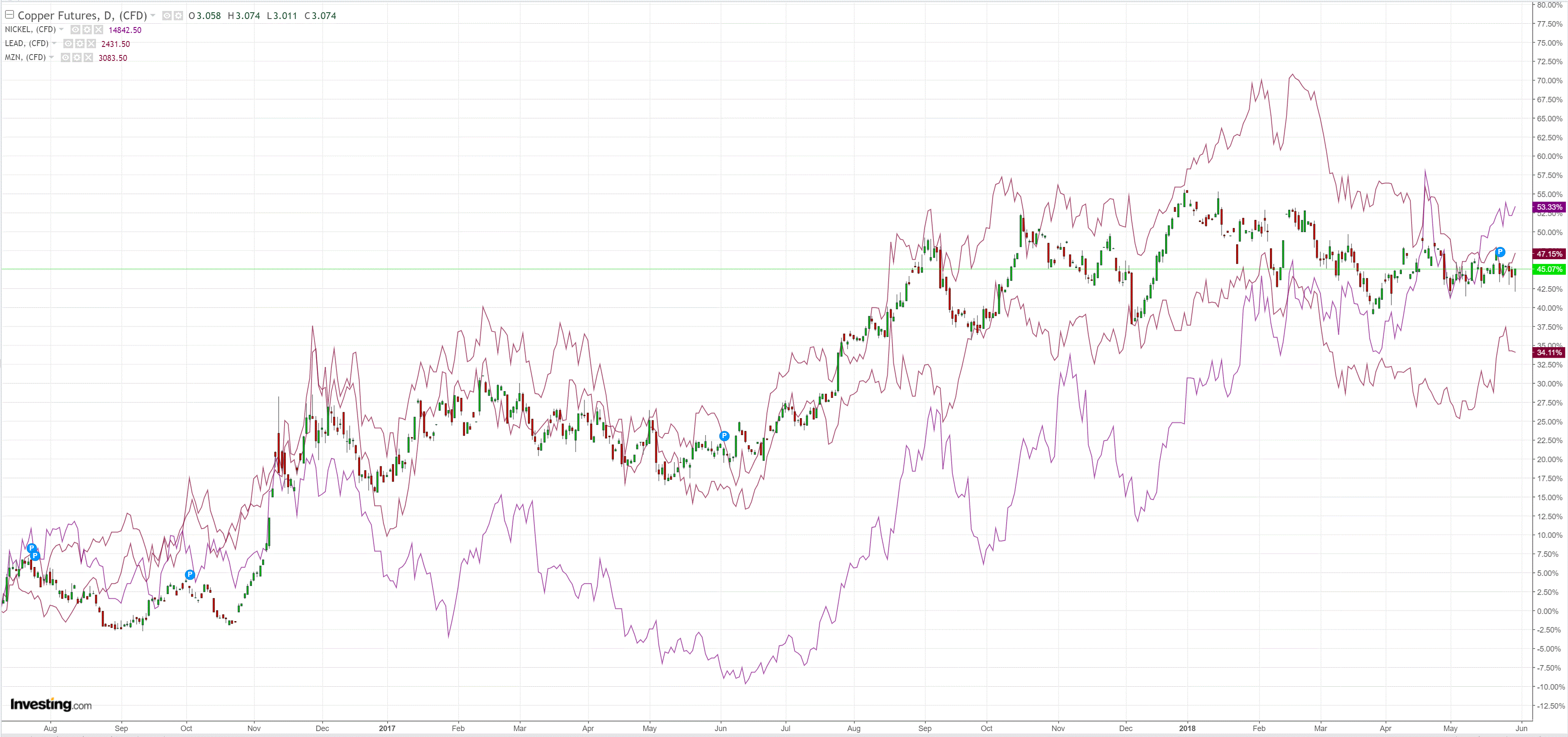 Big miners recovered some: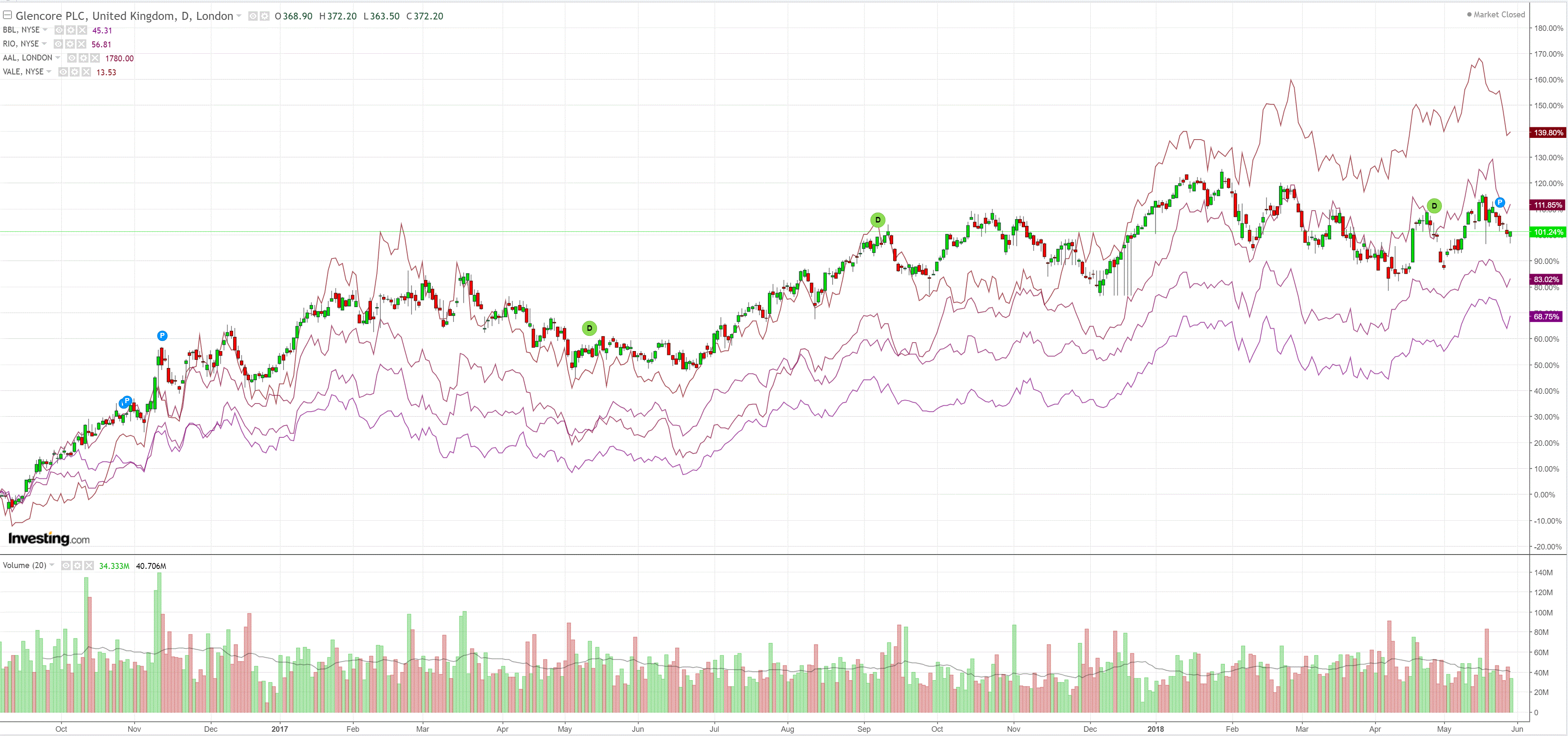 EM stocks too: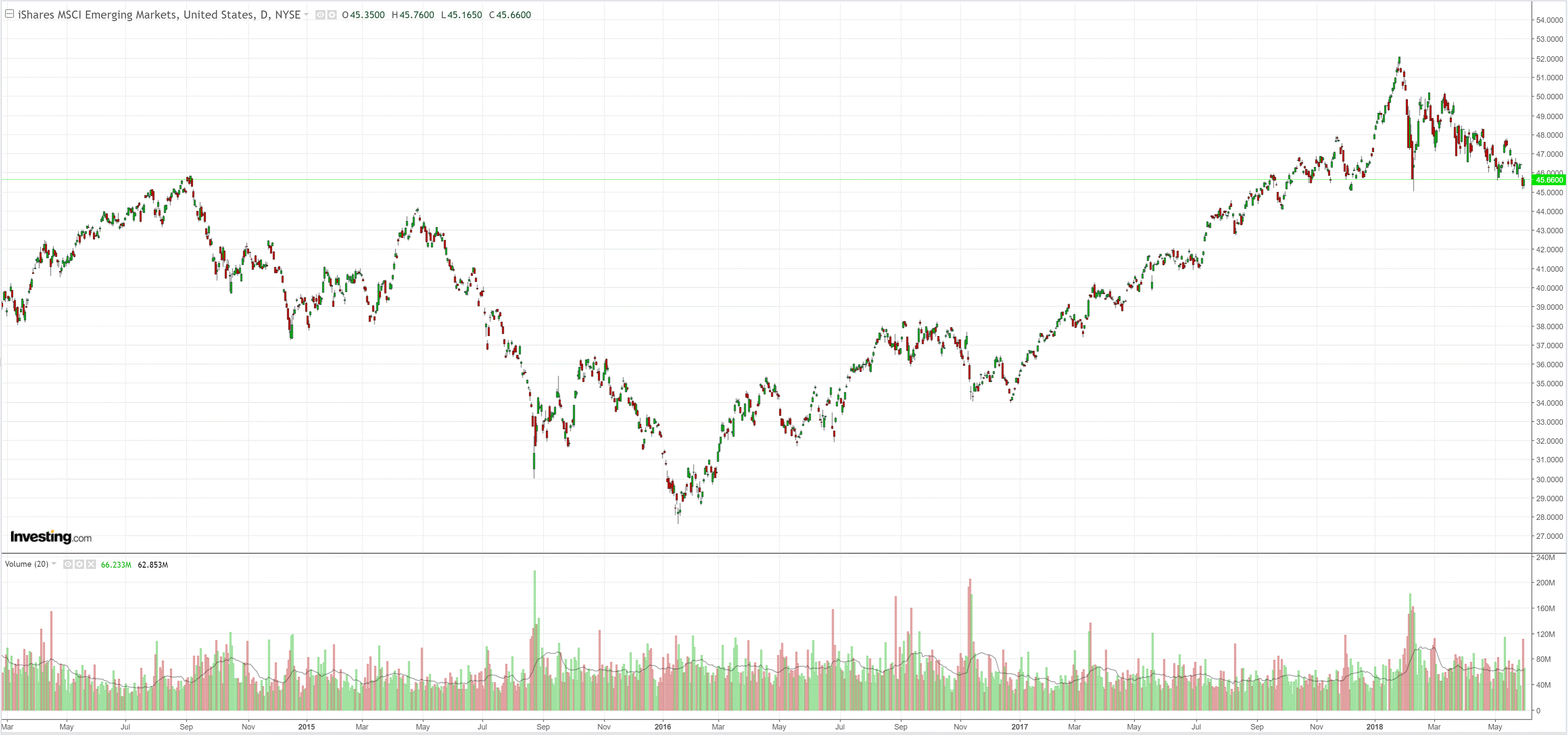 Junk held on: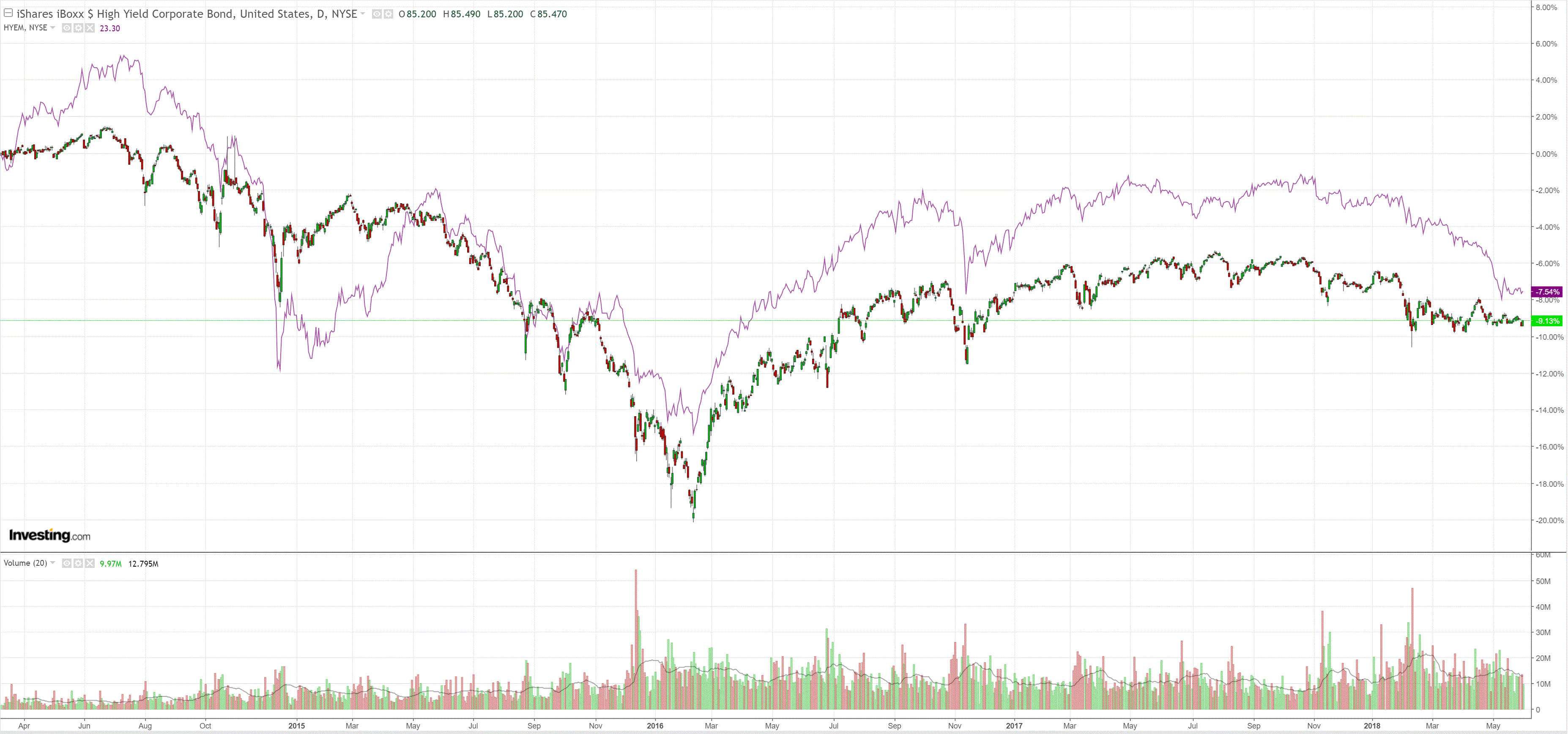 Treasuries got flogged: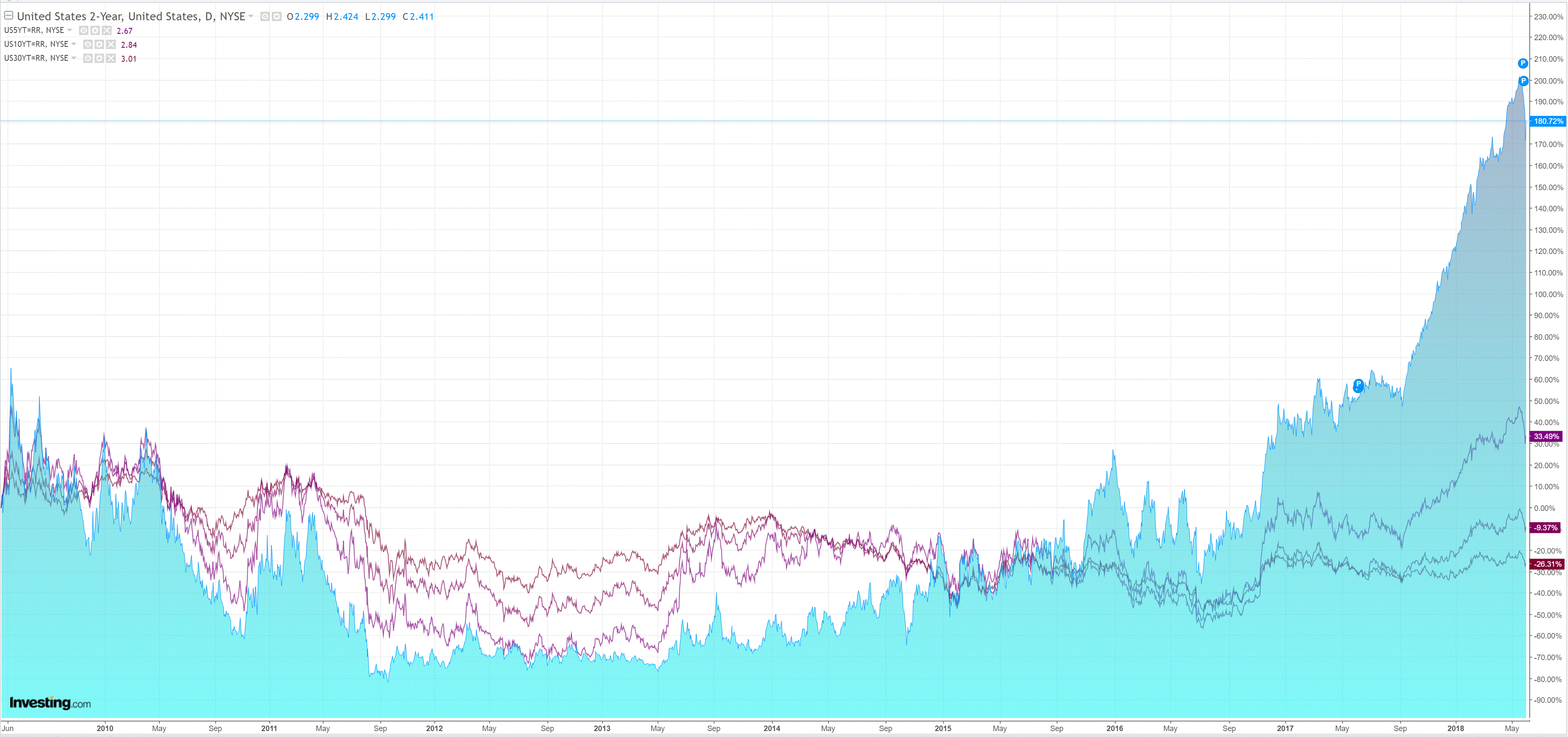 And bunds:
Everyone loves Italian debt: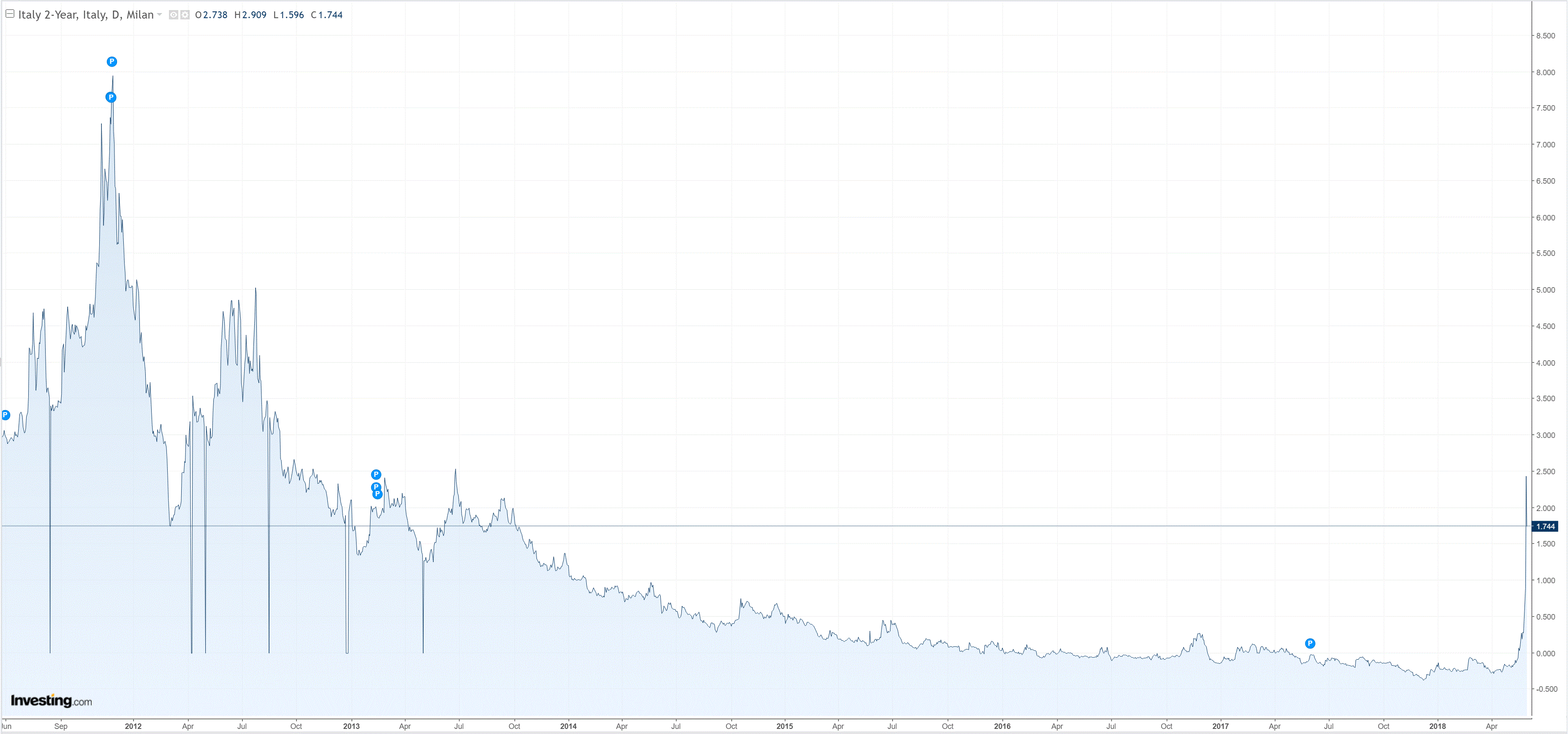 And US stocks soared though Europe is unconvinced: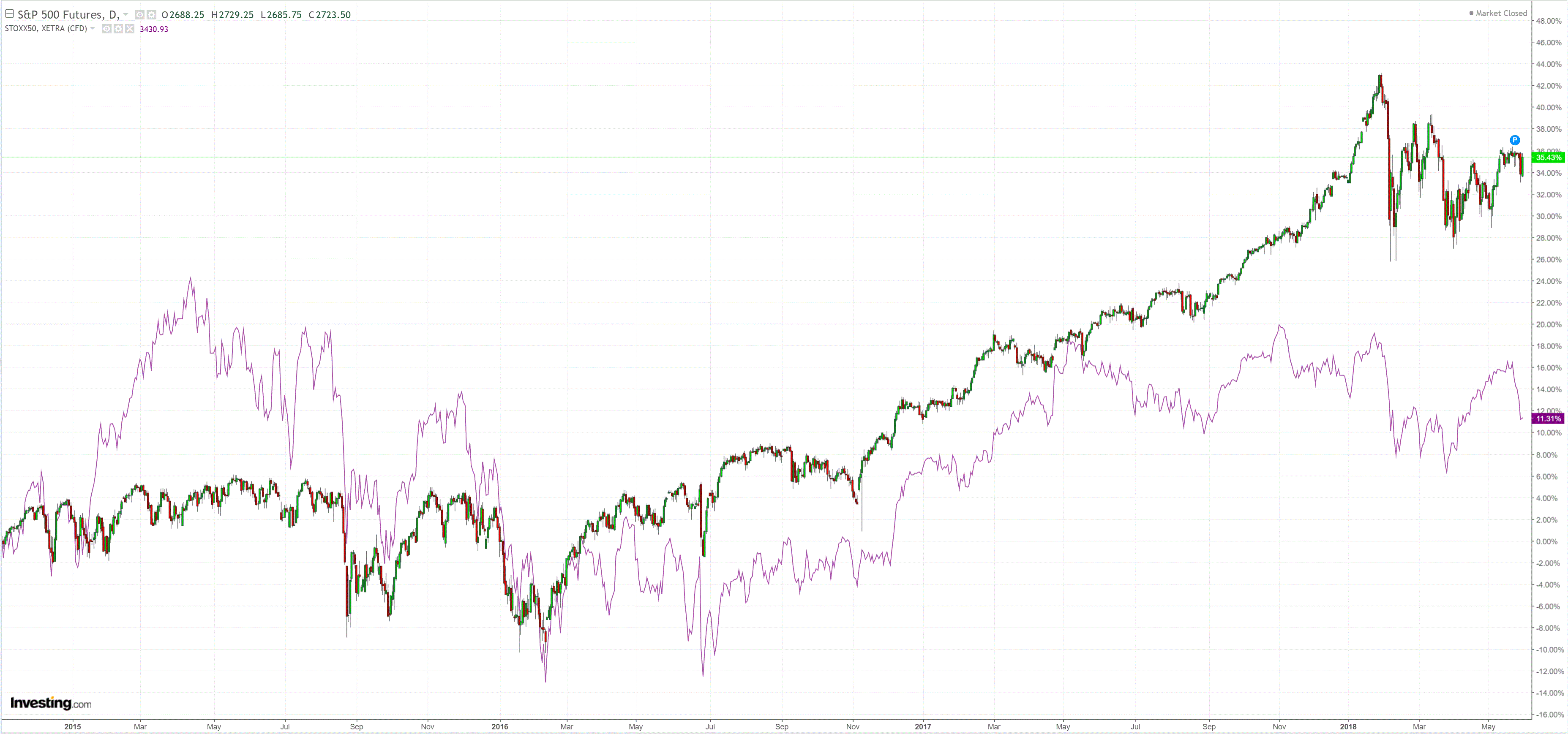 What changed? Absolutely nothing, via the FT:
Italy's president has attempted to broker an eleventh-hour deal between the country's two largest populist parties to avoid another destabilising national election, helping Italian assets recover from a sell-off that rattled investors worldwide.

Sergio Mattarella, who triggered this week's crisis by blocking the appointment of a Eurosceptic finance minister proposed by the two parties last Sunday, held informal meetings with leaders of the anti-establishment Five Star Movement and the far-right League on Wednesday evening.

Although Mr Mattarella was unable to reach agreement to form a new coalition, he gave both parties more time to reach a deal, prompting Carlo Cottarelli, the former IMF official who had been tasked with forming an interim technocratic government on Monday, to put his own plans on hold.
My view is unchanged. It's impossible to forecast given it hangs on Italian politics but MS5 and Lega are in the box seat so it gets worse before it gets better. Goldman roughly agrees:
One possible outcome is that Mr. Cottarelli presents President Mattarella with a list of prospective ministers, the majority of whom would likely be technocrats. If President Mattarella accepts the proposed ministers, the government would be sworn in and ask for a confidence vote in Parliament.

As we have previously discussed, in our view the government would be highly unlikely to win such a confidence vote as Lega and the Five Star Movement (5SM) have indicated they would not offer their support while Forza Italia (the political party of former PM Silvio Berlusconi) has said it also would not vote in favour of such as arrangement; at the same time some members of Partito Democratico (the centre-left party of former PM Matteo Renzi) have suggested they would abstain. Should the confidence vote fail (as we expect), a caretaker government led by Mr. Cottarelli would hold office for a short period of time until new elections take place, likely right after the summer.

A second possible outcome is that Mr. Cottarelli hands back the mandate without forming a government. In this situation new elections would be held soon, most likely at the end of July, and the government of incumbent Prime Minister Mr. Gentiloni would continue to be in office and run day to day government affairs.

A third possible outcome, as reported by local media, is that the leaders of Lega and the Five Star Movement form a coalition government with the aim of winning a confidence vote in Parliament. Should Mr. Cottarelli hand back the mandate without forming a government, the President of the Republic could consider granting a mandate to Mr. Salvini (Lega), Mr. Di Maio (Five Star Movement), or another person as indicated. In this situation a few more days would be needed to learn whether or not a government would be formed.

We expect investors will remain concerned about the:

(i) economic policies that Lega and the Five Star Movement could implement if they come into office,

(ii) subsequent impact on debt sustainability and ratings downgrades, and

(iii) commitment by such a coalition government to Italy's participation in the European Union and membership of the Euro area.

The spending and tax measures embodied in the programme would cost around EUR110bn (approximately 6.5% of 2017 GDP). Three measures account for the bulk of this amount: (i) the introduction of a universal minimum income guaranteed to all citizens; (ii) reform of the tax system; and (iii) repeal of the pension reform passed in 2011.

For illustrative purposes and to simplify the computation, we assume that interest rate changes affect neither real GDP growth nor the average public debt servicing cost. This is a very optimistic assumption from the perspective of Italian fiscal sustainability. While an increase in interest rates will only gradually raise the average servicing cost of public debt in Italy owing to the long maturity of outstanding Italian government debt (about 7.5 years), real GDP growth could be severely affected if the increase in interest rates is fast and large. Italian banks may sharply tighten credit standards in the face of balance sheet pressures, potentially generating a large credit crunch…

Any Italian government committed to implementing a large fiscal expansion risks setting in motion negative market dynamics, including rating downgrades. This would have profound implications for the Italian banking system and the liquidity support it receives from the ECB. Moreover, it would call into question Italy's participation in the Euro area, likely leading to a more extensive repricing of Italian assets and possibly spill-overs to other countries.
As does Macqaurie's excellent Viktor Schvets:
…it is a 'Catch 22'. Euro is a fatally flawed project but the populace does not want to abandon it while at the same time refusing to recognize that common currency cannot co-exist with nation-states and disjointed fiscal and political systems. Any successful currency block (e.g. US) has: (a) common political and fiscal transfer system; (b) high degree of labour and product mobility; and (c) joint debt monetization. Euro has none of these ingredients. Hence, either nation-states must be abolished, leading to Euro-wide political and fiscal unity, or € project is ultimately doomed. Italy has always been the Achilles Heel. For now cracks have been papered over by ECB and China's stimulus. While most Europeans do not want to give up on European project, neither are they willing to abandon their nation states. You can't have both. Euro thus remains a sword of Damocles hanging over investors' heads.
The EUR is again uninvestable and will keep falling. DXY will therefore keep rising and EMs cop it. AUD will follow them down.
MB Fund has been selling down Europe for months and is now out of everything bar multi-nationals with US exposure. We're also pulling more risk by taking profits on equities more widely.
Latest posts by David Llewellyn-Smith (see all)