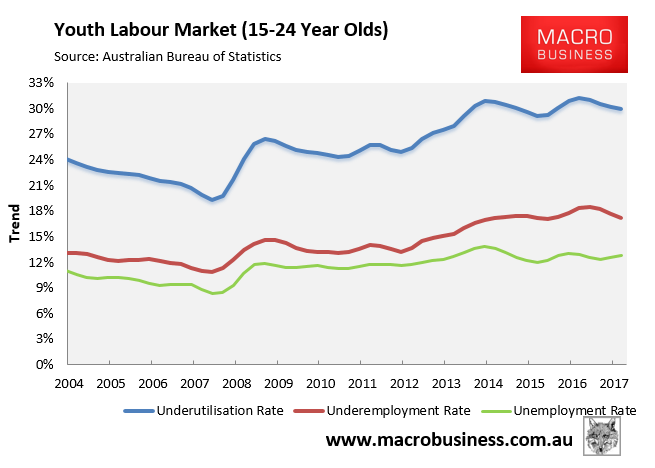 Whereas since the GFC, overall youth employment has fallen by 0.7% in trend terms, despite the 8% lift in the population of 15-24 year-olds over this time, with full-time jobs down an incredible 17.6%:

Surely then, the Budget needs to place a greater emphasis on Australia's disenfranchised youth, who have been largely forgotten save for a few thousand dodgy internships.
Regardless, the deteriorating employment situation facing both younger and older workers does once again highlight the egregious nature of the Government's mass immigration program, which has flooded the jobs market with additional workers and deprived the local underutilised workforce of employment opportunities.
As noted by the Treasury/Department of Home Affairs report, Shaping a Nation:
"Recent migrants accounted for two-thirds (64.5 per cent) of the approximately 850,000 net jobs created in the past five years. For full-time employment, the impact is even more pronounced, with recent migrants accounting for 72.4 per cent of new jobs created".
Australia's labour-market policy has given up on balancing the interests of employers and workers. The government has given employers what they want and ignored the needs of local underutilised Australians.