Last week, Infrastructure Partnerships Australia CEO, Adrian Dwyer, accused the Turnbull Government of reducing infrastructure investment and called for an extra $7.5 billion in infrastructure spending over the next four years to offset a decline in such expenditure over the last decade:
"The bottom line is the long-term 10-year trend has been 1.5 per cent of government spend on infrastructure over the forward years," Mr Dwyer said.

"We are pretty focused on seeing a return to trend on this, which would need $7.5 billion over the forward years. There is a growing population and those services are going to need to be delivered."
Today, The Australian's David Uren reports that tomorrow night's Federal Budget will allocated $24.5 billion to major infrastructure projects, including federal contributions to rail projects in Sydney, Melbourne and Perth:
The budget will provide for a series of major projects, including $5bn for rail lines to the new ­western Sydney airport and Melbourne's Tullamarine as well as raising the federal government's contribution to Perth's Metronet project to almost $2bn.

There will also be funding for Malcolm Turnbull's Snowy Hydro 2.0 project, estimated to cost up to $4.5bn on top of the $6bn spent by the federal government to buy out NSW and Victoria's shares in the scheme.

"This budget includes $24.5bn in funding for new major transport projects and initiatives that will benefit every state and territory," the Treasurer said.

"These form part of the Turnbull government's $75bn transport infrastructure investment over the next decade. The investment in road, rail and public transport projects will reduce congestion, keep our roads safe, connect people to jobs and get our produce to market"…

The infrastructure plan to be released with the budget will include projects that will not begin until beyond 2022, which is the final year in the budget forward ­estimates.
Australia's population is projected by the government to increase by some 400,000 people a year – effectively a new Canberra – for the next 40- years, meaning that Australia will need to build-out the equivalent of three new Sydney's over that time period to keep the stock of infrastructure per capita constant: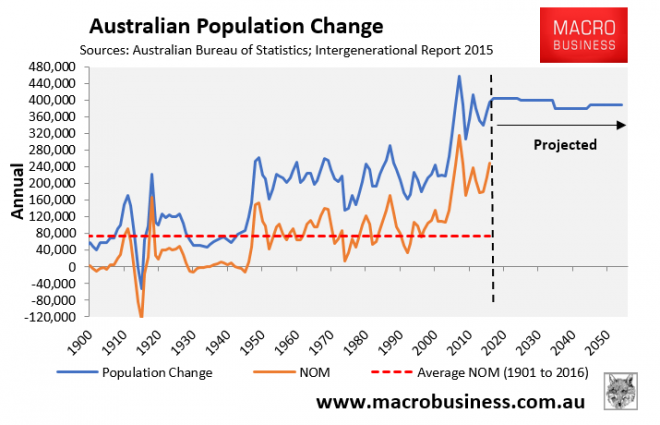 Most of this growth is also projected to occur in our two major cities, which are projected to grow to around 8 million people mid-century: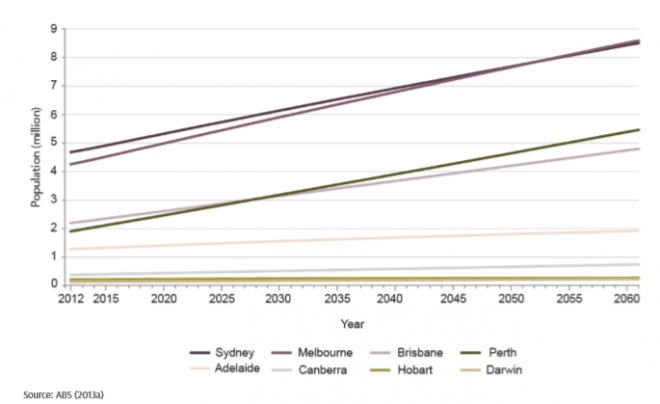 In light of the above, "the Turnbull government's $75bn transport infrastructure investment over the next decade" is pathetically low. It won't be nearly enough to keep pace with the 3.5 to 4.0 million in population expected to be added over this period, nor backfill the infrastructure deficit that has accumulated over the past 15 years as our population has soared.
Remember, the Productivity Commission (PC) in 2013 estimated that total private and public investment requirements over the next half century will need to be more than 5-times the cumulative investment made over the last half century: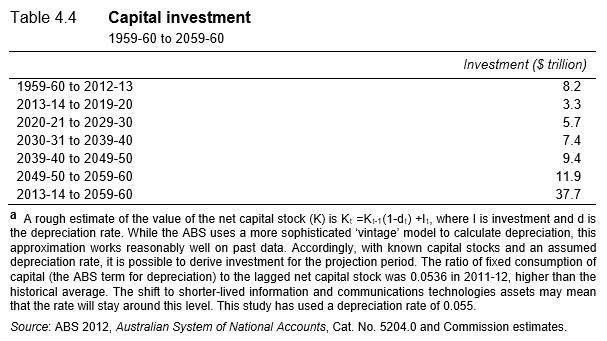 To add insult to injury, these infrastructure requirement projections from the PC were made off lower population projections (38 million mid-century) than exist now (40 million mid-century). Thus, Australia's projected infrastructure needs over the next half century would be even greater now.
All of which reminds me of Richard Denniss' masterful interview in 2016:
"Since the Sydney Olympics, Australia's population has grown by the population of Sydney. Australia is one of the fastest growing countries in the developed world and our infrastructure isn't keeping up. It isn't keeping up now and hasn't kept up for the last 10 years, and it's not budgeted to keep up in the next 10."

"What politicians are doing is every year they announce record spending on this and a new that, but what they don't point out is that on a per person basis, per person we are spending less on health, per person we've got less access to transport, per person the reason the queues in the hospital keeps getting longer is because we are not building hospitals as fast as we are growing our population. They all know it, they just don't say it"…

"If you were going to invite a hundred people to your house for a party, you would probably put the food and the chairs out before they arrive. But, what we have done for nearly 15 years now is we've significantly increased the rate of population growth and we are saying "we'll build rail in the future… we'll build the hospitals in the future". Yes, there's no doubt that any minister can rattle a list of things they are planning to build. What they don't say is that given that our population's gonna grow by around 400,000 people this year, we are not building nearly enough hospitals and schools and roads to keep up with that. So, yes, there's always a big pipeline, but what they are not telling you is that per person, the amount of infrastructure is declining. Per person, the amount of spending on health is declining"…

"If you want to double your population – and that's our plan – we want to double our population – you have to at least double your infrastructure to maintain people's standard of living… We're talking schools, we're talking hospitals, we're talking trains, we're talking roads, we're talking police"…

"Population growth costs a lot… If you double the number of citizens then you double the number of teachers and double the number of nurses. It's pretty simple math. But of course, you don't have to double them if you gradually plan to lower the number of services. If you are happy for us to gradually lower the number of services in our health system, our aged system, if you are happy for congestion to gradually get worse, if you are happy for the amount of green space per person to decline, then you can do what we do. But the trick is at the moment is every budget – and all governments do this – every budget the minister says "I'm spending a record amount on health". Well, of course you are, we've got a bigger population than we've ever had before. Every year has to be a record. But, their own data shows that on a per person basis, it's just not keeping up".
As long as the federal government persists with running a mass immigration 'Big Australia' program, it must provide the infrastructure funding to match. Otherwise, incumbent residents' living standards will continue to erode, as they have been the lived experience over the past 15 years.
Leith van Onselen is Chief Economist at the MB Fund and MB Super. Leith has previously worked at the Australian Treasury, Victorian Treasury and Goldman Sachs.
Latest posts by Leith van Onselen (see all)