One of the most striking trends that has developed across the Australian economy over recent decades has been the sharp lift in temporary employment, as illustrated by the following chart: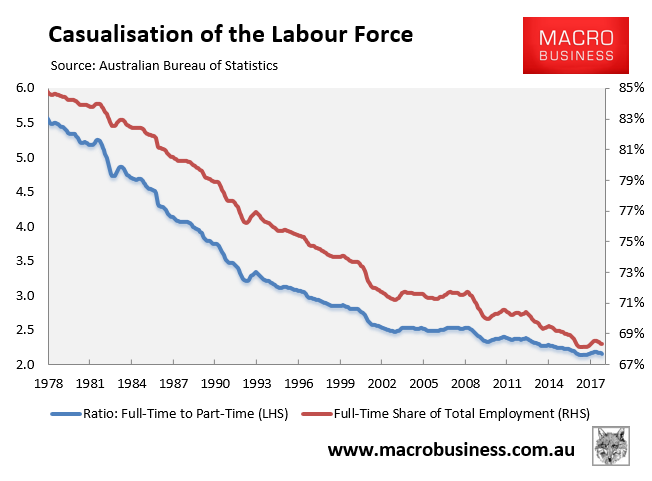 Whereas there were 5.5 full-time workers for every part-time worker 40 years ago, today there are just 2.2 full-time workers for every part-time worker.
With this in mind, was interesting to read that Australia reportedly had by far the highest proportion of temporary employees among OECD nations in 2012, and Professor Peter Whiteford of the Australian National University says this has probably not changed in the last six years, given recent data from the Household, Income & Labour Dynamics in Australia (HILDA) Survey. From The Canberra Times:
…new analysis by a leading public policy expert shows Australia has the highest proportion of temporary employees in the OECD.

Peter Whiteford, a professor in the Crawford School of Public Policy at the Australian National University, said the latest available international data from 2012 showed that Australia then had the highest proportion of temporary employees in the OECD. "This ranking seems unlikely to have changed since then," he said…

The Melbourne Institute of Applied Economic and Social Research at the University of Melbourne has also reported data from the Household, Income and Labour Dynamics in Australia (HILDA) Survey, which shows that about 32 per cent of Australian employees were employed on either a casual basis or a fixed-term contract in 2014, with casual workers representing the majority of this group (72 per cent)…

Geoff Harcourt, honorary professor of economics at the University of New South Wales, said "giving top priority to full employment is the moral prerequisite for any just and equitable society".
While obviously not the primary driver, given it has been a long running trend, Australia's mass immigration 'Big Australia' policy is not helping the employment situation and is contributing to the proliferation of insecure work.
Reports of labour exploitation are rife across the economy, driven by foreign workers. These foreign workers are happy to get paid less, endure lower conditions and work unsociable hours. Employers are only too happy to oblige. Training is forgotten. Apprenticeships have crashed. Real wages are falling. And this will continue as long as the mass immigration scam persists.
There is no governing, regulating or policing the endless tsunami of people. It's not systemic corruption, it has become the system itself, as Australia imports emerging market conditions into the labour market it drives a proliferation of ever more 'cheap labour' businesses.
Every neighborhood in the country is now chock full of massages parlours, cafes, fast food, pedicure and beauty, hair, car washes, petrol, bakeries, $2 shops, convenience stores, transport: built, staffed and cleaned by the underpaid. Even the professions are overrun as unscrupulous industry bodies and training institutes clip the ticket on a deluge of foreign entrants in areas like engineering, IT, and accounting.
Every niche and crevice in the services economy has been disrupted and glutted by exploited labour.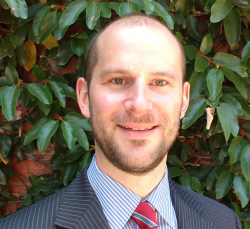 Latest posts by Unconventional Economist
(see all)